Columbia Law School Student Receives Prestigious Skadden Fellowship
Columbia Law School Student Receives Prestigious Skadden Fellowship
Susanna Booth '21 will represent immigrants detained in New Jersey who are facing deportation.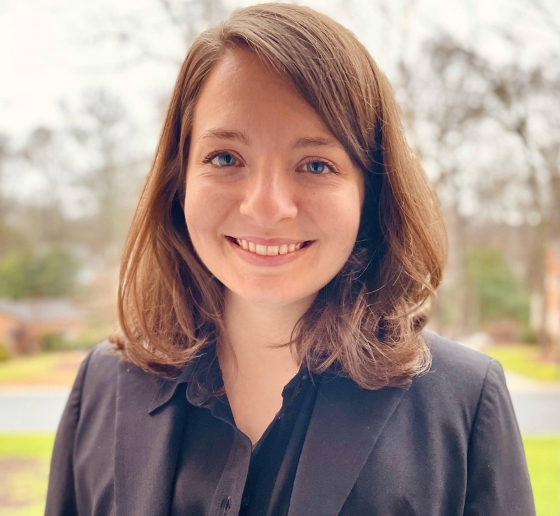 For Susanna Booth '21, being a lawyer means fighting for systemic change, and she has found her calling as a champion for immigrants' rights. As a 2021 recipient of the prestigious Skadden Fellowship, she will spend two years after graduating in the spring working at the American Friends Service Committee (AFSC) representing immigrants detained in New Jersey with existing removal orders and who face deportation. Booth will focus her work on assisting those who had inadequate representation—or no representation—during their initial removal proceedings. 
Booth never imagined herself as a lawyer until she took a French class at Duke University, where through coursework she was paired with a local refugee family from the Central African Republic. One of the family members was undocumented. "He'd come on a tourist visa and wanted to seek asylum but didn't know how to, only spoke French, and just needed a connection to resources," says Booth. She was inspired by his circumstances to help similarly affected immigrants through the law. 
After college, she spent two years working with the Arab American Association of New York as an Immigrant Justice Corps Community Fellow and a Department of Justice (DOJ) accredited representative, assisting applicants with naturalization, Deferred Action for Childhood Arrivals, and other immigration relief. She quickly realized her clients required more assistance than the limited help she was allowed to provide as a representative. "There was a gigantic need for an immigration attorney to service this community. . . . As a DOJ representative, I could represent people in affirmative proceedings, but I couldn't represent anyone in immigration court or seek systemic change on their behalf," she says.
Learning about Columbia Law's Immigrants' Rights Clinic convinced Booth to come here. "I spoke with the directors of different immigration clinics at the schools I was considering and met with Professor Elora Mukherjee . . . and just had a really wonderful conversation," she says. During her 2L year, Booth enrolled in that clinic and discovered new facets of immigration law and representation. The experience was instrumental when she began considering her fellowship application and project. 
In the clinic, Booth already had worked closely with AFSC to secure the release of detainees at high risk of contracting COVID-19. While she considered applying for the fellowship, she spoke with the organization about the need in northern New Jersey for immigrants detained post-order to have representation. "Because of limitations on state funding and lack of funding from other places, there's really no capacity to represent people who already have removal orders who are seeking to appeal them or reopen them and stay their deportations," she says. 
Through the Skadden Fellowship Foundation—which aims to improve legal services for the poor and to encourage economic independence—fellows pursuing public interest law full-time receive salary and benefits at a sponsoring organization for two years. Skadden had funded a fair amount of affirmative immigration representation, but "not for anyone who's already lost and certainly not for anyone who's detained," says Booth. 
She received guidance from AFSC, Legal Services of New Jersey, Mukherjee, and Columbia Law Lecturer in Law Amelia Wilson throughout the application process, and AFSC had agreed to be her host. Booth also credits the Office of Social Justice Initiatives and Madeleine Kurtz '84, director of public interest professional development, for their critical support throughout the process. "Susanna is enormously talented and dedicated and will be an outstanding lawyer. It was a joy to work with her," says Kurtz.
Booth has remained focused on her long-term career goals throughout her three years at the Law School and envisions working as an immigration attorney or, perhaps, running an immigration law clinic. "I constantly think about my former clients and my future clients as to why I am in law school. And that's the biggest motivator. And that has never wavered," she says.