Celebrating the Life of Constance Baker Motley '46
Celebrating the Life of Constance Baker Motley '46
A pioneering civil rights lawyer with the NAACP Legal Defense and Educational Fund who argued 10 cases before the U.S. Supreme Court, Motley was the first Black woman to serve as a federal judge.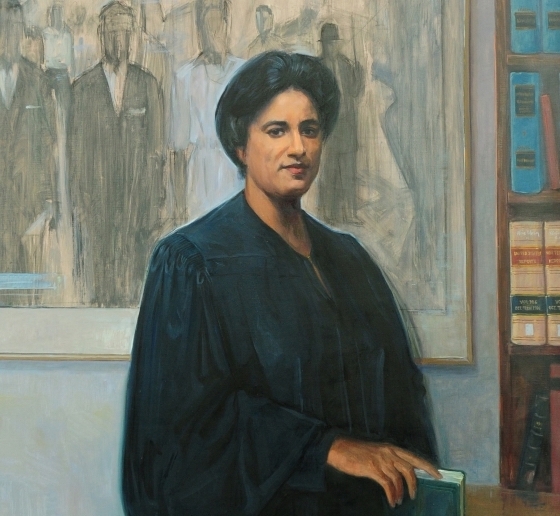 Constance Baker Motley '46 was the second Black woman to graduate from Columbia Law School (Judge Elreta Melton Alexander '45 was the first), but she is second to none in consequential contributions to the Civil Rights Movement. She was an integral member of the NAACP Legal Defense and Educational Fund (now called the Legal Defense Fund, or LDF) team that wrote the briefs for Brown v. Board of Education. Motley also spearheaded the 1960s court cases that desegregated the University of Georgia and the University of Mississippi.
Motley was a lawyer's lawyer and a formidable foe. "When she got ahold of a case, pity the lawyer on the other side," said her LDF colleague Jack Greenberg '48, who later became a Columbia Law School professor. By 1964, having argued 10 cases (and won nine) in the U.S. Supreme Court, Motley was dubbed "The Civil Rights Queen" by the Norfolk Journal and Guide, one of the most respected and widely distributed African American newspapers in the country. 
In 1966, after a brief stint in New York politics as the first Black woman to be elected a state senator and Manhattan borough president, Motley was appointed by President Lyndon B. Johnson to the U.S. District Court for the Southern District of New York, where she served full time until 1986, when she took senior status with a reduced caseload. She was an inspiration to countless lawyers, including Ruth Bader Ginsburg '59, who eulogized her in the American Bar Association's Human Rights magazine in 2005. "I count it my great good fortune to be among the legions whose lives Judge Motley touched," wrote Ginsburg. "She taught me and others of my generation that law and courts could become positive forces in achieving our nation's high aspiration—as carved above the entrance to the U.S. Supreme Court—Equal Justice Under Law."
Learn more about Judge Motley's life and achievements below.