Bamisope Ibidolapo Adeyanju '20 LL.M. Awarded Public Interest and Government Fellowship
Bamisope Ibidolapo Adeyanju '20 LL.M. Awarded Public Interest and Government Fellowship
The Nigerian lawyer will work on environmental justice issues at Accountability Counsel in Washington, D.C.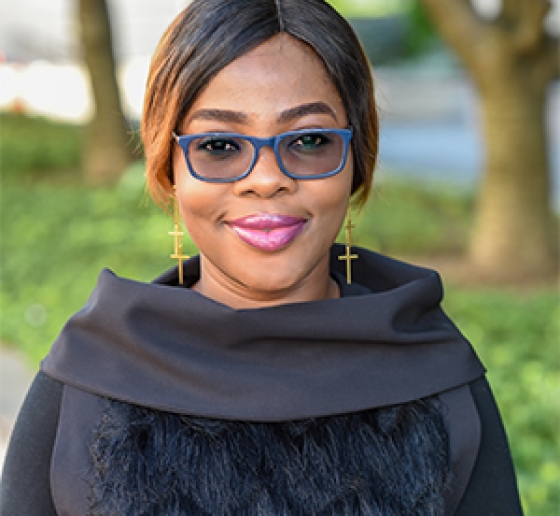 Before she enrolled at Columbia Law School, Bamisope Ibidolapo Adeyanju '20 LL.M. practiced law as an associate in dispute resolution at Afe Babalola & Co. in Lagos, Nigeria, and served as a senior legal adviser at the Socio-Economic Rights and Accountability Project (SERAP), also in Lagos. While at Columbia Law School, where she was awarded the prestigious Baker McKenzie Scholarship and a Human Rights LL.M. Fellowship, Adeyanju worked as a staff editor for the American Review of International Arbitration, and she was part of a team of two on the Human Rights Clinic Project on Racial Justice and Economic and Social Rights in the United States. She also mentored and taught middle school students through the Harlem Tutorial Project and served on the board of Columbia Law Students for Disability Rights, the Environmental Law Society, and the Student Public Interest Network.
Why Accountability Counsel: "The organization has a track record of promoting the environmental and human rights of communities around the world who are harmed or likely to be harmed by internationally financed projects. In its moderate years of experience, Accountability Counsel has achieved several measurable impacts including the creation of new accountability offices, improved accountability policies at many multilateral development banks and U.S agencies and within international institutions. I wanted to be part of an impact-driven organization where I could utilize the knowledge I gained in my extractive industries, sustainable development, transnational business, and human rights classes at Columbia to assist with policy-level strategies that achieve justice for the communities."
Fellowship Goals: "To work with Accountability Counsel's communities, research, and policy teams to translate communities' complaints to policy advocacy that will generate systemic change toward more impact investments and sustainable projects that cater to the real needs of beneficiaries. Through research and policy advocacy, I will work to ensure access to information that allows communities to meaningfully engage with investment processes and decisions that affect them. I will also advocate for more robust accountability offices and mechanisms that allow communities to communicate their grievances and receive remedies from duty-bearers."
The Office of Social Justice Initiatives (SJI) guides Columbia Law School students who want to pursue public interest work throughout their academic careers and after graduation. SJI also assists in the process of applying to prestigious postgraduate fellowships. Read about other 2020 fellowship recipients.