Antitrust Scholar Lina Khan Joins Faculty
Antitrust Scholar Lina Khan Joins Faculty
A leading critic of Big Tech's monopolistic practices, Khan recently co-authored a landmark Congressional report on competition in the digital marketplace.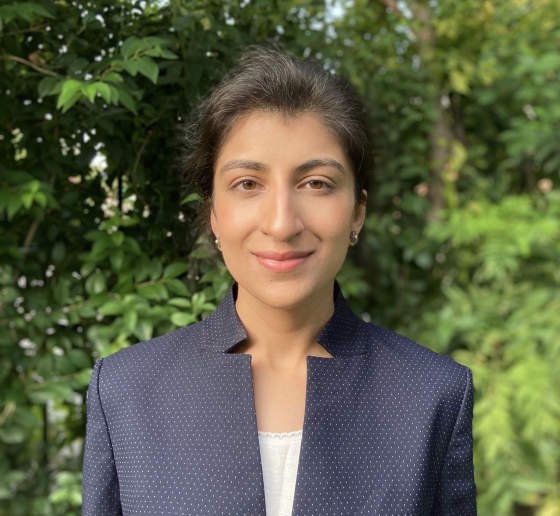 Lina Khan had some unfinished business when she joined the Columbia Law School faculty as associate professor of law in September: She was in the midst of co-writing a bipartisan 449-page report, Investigation of Competition in the Digital Markets, for the House Judiciary Committee's Subcommittee on Antitrust, Commercial, and Administrative Law. As one of the subcommittee's lead counsels, she had spent the previous 16 months steering an exhaustive investigation into the anticompetitive business practices of so-called Big Tech firms, including helping lawmakers prepare for the live-streamed congressional hearing where they grilled Amazon CEO Jeff Bezos, Apple CEO Tim Cook, Facebook CEO Mark Zuckerberg, and Google CEO Sundar Pichai. 
When the blockbuster report was released on October 6, Khan was hailed for her analysis and thought leadership. "Upon careful reading, it becomes abundantly clear just how much this strong, unapologetic call for Congressional action owes to the sagacious intellectual fingerprints of Lina Khan," wrote lawyer and scholar Shaoul Sussman in ProMarket, a publication of the Stigler Center at the University of Chicago Booth School of Business.
The report also affirmed Khan's rising star status as a preeminent voice of what's been dubbed the "New Brandeis" school of antitrust (and dismissively labeled the "hipster antitrust" movement by critics). As a 3L at Yale Law School, she published her seminal 2017 article, "Amazon's Antitrust Paradox," in The Yale Law Journal. Khan argued that even though consumers benefited from Amazon's low prices, the company's broad reach posed dangers that gave it too much influence on the economy and quashed competition.
Since receiving her J.D. in 2017, Khan has earned a reputation as a cutting-edge scholar and published articles in the Columbia Law Review, Georgetown Tech Law Review, Harvard Law Review, and University of Chicago Law Review. With Big Tech affecting lives in countless ways on a daily basis, it's not surprising that the media is paying attention to Khan—she's been profiled by The Atlantic and The New York Times as well as named to the Politico 50, Foreign Policy magazine's Global Thinkers, Prospect magazine's Top 50 Thinkers, WIRED25, National Journal 50, and Time magazine's Next Generation Leaders. After the congressional report was released, she was interviewed for Kara Swisher's Sway podcast from The New York Times that proclaimed Khan is "bursting Big Tech's bubble" and "taking on the most powerful men in Silicon Valley."
The Antitrust Juggernaut
In fall 2020, Columbia Law students clamored to get into Khan's seminar, The Antimonopoly Tradition: Law, Policy, and History. "It was massively oversubscribed," she says. "It's extremely encouraging that there is so much interest in this area. The students are wonderfully curious and highly engaged. And even though it's a remote class, we have been having excellent, probing discussions." She will be teaching The Law of Infrastructure Industries in spring 2021.
Khan arrived at the Law School as an academic fellow in fall 2018 (and went on leave in March 2019 to join the House antitrust subcommittee). She was encouraged to join the Columbia Law faculty by two of her colleagues in particular: David Pozen, vice dean for intellectual life, Charles Keller Beekman Professor of Law and her co-author on "A Skeptical View of Information Fiduciaries" in the Harvard Law Review, and fellow antitrust expert Tim Wu, Julius Silver Professor of Law, Science and Technology. (In addition to meeting at conferences, Khan and Wu got to know each other when she served as policy director to Zephyr Teachout, who ran unsuccessfully to be the Democratic gubernatorial candidate in New York State in 2014, and Wu ran for the lieutenant governor nomination.) Some six years later, Bloomberg Businessweek says Khan and Wu are making Columbia Law the center of a "new school of antitrust." Their philosophy is to look beyond consumer welfare (i.e., price) as the litmus test for antitrust enforcement (the prevailing standard set by the so-called Chicago School in the 1970s) and instead focus on innovation, entrepreneurship, privacy, freedom of the press, and economic and civil liberties.
Khan says she was also attracted to Columbia Law because of the faculty's work across disciplines such as legal history, administrative law, and corporate law. "I write on antitrust and other areas typically considered business law, but my work is informed by and draws from debates in areas of public law," she says. "It was important for me to be at a law school with a strong community in both of these areas."
Power to the People
After graduating from Williams College in 2010, where she was editor of the student newspaper, Khan became a fellow in the Open Markets program at the New America Foundation, a research group studying economic power. New America focused on producing long-form narrative journalism, rather than staid white papers, to share its findings with a broad audience. For her first three assignments, Khan researched and documented consolidation in the book, airline, and agricultural industries. "It became clear through my work that growing economic consolidation was increasingly a systemic problem, not an isolated one," she says.
Khan spent four months investigating the U.S. poultry industry and published her findings in the article "Obama's Game of Chicken" in the November-December 2012 issue of Washington Monthly. She detailed how the administration tried and failed to stand up to big agricultural companies on behalf of independent farmers who were victims of abusive and predatory conduct.
Talking to everyday people, such as the farmers, about their lived experiences provided Khan with a bottom-up perspective on market structure and antitrust. "It gave me a much more visceral sense of the power dynamics at play," she says. "It definitely informed my approach to antitrust and my decision to go to law school. I was introduced to antitrust laws not as arcane technocratic policy but as a set of choices that go to the heart of how people experience power in their lives.
"How we structure markets and our economic sphere has deep implications for democracy," she continues. "Setting the rules for markets is fundamentally a political question."
The Twilight of Big Tech?
If Khan has her way, Amazon, Apple, Facebook, and Google will not remain omnipotent behemoths. In the congressional report, she and her co-authors offer countermeasures for restoring competition in the digital economy, strengthening antitrust laws, and doubling down on their enforcement.
"I'm working on a project to think through some of the questions around legal remedies, including business restrictions and breakups," she says, explaining that there are judicial, legislative, and administrative solutions to consider. "We need to expand our understanding of the legal mechanisms through which we can structure breakups."
Khan is gratified that antitrust and anti-monopoly have become topics of vigorous public discussion. "It's an exciting time to be working on these issues. We're seeing a fundamental rethink of longstanding precepts in antitrust and an opportunity to revisit and reset its foundational paradigm," she says. "Historically these moments of real contestability are rare, so there's a tremendous amount of work to be done. I'm grateful that I get to pursue that work among such creative and brilliant colleagues at Columbia, which has a long tradition of legal scholarship on political economy, democracy, and power."