Annual Myra Bradwell Dinner 2009
Annual Myra Bradwell Dinner 2009
Susan B. Lindenauer '64 Took the Road Less Traveled by Tells the Columbia Law Women's Association about the Trip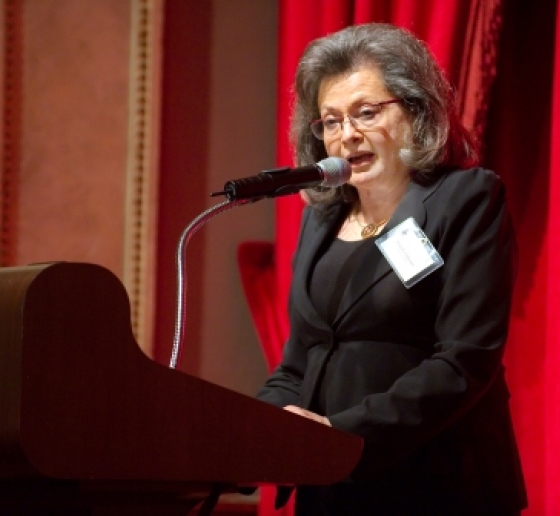 Columbia Law School alumna Susan B. Lindenauer, one of 11 women in the Class of 1964, began her keynote address at the annual Myra Bradwell Dinner with the verse of Robert Frost: "Two roads diverged in a wood, and I –/I took the one less traveled by,/And that has made all the difference."
That theme underscored the talk by Lindenauer, a vice president of the New York State Bar Association and the retired general counsel of The Legal Aid Society of New York City. She discussed the progress of women lawyers and the challenges they face today, and the obligation of women lawyers to mentor and assist other women. 
About 120 alumni, students, and faculty attended the dinner hosted by the Columbia Law Women's Association in honor of Myra Bradwell, a pioneering woman lawyer who was denied admission to the Illinois bar in 1872 because being a married woman prevented her from entering into legally binding contracts. She appealed her case in 1873 to the Supreme Court, which upheld the state's decision.
Lindenauer recalled that when she applied to law school, women made up less than two percent of lawyers and none sat on the Columbia Law School faculty. It wasn't until 1972 that Ruth Bader Ginsburg '59 became the first woman faculty member hired with tenure. Over the next decades, Columbia saw its first woman dean,
Barbara Aronstein Black
, and a growing number of women on the faculty and student body.
In 2002, Lindenauer chaired the 75th Women's Anniversary Celebration, marking the admission of the first woman to Columbia Law School, and initiated the Oral History Project of women graduates from the 1930s and '40s.
Lindenauer applauded Columbia's current commitment to gender and ethnic diversity within the faculty. She also praised the school's support for public interest work, which she called "essential to the core values of our profession," and "recognition of that road less traveled by."
In describing her own career path, Lindenauer said, "My aspiration when I entered law school was to be a change agent." This led her to poverty law – an area she considers a women's issue – and to Legal Aid, where she witnessed first hand the lack of resources for civil legal services, a challenge that persists today.
While society has achieved tremendous advances in women's rights since Bradwell's day, barriers to gender equality remain, said a number of students at the dinner. Several noted that despite balanced numbers in law school enrollment and initial hiring, men still outpace women in salary and long-term career success.
Rosalie Fazio '09, editor of the Journal of Gender and Law, said, "With events like this and journals like ours, we sometimes get pushback from those who ask, is gender really an issue? Now that we've achieved parity in legal education and getting jobs, it's about getting women lawyer mentors, and figuring out how to get from point A to point B in your career."
Lindenauer said, "Mentoring is something we all must do, can do, and will do." She paid tribute to the women who inspired her, including Law School alumnae Edith Spivack '32, Annette Elstein '42, Shirley Schwartz '42, and Felice Shea '50.
Addressing the state of women lawyers today, Lindenauer encouraged law schools to monitor and publish the outcomes of their graduates, and urged the next generation of leaders to advocate for affordable day care and for workers' rights protected under the Family and Medical Leave Act. Lindenauer concluded as she'd begun, with Frost, "We have miles to go before we sleep." 
The dinner also included the announcement of  Sarah Hinger '09 as the winner of the
J
ournal of Gender and Law
's Myra Bradwell Note competition, for her "Finding the Fundamental: Gender and Sexual Orientation Based Asylum Claims."
Dinner concluded with a revival of the Round Robin, an opportunity for dinner guests to take the podium and share their stories. Professor
Mary Zulack
recalled working at Legal Aid when Lindenauer was its general counsel, and "having a great time representing clients in the scrappiest of courts." She later agreed to serve on the New York Bar Association at the encouragement of Lindenauer. "When Susan urged, you obeyed," Zulack said.
Alumna Angela Fernandez '98 outlined her own less-traveled-by-path, which took her from work as a corporate attorney to ABC News, to teaching at Riker's Island, and then to opening two charter schools, one in Washington, D.C., and another in the South Bronx. These experiences and her passion for advocacy led her to her newest position as deputy director for the Northern Manhattan Coalition for Immigrant Rights.
Former Dean Lance Liebman recounted the experience of taking on greater responsibility for his children, then ages three and five, while his wife, Professor Carol Liebman, went back to school to earn a law degree. He also recalled the transition in the views of his predecessors at the Law School, who had first refused with great umbrage to admit women.
It would have been perhaps impossible for Myra Bradwell or the pioneering women of Columbia Law School to have imagined such a dinner, let alone participant Justin Steil '10.
"I would say that being committed to gender equality is fundamental to being a whole, healthy person in our society," said the CLWA member. "Working for women's rights is central in any effort to make our society more just for all."
PHOTO CREDIT: David Wentworth