Aneesa Mazumdar '22: Harlan Fiske Stone Moot Court Finalist
Aneesa Mazumdar '22: Harlan Fiske Stone Moot Court Finalist
This year's case is Unsecured Creditors' Committee v. Better Future Housing Co. The final will take place on April 18. Mazumdar will be arguing on behalf of the appellant.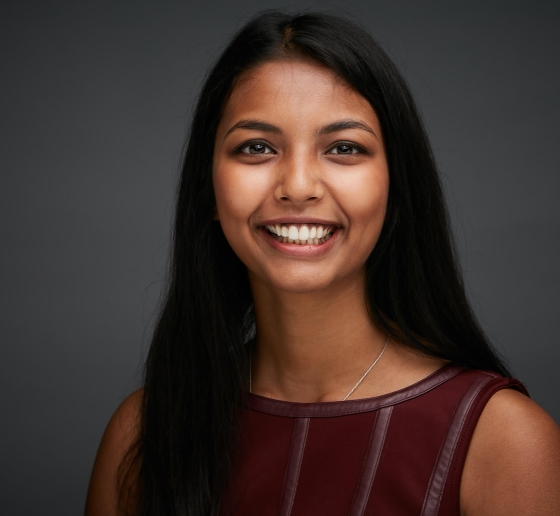 Even though she had no experience in bankruptcy law, Aneesa Mazumdar '22 was enthusiastic about the fictional case designed for the Harlan Fiske Stone Moot Court Competition. "I was excited about the fact that the case was so statute-heavy," she says. 
As a 1L, Mazumdar took a Legal Methods course with Jane C. Ginsburg, Morton L. Janklow Professor of Literary and Artistic Property Law, that focused on questions of statutory drafting and interpretation. She later served as a teaching assistant for the class.
"I've always enjoyed statutory interpretation," says Mazumdar. "I like drilling down into the words of various sections."
That interest has come in handy, especially now that she is a finalist in the moot court competition. The fictional case, written by competition directors Caleb Smith '22 and Mason Walther '22, involves creditors challenging a bankruptcy judge's decision to grant a third-party nonconsensual release  shielding an affordable-housing developer from liability on state tort claims related to his former company. Mazumdar is handling the statutory question of whether the bankruptcy code even allows such a release.
The case is loosely based on the bankruptcy of opioid maker Purdue Pharma, and the timeliness of the problem "gave me additional context for how these issues are actually being thought about and litigated in courts," Mazumdar says. 
"You want to win on the specific legal points," she says. "But it's also about presenting this broader story of fairness—of equity—and trying to explain why, on a big-picture level, your client's story is ultimately more compelling."
—Aneesa Mazumdar '22
A native of California whose mother was an attorney in India, Mazumdar always had an interest in the law, but just in case a legal career didn't pan out, she studied economics at the University of Chicago and worked initially as an investment analyst at Goldman Sachs. Two years in that job propelled her to law school.  "I liked the work, but always felt that the law would be a better fit for me," she says.
Mazumdar believed a career in the law would be more varied. So far, she's been right: In two summers as an associate at Venable, she has worked on misappropriation and trade secret matters and drafted memos on contract law cases and tortious interference claims. Last summer, at Sullivan & Cromwell, she wrote part of a motion to dismiss in an antitrust case.
"That really honed my legal writing skills," she says.
Mazumdar, who will join Sullivan & Cromwell after graduation, says she has become more interested in appellate advocacy through her participation in the Harlan Fiske Stone Moot Court. "I like that it's less about developing facts and more about thinking through the implications of the court ruling one way or another and setting a precedent," she explains. "What does that mean for not just your client but future parties?" 
When she's in front of the judges, Mazumdar says she tries to prioritize her arguments, knowing in advance what she can afford to "skip over" if the judges' questions limit her time. Her goal is to create an overall narrative.
"You want to win on the specific legal points," she says. "But it's also about presenting this broader story of fairness—of equity—and trying to explain why, on a big-picture level, your client's story is ultimately more compelling."