Andrew Khanarian '20: 2020 Harlan Fiske Stone Moot Court Finalist
Andrew Khanarian '20: 2020 Harlan Fiske Stone Moot Court Finalist
This year's case is Chen v. Secret Saturdays Inc. and the competition takes place on May 1. Khanarian will be arguing for the defendant-appellant.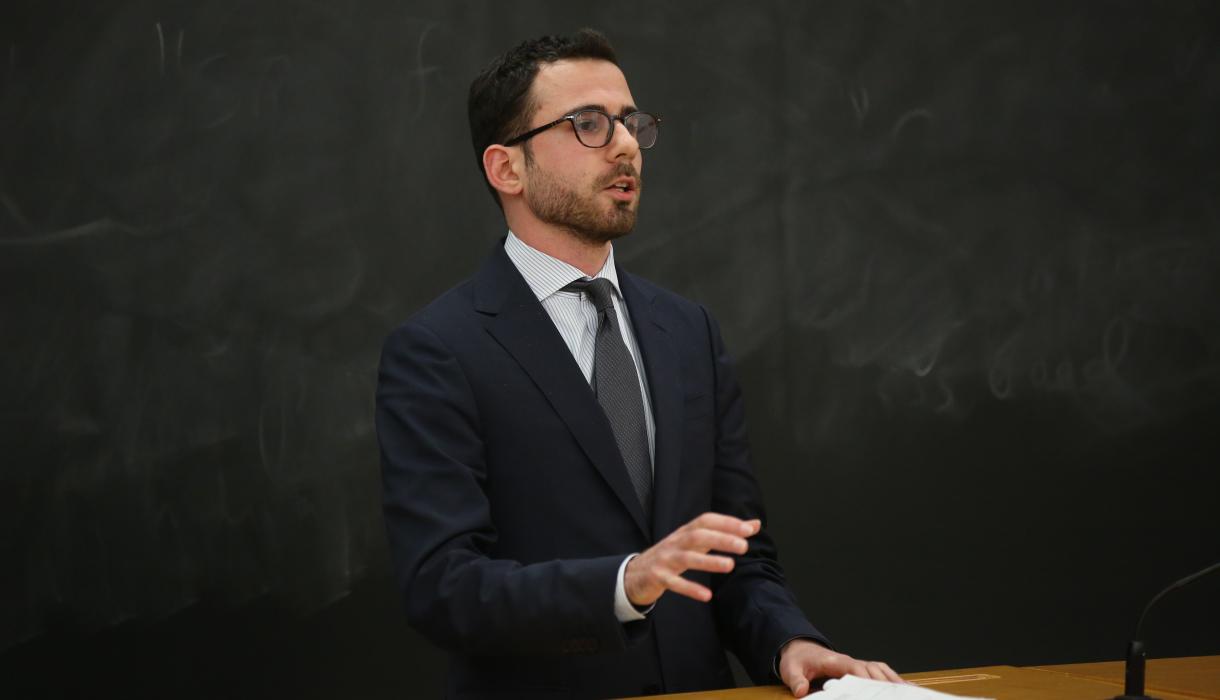 Harlan Fiske Stone Moot Court finalist Andrew Khanarian '20 has a systematic method for preparing for oral arguments. "I write out complete answers to every possible question I can imagine," he says. "I then rewrite them continuously. The process of iteratively improving your written answers brings out the best lines that I can use during oral argument."
The method is tried and true, not just for Khanarian, but also for the attorney who told him about it: Kathleen M. Sullivan, the renowned appellate practitioner and a guest speaker in Khanarian's Appellate Advocacy seminar.
"A lot of what I do to prepare is based on advice she gave," he says.
The seminar, taught by professors and 2nd U.S. Circuit Court of Appeals Judges Debra A. Livingston and Gerard E. Lynch '75, has been instrumental in Khanarian's journey to the moot court finals. In class, students take turns playing the role of advocate and judge in pending U.S. Supreme Court cases.
"It's impossible to teach appellate advocacy in the abstract," Khanarian says. "Because we're arguing real cases, we're able to tie strategy, style, and substance all together. That's really valuable."
Khanarian, who is from New Jersey and studied math and physics at Columbia College, was drawn to the law for the same reason he was originally drawn to engineering: its ability to solve problems.
"There's a structural building component," he says. "Judges and clients want to know what the right answer is, but, more so, people want an answer that works, that functions with everything else in the legal system."
Before enrolling in the Law School, Khanarian worked as a paralegal at a small litigation firm in Washington, D.C., and on the securities team at Davis Polk & Wardwell LLP in New York City. He started off with the goal of becoming a transactional lawyer but has a growing interest in litigation stemming from commercial transactions, a shift driven in part based on his experience in the Harlan Fiske Stone Moot Court competition. 
As a managing editor of the CLS Blue Sky Blog, he also has had access to new scholarship in corporate law. "The biggest benefit has been getting that exposure and seeing where the discipline is going in the future," he says.
In moot court, he views oral arguments as an opportunity to "help judges solve a problem."
"I want them to be comfortable ruling in my favor—that [doing so] would be consistent with the law and notions of justice and how the overall system works," he says. 
Unlike the other finalists, Khanarian, who will be joining Cleary Gottlieb Steen & Hamiton LLP in New York after graduation, had to switch sides in the competition. In the first round he represented the plaintiffs, who claim a business' website is inaccessible under the Americans with Disabilities Act; since then, he has represented the defendant-appellant.
That experience was "liberating."
"You have the freedom to think, 'What if I was wrong?'" he says. "Whenever you think you have a slam-dunk case, you probably never have a slam-dunk case. That's something I'm going to remember going forward."
The Harlan Fiske Stone Moot Court Competition final arguments, part of the Paul, Weiss, Rifkind, Wharton & Garrison Moot Court Program, are the culmination of a three-round elimination competition in appellate advocacy. ​Read about the other finalists in the competition.