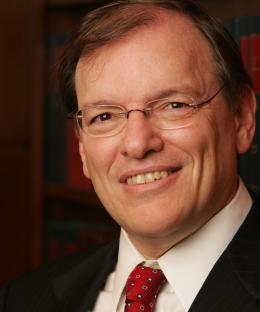 Gerard E. Lynch
Paul J. Kellner Professor of Law
Education
Columbia College '72
Columbia Law School '75
Gerard E. Lynch '75 is a judge on the U.S. Court of Appeals for the 2nd Circuit, to which he was appointed by President Barack Obama in 2009. From 2000 to 2009, he served as a U.S. district judge for the Southern District of New York. An award-winning teacher and former federal prosecutor, he teaches courses on civil procedure and appellate advocacy. He is also a respected scholar who is the author of a book-length study of the Racketeer Influenced and Corrupt Organizations Act, as well as many journal and law review articles on sentencing and other criminal justice issues.
Lynch graduated first in his class from Columbia College and from Columbia Law School. He joined the faculty in 1977 and served as the Law School's vice dean from 1992 to 1997. During his tenure at Columbia Law, Lynch has been honored with all of the school's most prestigious awards: the Medal for Excellence, which is presented annually to alumni and past or present faculty members who exemplify the qualities of character, intellect, and social and professional responsibility that the Law School seeks to instill in its students; the Wien Prize for Social Responsibility; and the student-voted Willis L.M. Reese Prize for Excellence in Teaching. He also was the first Law School professor to receive the Columbia University Presidential Award for Outstanding Teaching. He has been awarded the Learned Hand Medal for Excellence in Federal Jurisprudence by the Federal Bar Council, and the Edward Weinfeld Award for Distinguished Contribution to the Administration of Justice by the New York County Lawyers Association.
Lynch began his career as a law clerk to Judge Wilfred Feinberg '46 on the U.S. Court of Appeals for the 2nd Circuit and for Justice William Brennan Jr. on the U.S. Supreme Court. He was an assistant U.S. attorney for the Southern District of New York from 1980 to 1983 and the chief of the criminal division from 1990 to 1992. He has been counsel to several special prosecutors investigating government corruption and served from 1992 to 2000 as counsel to the New York firm of Howard, Darby & Levin and its successor firms. He is a member of the Council of the American Law Institute.
Publications
"Ending Mass Incarceration: Some Observations and Responses to Professor Tonry," 13 Criminology & Public Policy 561, 2014
"Marvin Frankel: A Reformer Reassessed," 21 Federal Sentencing Reporter 235, 2009
"Letting Guidelines be Guidelines (and Judges be Judges)," 5(2) Ohio State Journal of Criminal Law 1 (supp.), 2008
"Sentencing: Learning From, and Worrying About, the States," 105 Columbia Law Review 933, 2005
"Revising the Model Penal Code: Keeping It Real," 1 Ohio State Journal of Criminal Law 219, 2003
"Screening versus Plea Bargaining: What Are We Trading Off?" 55 Stanford Law Review 1399, 2003
"Sentencing Eddie," 91 Journal of Criminal Law and Criminology 547, 2001
"Our Administrative System of Criminal Justice," 66 Fordham Law Review 2117, 1998
"Toward a Model Penal Code, Second (Federal?): The Challenge of the Special Part," 2 Buffalo Criminal Law Review 295, 1998
"The Role of Criminal Law in Policing Corporate Misconduct," 60 Law & Contemporary Problems 23, 1997
"The Sentencing Guidelines as a (Not-So-Model) Penal Code," 7 Federal Sentencing Reporter 112, 1994
"How Useful is Civil RICO in the Enforcement of Criminal Law?" 35 Villanova Law Review 929, 1990
"A Conceptual, Practical and Political Guide to RICO Reform," 43 Vanderbilt Law Review 769, 1990
"RICO: The Crime of Being a Criminal, Parts I & II," 87 Columbia Law Review 661, 1987; Parts III & IV, 87, Columbia Law Review 920, 1987
"The Lawyer as Informer," 1986 Duke Law Journal 491, 1986
Honors and Awards
Medal for Excellence
2018
Learned Hand Medal for excellence in federal jurisprudence from the Federal Bar Council
2016
Edward Weinfeld Award for distinguished contributions to the administration of justice from the New York County Lawyers Association
2009
Lawrence A. Wien Prize for Social Responsibility
2008
Columbia University Presidential Award for Outstanding Teaching
1997