Two Distinguished Alumni Awarded 2018 Medals for Excellence
Two Distinguished Alumni Awarded 2018 Medals for Excellence
Judge Gerard E. Lynch '75 and Stephen Friedman '62 recognized at annual Winter Luncheon.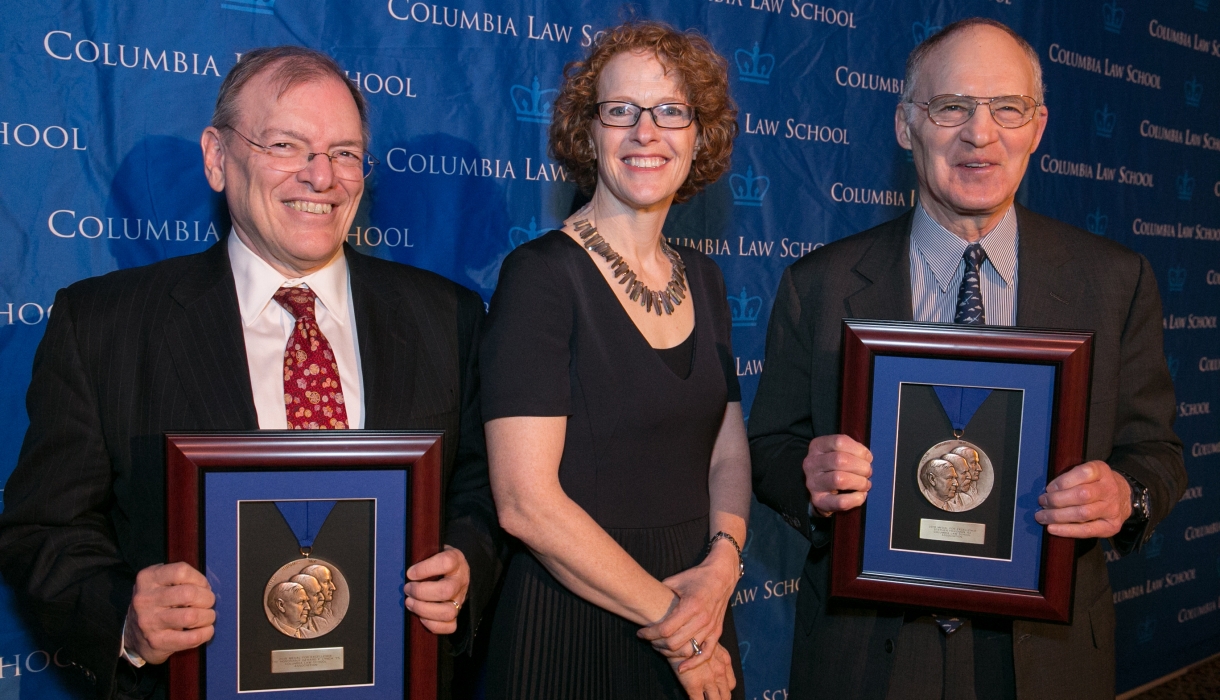 Photo: Judge Gerard E. Lynch '75, Dean Gillian Lester, and Stephen Friedman '62 at the Winter Luncheon
The Columbia Law School community gathered on February 23 beneath the soaring ceilings of Cipriani 42nd Street to celebrate two alumni with the Law School's highest honor. "The Medal for Excellence is awarded to alumni and past and present faculty members who exemplify the qualities that Columbia Law School seeks to instill in its students—intellect, social and professional responsibility, and above all character," said Gillian Lester, Dean and Lucy G. Moses Professor of Law, as she introduced Gerard E. Lynch '75 and Stephen Friedman '62.
"These qualities are not only important," Dean Lester said at the gathering of more than 400 alumni, faculty, administrators, and students. "They are timeless and indispensable to solving the challenges of the moment. And they make us Columbians."
As Dean Lester noted, the honorees (both natives of Brooklyn) have distinguished themselves among their high-achieving peers. Lynch is both a judge on the U.S. Court of Appeals for the 2nd Circuit and the Paul J. Kellner Professor of Law at Columbia, where he has taught since 1977 and received two teaching awards. Lynch has also received the Law School's Lawrence A. Wien Prize for Social Responsibility, which honors attorneys who put their resources and legal skills to work for the public good.
The Dean praised Friedman, the chairman of Stone Point Capital and the retired chair of Goldman Sachs, for his intellectual curiosity and philanthropy. She noted that he sometimes plays chess with Russian wizards to learn about strategy and game theory. She recognized the leadership he demonstrated when he was head of the Federal Reserve Bank of New York, the Council on Foreign Relations, the Aspen Institute, and the Columbia University Board of Trustees.
In their acceptance speeches, both Lynch and Friedman were modest and humorous. "I look like Bruce Springsteen at the Meadowlands!" quipped Lynch as he stared at his image projected on the jumbo screen above the podium.
Describing himself at 18 "as a mechanic's son from the outer boroughs, knowing nothing about what a great university is and does," Lynch said he was indebted to both Columbia College and Columbia Law School for "taking him in for free" and allowing him to graduate from both schools virtually debt free. He said his career as a professor, advocate, and judge was shaped by "teachers who seemed a race of giants" who helped him to "relish the intellectual challenges of the law." Moreover, he praised Columbia for instilling "a genuine concern with how to operationalize ideas about law to solve concrete problems, large and small, political and personal, in the world."
In receiving the Medal for Excellence, Lynch was gracious and self-deprecating. "I would say I accept this medal with great humility, but my Catholic conscience would then immediately say, 'There you go again bragging about your humility," he said, eliciting hearty laughter from the audience.
Friedman remembered the Law School as a "boot camp for thinking," and said he was moved by Dean Lester's laudatory introduction. "I wish my parents were here," he said. "My father would have appreciated Gillian's remarks, and my mother might have conceivably believed them."
Friedman, who was a competitive wrestler as an undergraduate at Cornell, said he applied two valuable pedagogical lessons from his days as a jock when he arrived at the Law School. "One was everything important in terms of maximizing whatever skills you had comes from deferring gratification—no pain, no gain," he said. "And secondly, you weren't going to enhance whatever skill base you had unless you tested yourself against really excellent talent."
Acknowledging the talented members of the Class of '62, Friedman credits them with spurring him on to become a disciplined thinker who would one day receive the Medal for Excellence, which has been awarded to alumni and professors since 1964. "I'm very honored by this," he said. "I'm deeply gratified that you think I made use of those lessons from the law school."