Adilbek Kaziyev '22 LL.M. Awarded 3C Foundation Scholarship
Adilbek Kaziyev '22 LL.M. Awarded 3C Foundation Scholarship
Supported by international law firm Three Crowns, the scholarship provides training in arbitration for LL.M. students from emerging economies.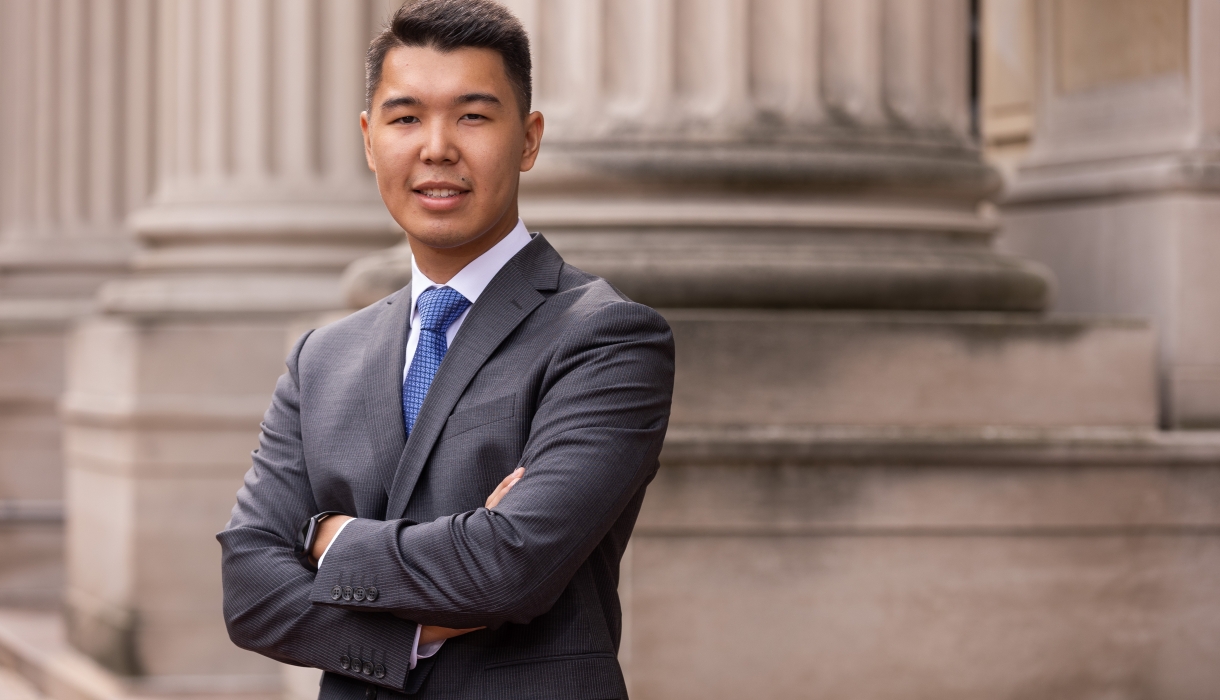 Even before he earned a law degree, Adilbek Kaziyev wanted to be part of a new financial and legal hub in Kazakhstan designed to attract overseas investments.
"It's quite a unique project for Kazakhstan and for Central Asia as well," Kaziyev says. "Nobody knows how to work precisely with this system."
Now, with the support of the 3C Foundation scholarship, Kaziyev is earning an LL.M. degree at Columbia Law School and focusing on arbitration and dispute resolution. 
Diversifying the Field of International Arbitration
Kaziyev is the second recipient of the scholarship, specifically created for Columbia LL.M. students who hail from emerging economies and have an interest in international arbitration. It was established in 2019 by the 3C Foundation, an independent charity founded and supported by Three Crowns, a law firm specializing in international arbitration and international law. "Several of our attorneys are Columbia Law School alumni, and we know firsthand that an education there opens many doors," says Gaëtan Verhoosel, a founding partner of Three Crowns. "We are genuinely proud to support such an opportunity for Adilbek and other promising young lawyers like him."
After graduating from Columbia Law, Kaziyev plans to return to Kazakhstan to work at the Astana International Financial Centre (AIFC). Modeled on a similar financial center in Dubai, the AIFC is a special economic and legal zone with its own judicial system, common law framework, stock exchange, and tech hub. The AIFC also has an arbitration center, where Kaziyev worked before coming to Columbia Law School preparing cases for arbitrators—an experience he says compares with a judicial clerkship. Kazakhstan is a civil law country, but common law-based arbitration is more attractive to the international investment that the country wants to attract, Kaziyev says. 
The Art of Kindness and Fairness
Kaziyev grew up in Almaty, Kazakhstan's biggest city, and earned a law degree in Nur-Sultan from M. Narikbayev KAZGUU University (which has its own statue of Alma Mater, he points out). He chose to become a lawyer to help people. "When you look around, you see people struggling when they don't know their rights and laws. When you have the knowledge, you can help them." He cites the motto of his law school, which he translates as, "The law is the art of kindness and fairness."
Columbia Law has offered Kaziyev a fresh perspective on the law. While he was familiar with the Socratic method of teaching from his previous university, he says it's new to have professors with both practical and academic experience.
"When I worked in Kazakhstan, I was gaining experiential knowledge from practice, but now I feel I have the theoretical knowledge that can be turned into innovation," he says. His LL.M. classes have covered litigation and arbitration strategies that aren't yet common in Kazakhstan, "and that will be very beneficial for our society" when he returns home to practice. "I'll be more experienced, and I can spill over this knowledge to my peers there." 
With students from more than 50 countries, the LL.M. program "is a great chance to get diverse knowledge from around the globe," he says. "When people stay in the same country, they have only part of the [international legal] picture."
So far his LL.M. year has featured several wins: His team won a New York–themed scavenger hunt organized by the Office of Graduate Degree Programs, and he earned a seat in the Student Senate representing LL.M. students. The position is a natural follow-up to his role as president of the student body at KAZGUU University, where he worked to make the student government more transparent and successfully lobbied to appoint students to administration committees.
He is also using his year at Columbia to explore the city, including on early morning runs in Central Park and in pickup soccer matches. "Every weekend I'm going downtown," he says. "I'm trying to balance between my studies and knowing what is New York."