Yasmin Dagne '18 Awarded Johnnie L. Cochran, Jr. Civil Rights Fellowship
Yasmin Dagne '18 Awarded Johnnie L. Cochran, Jr. Civil Rights Fellowship
Working at Neufeld Scheck & Brustin, LLP, Dagne will advocate on behalf of the wrongfully convicted.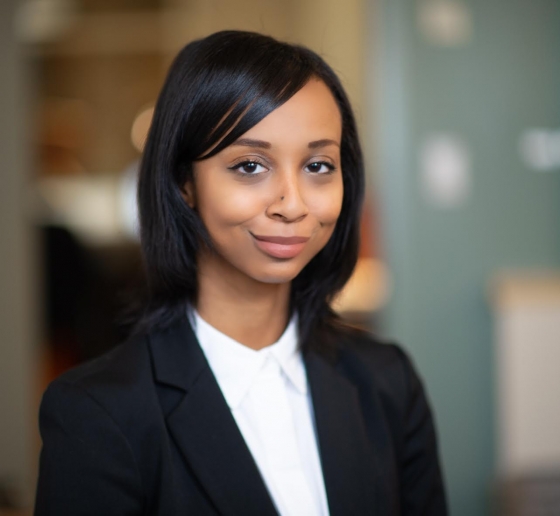 Yasmin Dagne '18 had a keen understanding of issues in the field of human rights when she arrived at Columbia Law School after a year working with the United Nations World Food Programme in Senegal and majoring in public policy and international affairs at Princeton. At the Law School, she was appointed articles editor of the Columbia Law Review, served as academic chair of the Black Law Students Association, and participated in a war crimes investigation as a member of the Human Rights Clinic. She spent her 1L and 2L summers respectively as a judicial intern at the U.S. District Court for the District of Columbia and the NAACP Legal Defense and Educational Fund.
After graduating from the Law School, she was the Leonard H. Sandler Fellow at Human Rights Watch where she investigated the impacts of land loss and village resettlement for a large hydroelectric dam in Guinea.
Why the Cochran Fellowship? "I wanted to help people seek justice for the harms they endured due to police misconduct and to work with a team of experienced litigators to hold the corrupt officials who engaged in or otherwise approved of such misconduct accountable."
Fellowship Goals: "Most of Neufeld Scheck & Brustin's cases are on behalf of exonerees seeking redress for their wrongful convictions. These individuals are resilience personified; they've fought for years to free themselves. My goal for this fellowship is to serve these individuals and to help them get the truth and accountability they deserve after the horror of spending years—sometimes decades—incarcerated for crimes they didn't commit."
The Office of Social Justice Initiatives (SJI) guides Columbia Law School students who want to pursue public interest work throughout their academic careers and after graduation. SJI also assists in the process of applying to prestigious postgraduate fellowships. Read about other 2020 fellowship recipients.