What to Read Over Winter Break: New From Columbia Law Alumni
What to Read Over Winter Break: New From Columbia Law Alumni
Put down the casebook! This year, alumni published a shelf's worth of new fiction.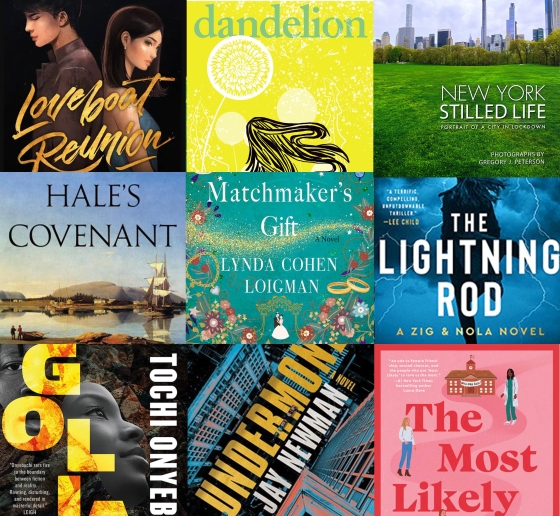 Columbia Law School authors are a versatile crew: In addition to writing about a range of legal issues this year, alumni produced a bounty of fiction and other books for winter-break reading or even holiday gifting: 
Repeat performances: Abigail Hing Wen '04 followed up her bestselling young adult novel Loveboat, Taipei with Loveboat Reunion, depicting the further adventures of sweethearts Sophie and Xavier. The Most Likely Club, about four 40-something women determined to realize their youthful ambitions, is the fourth novel from Elyssa Friedland '07. And bestselling author Lynda Cohen Loigman '93 published her third novel: The Matchmaker's Gift tells the story of a divorce lawyer and her matchmaker grandmother. 
Thrillers: Veteran author Brad Meltzer '96 brings back characters from a previous novel—a mortician and a military artist, no less—in his new thriller, The Lightning Rod. Former hedge fund investor Jay Newman '76 published his first novel, Undermoney, a complex tale involving a hedgie billionaire, a hot CIA operative, political manipulation, and money laundering on a massive scale. 
Distinguished debut: Jamie Chai Yun Liew '11 LL.M., a University of Ottawa law professor and winner of the emerging writers award from the Asian Canadian Writers' Workshop, published Dandelion, in which a young mother seeks to find out more about her own mother's story. 
Coming down to Earth: Tochi Onyebuchi '15, author of award-winning Riot Baby, published Goliath, a sweeping science fiction epic set in a future where Earth is being recolonized by gentrifiers from space colonies. 
High seas history: An American Revolutionary War blockade runner is the protagonist of Captain Hale's Covenant, a historical novel written by Thomas E. Crocker '74. 
Bonus coffee table book: 
New views of New York: In 2021, Gregory J. Peterson '85 photographed scenes of public spaces emptied out by the pandemic. New York Stilled Life: Portrait of a City in Lockdown is a record of a unique moment that changed New York and its residents, perhaps forever.