A Training Ground for Equity-Driven Education Leadership at Columbia Law
A Training Ground for Equity-Driven Education Leadership at Columbia Law
The Center for Public Research and Leadership, founded by Professor James Liebman, marks its 10th anniversary with groundbreaking reports documenting how the pandemic is revolutionizing the role of families in K-12 education—and why that's good news.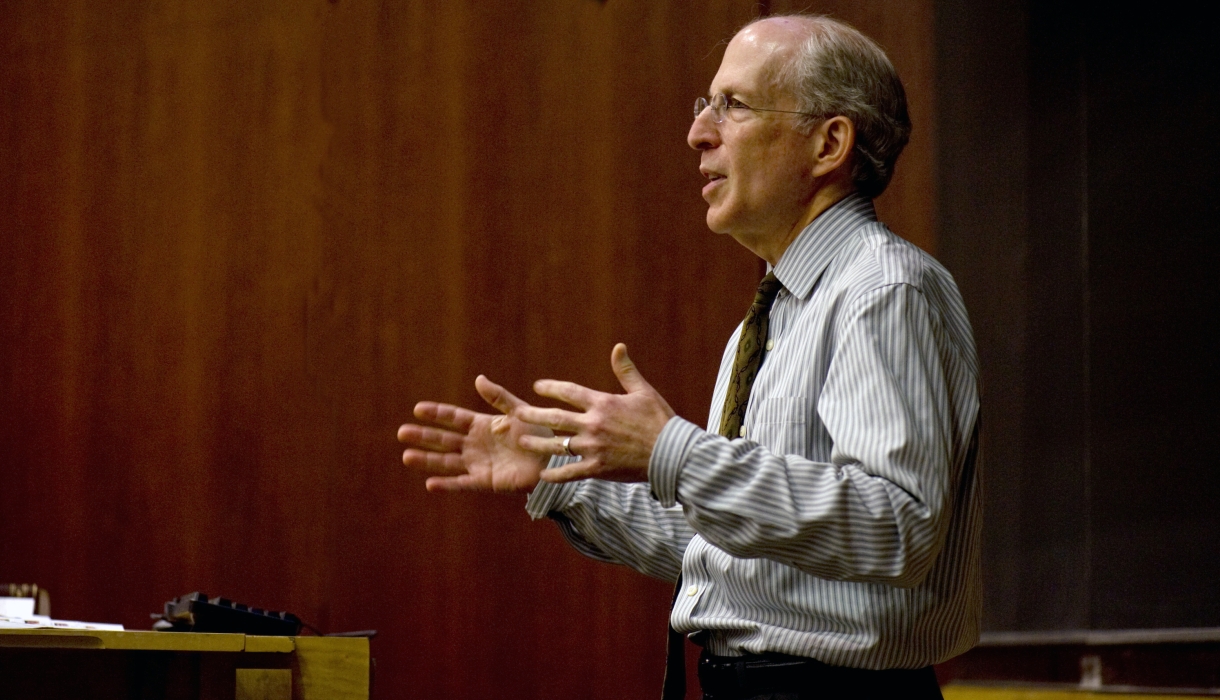 James S. Liebman, the founder of the Center for Public Research and Leadership (CPRL) and Simon H. Rifkind Professor of Law, is an optimist. While he's dismayed by present threats to racial justice, global health, the climate, and American democracy, Liebman says his work with CPRL gives him hope. "For me, the key message is that change is possible," he says. "We try to impart to our students that they can have optimism about the future, but they have to work hard to make change. They need to have the structures, strategies, and skills, and if they put everything together, change can happen."
An expert on institutional design as applied in multiple contexts, including education and criminal law, Liebman joined the Columbia Law School faculty in 1985, after stints as a clerk for U.S. Supreme Court Justice John Paul Stevens and counsel for the NAACP Legal Defense and Educational Fund. From 2006 to 2009, while on partial leave from the Law School, he served as chief accountability officer and director of the Division of Accountability and Achievement Resources for the New York City Department of Education. While there, he recognized a need to train lawyers as change agents in the education sphere, leading to his founding CPRL in 2011. "Lawyers' capacity to assess situations, to accept the facts as they are, and to find solutions with and around those facts makes them attractive leaders for organizations undergoing change," he says.
Pandemic Academics
As schools across the United States pivoted to remote learning in spring 2020 because of COVID-19, CPRL Executive Director Elizabeth M. Chu TC '14—herself a mother with children in public school—knew how the center had to respond. "Because we're an equity-focused center, we needed to do two things," says Chu, who was a student in CPRL's inaugural 2011 cohort while she was working toward her Ph.D. in educational policy at Columbia's Teachers College. "One was to help kids and families make it through what was sure to be an extraordinarily challenging year. We knew that if we wanted to help people in the moment, we had to involve families to figure out how to make that happen. The second was building on that just-in-time family support to create new ideas about how the education system could be stronger and more equitable going forward."
The pandemic projects encompassed CPRL's dual mission to offer an intensive semester of classes, skills training, and real world experiences to law and graduate students from Columbia and other universities; and to provide research and consulting services to paying education-sector clients (e.g., state agencies, school districts, charter school organizations, foundations, advocacy groups), which contributes substantial financial support for the center. CPRL's 500-plus alumni have assumed leadership roles in an array of organizations and firms, including The Children's Law Center, Davis Polk & Wardwell, District of Columbia Public Schools, Google, and the United Nations.
In fall 2020, CPRL's staff of lawyers and educators along with students partnered on field research with dozens of families as well as school districts, charter management organizations, and family support organizations. They took the opportunity to rethink what Chu calls the "batch-processing industrial model" of school systems and to make learning more responsive to an array of school populations, especially students of color and those from low-income backgrounds. "We do research to help people solve the problems that they're immediately dealing with—we're not up in the clouds—and then from there we generate broader ideas," says Chu.
By drawing on its research over the past year, CPRL produced the March 2021 report RISE to Thrive: A Vision for a Transformed and Equitable Public Education System. (RISE stands for Realize Individualized Student-centered Education.) The authors imagined the educational landscape as a tabula rasa: "How might we design an education system that prepares every child, of every race and background, to thrive in school and in life?" They pointed out that opportunity gaps arise when the system doesn't take into account that students enter public schooling at different starting points and that these disparities begin before kindergarten and persist throughout their K-12 experience. They wrote that schools must support students in "sustaining the cultural and linguistic competence of their communities while simultaneously offering access to dominant cultural competence." And they offered a three-year plan for the implementation of the RISE-to-Thrive vision.
In another report, Fundamental 4: Pandemic Learning Reveals the Value of High-Quality Instructional Materials to Educator-Family-Student Partnerships (issued in July 2021), CPRL expanded upon this new paradigm for public education. For decades, scholars and practitioners had agreed that learning takes place within a three-pointed "instructional core"—with teachers, students, and instructional materials serving as the three anchors. But after interviewing hundreds of students and their families in 2020, it became clear to Chu and her colleagues that "the pandemic fundamentally transformed the instructional core to include families as a fourth anchor," she says. "We see that, in the most challenging times, there's strong evidence that family participation around learning helps kids. So imagine how valuable that participation could be when you're not in the most challenging of circumstances."
Hailed by Forbes as "A Bright Spot From the Virtual Learning Experience," the CPRL report also explored the role of families as co-producers of "instructional design and delivery," which requires that "high-quality instructional materials" are educative for families, tech-enabled, and culturally responsive. 
The Role of Lawyers
Recently, Liebman has lent his expertise to a movement in California that reframes public education as an inalienable right and puts the interests of students first, regardless of race, ethnicity, gender, sexual orientation, economic status, disability, primary language, neighborhood, or community. He has advised California advocates on a proposed Constitutional Right to a High-Quality Public Education Act, which would declare "all public-school students shall have the right to a high-quality public education that provides them with the skills necessary to fully participate in the economy, our democracy, and our society."
Liebman says the CPRL curriculum underscores the core values of Columbia Law School and echoes Dean Gillian Lester's commitment to training nimble lawyers who can confront the urgent issues of a world in continual upheaval. "It is very different from when I came out of law school and expected to join a firm or a law school and stay for the rest of my career," says Liebman. "Our students have to be prepared for 15 careers. The world changes that fast, and specialties evolve that quickly.
"Our profession has changed over the decades in ways that require much deeper engagement with experts from other professions and with client communities," Liebman continues. "To succeed in the modern world, whether on the nonprofit side or the profit-making sector, lawyers need to be able to work with other experts and deeply understand the client organization, its goals, and institutional context. Lawyering is about much more than the law; it's about how lawyers can help clients, corporations, or communities get where they want to go."