Student Spotlight: Conor J. Regan '23
Student Spotlight: Conor J. Regan '23
Regan is a finalist in the 2023 Harlan Fiske Stone Moot Court Competition.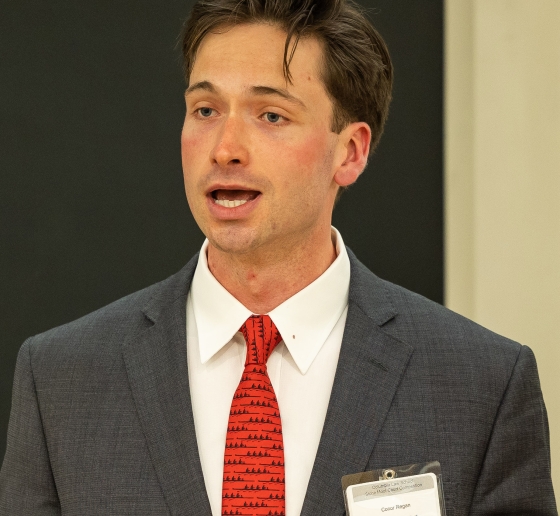 Conor J. Regan '23 signed up for the Harlan Fiske Stone Moot Court Competition to prepare for a career as a litigator. Now, as he readies himself for the finals (as of March 2023), he shares why he chose Columbia Law School and how his interests have evolved during his time on campus. 
Hometown: Boston
Education: A.B. in philosophy, politics, economics (PPE), Brown University; M.A. in Russian and Eastern European Studies, University of Oxford
Before Columbia Law: Before Oxford, worked as a paralegal on the mergers and acquisitions team at Sullivan & Cromwell in New York
At Columbia Law: James Kent Scholar; Harlan Fiske Stone Scholar; Columbia Journal of Transnational Law articles editor; research fellow for Professor Kellen R. Funk; teaching fellow for Philip Hamburger, Maurice & Hilda Friedman Professor of Law; Columbia Law School Federalist Society board member
After Columbia Law: Clerking for Chief Judge Mark S. Davis of the U.S. District Court for the Eastern District of Virginia
How did you choose Columbia Law School?
When I was applying to law school, I thought I was primarily interested in international law. I knew of Columbia's reputation in that area. I wrote my thesis [on the Soviet-U.S. relationship during the Nuremberg trials] at Oxford. Telford Taylor had written one of the defining accounts of the trials, and he was at Columbia for decades.
How have your career goals changed over time?
My interests became more concrete when I got to law school. I'm generally interested in national security law and government work. Hopefully I can be an assistant U.S. attorney in the future.
What do you enjoy most about the Columbia Law School community?
The Columbia faculty is extraordinary, and, for all their pedigree and accomplishments, they're very accessible and down to earth. That's something I've very much appreciated in my interactions over the past two and a half years. 
With respect to my class, we started our 1L year in the pandemic. That has maybe given us a sense of urgency in connecting and making sure we try to get everything we can out of this experience to make up for lost time.
What are some of the academic highlights of your time here?
The highlight of my work for the Journal of Transnational Law was a note I wrote on constitutional treason as defined in Article 3 of the Constitution. That's really an understudied area of the law. 
As a research assistant for Professor Funk, I've been reviewing a lot of the congressional debates from the Reconstruction era involving a number of major congressional statutes, including related to Section 1983 and defining the terms for military occupation. I'm also working with him on a project to digitize basically all of the 19th century New York cases so legal historians have them as a resource.
Why did you sign up for the Harlan Fiske Stone Moot Court Competition?
I'm hoping to be a litigator, and you have limited opportunities to get this kind of practice. It seemed exciting and challenging. 
What surprised you most about the competition? 
Building a brief from scratch was a lot harder and more time intensive than I thought. As a summer associate [at Skadden], I only got to see little pieces of briefs that I worked on. 
What keeps you busy outside of law school?
I really like to do personal reading that has nothing to do with the law. I love to read presidential biographies and histories of Russia and the United States.
This interview has been edited and condensed.