Professor Michael J. Graetz Receives Tax Foundation's Distinguished Service Award
Professor Michael J. Graetz Receives Tax Foundation's Distinguished Service Award
Graetz, who is retiring from the faculty of Columbia Law this month, was honored for his "outsized impact on the tax policy community" at the foundation's 84th annual Tax Prom.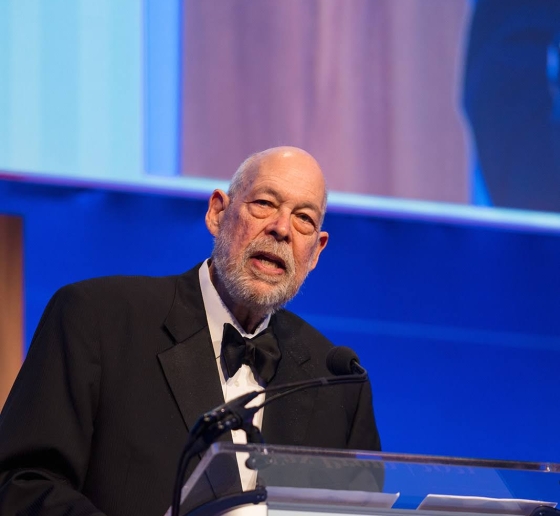 In November, Michael J. Graetz, Columbia Alumni Professor of Tax Law, received the Tax Foundation's 2021 Distinguished Service Award in recognition of his service and contributions to the field of tax policy. In accepting this prestigious award, Graetz spoke about the bipartisan roots of tax policy: "Fights over taxation are often about political power, what kind of government we want, what kind of country we will be." A longtime champion of common-sense tax reform, Graetz developed the Competitive Tax Plan, in which he proposes shifting the current income-based tax system to a consumption-based one for most Americans and eliminating any requirement to file income tax returns for 150 million people.
Since 1941, the Tax Foundation has recognized public figures who show an extraordinary dedication to advancing sound tax policy. Graetz is the first law professor to receive the award, which has been given to U.S. presidents, members of Congress, and business leaders. He was honored alongside fellow winner Mark J. Mazur, deputy assistant secretary for tax policy at the U.S. Department of the Treasury, at the Tax Foundation's 84th annual Tax Prom. 
"Michael and Mark are two individuals who have had an outsized impact on the tax policy community for their entire careers," said Scott A. Hodge, president of the Tax Foundation. "From the classroom to Congress, to the IRS and even to the White House, these two are trusted and respected voices across the political spectrum." 
This year marks another momentous occasion for Graetz: After serving on the Law School faculty since 2009, he is retiring at the end of December. Graetz has had a celebrated career as a scholar, author, academic, and public servant. A leading expert on national and international tax law, he joined the Columbia Law School faculty after 25 years at Yale Law School, and he has held several positions in the federal government, including as a senior official in the Treasury Department under President George H.W. Bush. 
In his latest book, The Wolf at the Door: The Menace of Economic Insecurity and How to Fight It (with Ian Shapiro), Graetz proposes realistic policy solutions and strategies to make individuals and communities more economically secure. "There are a lot of books about policy that ignore politics," he said shortly after the book's publication. "And there are a lot of books about politics that ignore policy. But this is one of the rare books that talks seriously about how one can achieve better protections for workers in a politically viable way."