In Memoriam: Albert E. Cinelli '55
In Memoriam: Albert E. Cinelli '55
The entrepreneur, Columbia Law School benefactor, and Dean's Council member dies at 94.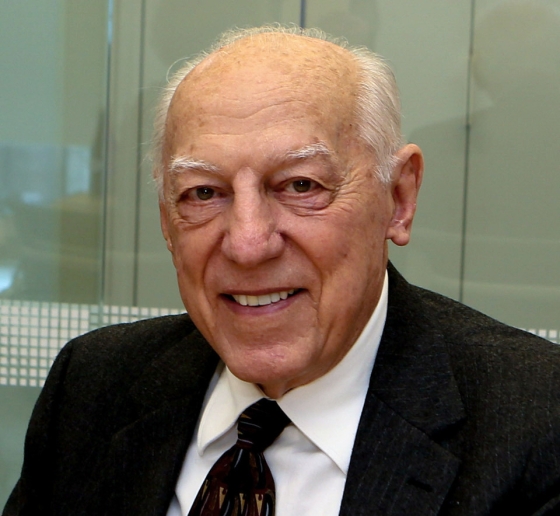 Albert E. "Al" Cinelli '55, a telecom entrepreneur and philanthropist whose major gifts to Columbia Law School provide support for student scholarships, curriculum enhancements, and faculty research in the area of business law, died on November 5, 2023. He was 94.
Cinelli spent the early years of his career as a litigator and a general counsel in the pharmaceutical industry but shifted gears in midlife. In the early 1980s, he decided to strike out on his own as an entrepreneur. In 1990, he bought a struggling fiber-optic company, Kentucky Data Link, and oversaw its expansion to 26 states over 15 years. After selling the company, Cinelli founded MetroNet, now the largest privately held fiber provider in the U.S. His son John is MetroNet's executive chairman.
Cinelli, a member of the Dean's Council, often credited his Columbia Law School training for providing him with the skills and confidence to achieve his goals. "Law school taught me how to think independently and how to analyze problems," he said. "Columbia made my start into business so much easier. It gave me the springboard to a successful career. Columbia was so integral and so important in the success that I've had in life."
In 2005, Cinelli made his first major gift to the Law School when he pledged $3 million to establish the Albert E. Cinelli Enterprise Chair to support faculty members teaching courses that train leaders for the business world. "It's my desire to help Columbia students get a combined legal and business education that will put them on a career path of becoming ethical leaders in the business world," he said at the time the gift was announced. (Professor Ronald Mann currently holds the chair.) When he established the $5 million Albert and Lois Cinelli Business Law Fund in 2022, he said it was "my way to say thank you" to the Law School.
"Al was a dear friend to many of us at Columbia Law School," said Gillian Lester, Dean and Lucy G. Moses Professor of Law. "The Albert and Lois Cinelli Business Law Fund is a wonderful expression of Al's devotion to his alma mater and a vote of confidence in future students who want to follow his path and combine legal training with business acumen." 
David M. Schizer, Harvey R. Miller Professor of Law and Economics and Dean Emeritus, recalled observing Cinelli in action when he served on the board of one of his companies. "I saw firsthand the way Al could reflect on various challenges we faced and turn them into opportunities," Schizer said. "He was like a chess grandmaster, thinking several moves ahead."
Cinelli was born in 1929 in Roseto, Pennsylvania, to an Italian immigrant father and an Italian American mother. He attended Lafayette College, where he met his future wife, Lois Soboleski. They married in 1953, and she worked as a nurse to help finance his legal education. Cinelli, whom everyone called Al, began his career working in Manhattan as a litigator for the Delaware, Lackawanna and Western Railroad. He and Lois settled on the North Shore of Long Island, where they began raising their four children.
In 1976, Lois died of leukemia, and Cinelli accepted a position as vice president and chief legal counsel of Marion Laboratories in Kansas City, Missouri. In 1981, he met his second wife, Sharon Adair Roach, who died of pancreatic cancer in 2020.
Cinelli left Marion Laboratories in the early 1980s to become an entrepreneur. Over the next four decades, he worked with his son John and other partners to buy, build, and sell telecom and technology companies. Their largest company, MetroNet, now employs more than 2,500 people in 17 states.
In addition to Cinelli's support of Columbia Law School, he founded the Cinelli Family Foundation, which funds research on breast cancer, pancreatic cancer, and leukemia as well as educational research on college readiness for high school students.
Cinelli is survived by his wife, Connie; his four children; and his five grandchildren.