Matthew Bogdanos '83: Righting Ancient Wrongs
Matthew Bogdanos '83: Righting Ancient Wrongs
A prosecutor, classicist, and Marine veteran, the Manhattan assistant district attorney has set himself the herculean task of cleaning up the trade in stolen antiquities.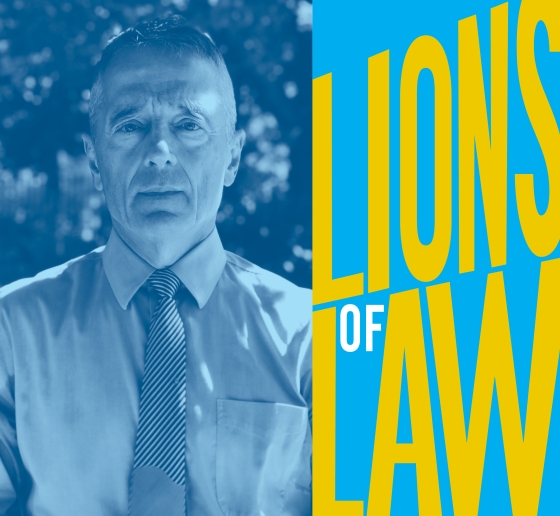 In December, in an official ceremony, the Manhattan District Attorney's Office returned seven tiny, carved stone objects to their rightful owner. The stolen stamps and cylindrical seals from the Mesopotamian and neo-Babylonian periods went back to the national museum of Iraq. 
The man in charge of the case, Assistant District Attorney Matthew Bogdanos '83, had been looking for them for nearly 20 years. 
In 2003, during the U.S. invasion of Iraq, Bogdanos was a Marine colonel running counterterrorism operations in Basra when he learned of the devastation of the country's national museum of antiquities in Baghdad. He talked his commanders into letting him take a squad to the capital and spent months directing an operation that recovered thousands of antiquities looted from the museum. 
Bogdanos returned from that mission determined to combat the global looting of ancient cultural treasures. He wrote a book about his experiences, Thieves of Baghdad, in which he called for international cooperation to stop the illegal trade in antiquities, and he received a National Humanities Medal for his work in Iraq. He returned to the district attorney's office, where he has been a prosecutor since 1988, and began working antiquities cases in addition to homicides. 
The cases he makes often rest on the simple charge of possession of stolen property. But the harm involved is anything but, Bogdanos says. An idol stolen from a temple where it has been worshipped for millennia, or a statue fragment hacked out of an archaeological site, is a blow against humanity, he says: "Entire civilizations gone—just ripped away. You're wiping out entire peoples' identities and . . . their sense of themselves in the cosmos. Give me a bigger harm." 
Every archaeological site destroyed by tomb raiders means history that goes undiscovered, he says. "What part of our shared cultural heritage will we never find out because of that looting? All of that history is gone because a looter just digs a hole." 
In 2017, Manhattan District Attorney Cyrus Vance Jr. officially created the Antiquities Trafficking Unit, formalizing Bogdanos' passion project into the world's first prosecutorial squad dedicated to antiquities thievery. Since then, the unit has grown from two people to 17—"everyone is still overworked," Bogdanos says—and notched big successes: In 2021, the unit seized 180 artifacts worth $70 million from billionaire collector Michael Steinhardt and won a court-imposed lifetime ban on his further collecting; in 2019, it indicted Madison Avenue art dealer Subhash Kapoor and seized and repatriated hundreds of South Asian artifacts. According to the district attorney's office, Bogdanos' unit has recovered almost 4,500 antiquities stolen from 28 countries and valued at more than $300 million.
Many of the most important stolen artifacts had been loaned or sold to major museums: Bogdanos has seized art from posh Manhattan apartments, auction houses, and high-end galleries, and also from cultural institutions across the country, including the Metropolitan Museum of Art, the Yale University Art Gallery, and the Getty Museum in Los Angeles. When Bogdanos visits a museum just to look at the art, he's accustomed to being greeted with looks of alarm from the employees. 
The big cases prosecuted by Bogdanos and his squad have had an impact on the practices of many museums and auction houses, he says. 
"We have seen a sea change in the past decade," he says. Museum curators and dealers are now willing to volunteer information. Because the names of some longtime antiquities dealers and collectors are now "radioactive" due to criminal charges, museums are reexamining their collections and asking the trafficking unit about possible problems, he says. His office is getting calls about questionable items in collections "a refreshing number of times," he says. "Much of the market has improved their practices. But not all."
Mentors Classical and Contemporary
Bogdanos' successes come at a time when museums in the U.S. and Europe are increasingly confronted with questions about the origins of their collections, including artifacts looted centuries ago by colonial powers and art stolen by the Nazi regime during World War II. But whether the Elgin Marbles should be returned from London to Athens, Greece, is not a question Bogdanos is going to ask. For the district attorney to pursue art repatriation, "we must have articulable evidence of criminality," he says. "You've got to have that bright line between civil and criminal." 
Bogdanos' work has received considerable press. For one thing, there has been a flurry of repatriations—28 in the past 14 months—that had been delayed by the pandemic. The unit's evidence rooms, which look like storage areas in a museum, filled up with artifacts from small to monumental. "I've come to think of many of them as mine," Bogdanos says, "but they've got to go."
Each artifact's return occurs with some ceremony—and media notice. When one news story appears, Bogdanos says, the phone starts ringing—with tips on more suspect antiquities. "Success breeds success," he says. And more media coverage.
Bogdanos does make for great copy. As befits a prosecutor, he talks fast and fluently about his work. He's armed not only with stories from his years of experience but also with the wisdom of the ages: He has kept a notebook of quotations for decades—he's up to 10,000 quotes—and committed possibly all of them to memory. The maxims of writers, thinkers, and leaders from Socrates onward are not only "guideposts," he says, but "a source of comfort. . . . You recognize there's no problem we are going through that hasn't been faced before." The "big three" he turns to most often: Winston Churchill, Theodore Roosevelt, and Oscar Wilde.
Bogdanos grew up in New York City, working in his parents' restaurants, boxing for fun, and reading his way through the ancient Greeks after his mother gave him The Iliad when he was 12. He studied classics and philosophy at Bucknell University—he says he paid his tuition with poker winnings—and joined the Marine Corps officer-training program. His first commander, Gen. James Mattis, told him to go to law school. He didn't want to leave his hometown. "So I went to the best law school in New York." 
At Columbia, Bogdanos earned a J.D. and a master's degree in classics at the suggestion of Professor Hans Smit '58. The subject came up, Bogdanos says, when Smit, "the paradigmatic hardnose law professor," wrote a sentence in ancient Greek on the blackboard—notwithstanding the class was Civil Procedure—and lamented that none of the students would be able to read it. Bogdanos raised his hand and pointed out an error. 
He found his calling, however, during an externship with New York State Supreme Court Justice Harold Rothwax '58, known as "the Prince of Darkness" for his stern demeanor and rulings. It was Bogdanos' first time in a courtroom, and Rothwax had to lend him a tie. 
"That was one of the most significant turning points in my life," he says. "From the moment I set foot in his courtroom, that [trying cases] was what I wanted to do." After a stint in the Marines' Judge Advocate Division, Bogdanos followed Rothwax's suggestion to join the Manhattan District Attorney's Office. 
"I love it, and I never want to leave," he says. The requirements of the job are synonymous with his own personal credo: "Do the right thing for the right reasons." 
"How many people get to say that?" he asks. "The deliverable is justice." 
Bogdanos says he ended up trying many cases in front of Rothwax before the judge's death in 1997.
"He literally did nothing but yell at me," Bogdanos says of the judge. But when Bogdanos married Claudia Tuchman '95, Rothwax officiated.
Guarding the Guardians
As a senior trial attorney, Bogdanos still devotes about half his time to prosecuting homicides. He has tried more than 200, many of them high-profile and horrific, like the 2019 conviction of a man who killed his wife and then tried to frame their 9-year-old daughter. "That's hard on your soul," he says. "They never get better."
Working on finding trafficked antiquities, and returning them to their rightful homes, provides a necessary counterpoint. "It's soul-fulfilling and soul-feeding," he says. "The opportunities to recover these priceless testaments to our shared heritage—that's like watching It's a Wonderful Life."
Bogdanos' mission, he says, is not only to safeguard the treasures for the cultures they come from, but also to maintain New York's status as "the cultural capital of the world." That means protecting a "thriving legal market" for antiquities among auction houses, galleries, and art dealers. In his view, it also means that the 7 million visitors who walk through the Met every year "should be able to say they're confident that the stuff that's here is legal."
"We as New Yorkers have that in trust," he says. In other words, Bogdanos' mission is as old as the antiquities. "To guard the guardians," he says, referencing a Latin phrase that is likely written in his quotation book: Quis custodiet ipsos custodes? Who will guard the guards themselves? 
"Everybody thinks that's Plato," he says of the often-quoted question. "But it's not. It's Juvenal."