Lydia Turnage '21: 2020 Harlan Fiske Stone Moot Court Finalist
Lydia Turnage '21: 2020 Harlan Fiske Stone Moot Court Finalist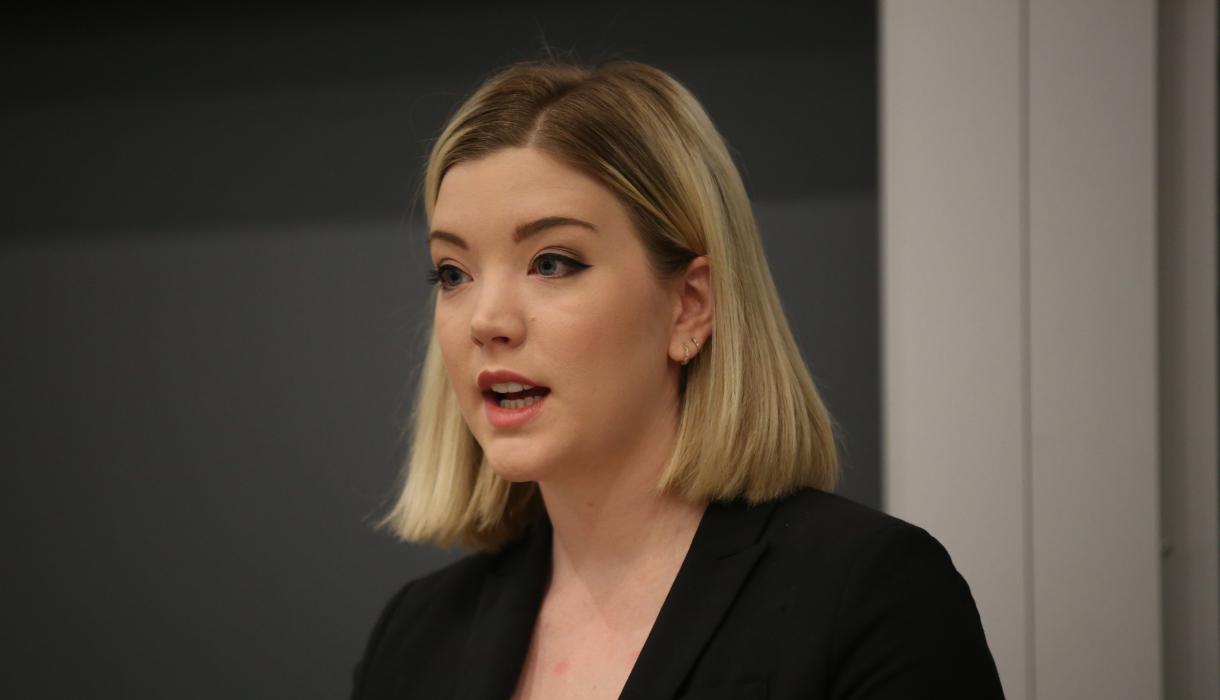 When Lydia Turnage '21 signed up for the Harlan Fiske Stone Moot Court competition, her only substantial experience in public speaking was from participating in the Paul, Weiss, Rifkind, Wharton & Garrison Foundation Moot Court, which all 1Ls are required to do as part of Legal Practice Workshop.
"I wanted to see how far I could go with it," says Turnage, who eventually became the only 2L to make the Harlan Fiske Stone finals this year.
Turnage's interest in the law—and appellate law in particular—was sparked by a constitutional law course she took as a junior at Georgetown University, where she majored in government. At Columbia Law, she is taking as many courses as she can that provide "access to court proceedings" and the opportunity to do "as much writing and research as possible." She served as a research assistant to Suzanne Goldberg, Herbert and Doris Wechsler Clinical Professor of Law, compiling case law on employment discrimination claims for a U.S. Supreme Court amicus brief; interned in the civil rights section of the U.S. Attorney's Office for the Eastern District of New York; and currently works as an extern for a federal judge in the Southern District of New York.
"I like litigation because the writing and argument and presentation is so important," Turnage says. "You're not just learning the law, which is interesting; you're also constantly thinking about the best way to present your argument and how to persuade people of your position."
Turnage says her Legal Practice Workshop instructor, Susan Paulson, who works as senior counsel in the appeals division of the New York City Law Department, helped her hone her legal writing skills. 
"She gave us really great advice on how basically every sentence is an opportunity to frame the case in a way that benefits you," she says. 
And writing is her favorite part of the moot court experience.
"I really enjoy brief writing," she says. "It's a surprisingly creative process because you have to figure out how to tell a completely different story from the one your opponent is telling using the same set of facts."
Turnage also draws on lessons she learned in a seminar on the Supreme Court taught by two Kirkland & Ellis LLP partners, Devora W. Allon '08 and Jay P. Lefkowitz '87. 
To practice oral argument, which she finds "terrifying," Turnage enlists friends and family. She says people without any underlying knowledge of the facts or the law are particularly helpful.
"That forces me to make sure I'm explaining my whole argument well, not just, can I explain to you in 30 seconds this specific Supreme Court holding," she says. 
To prep for moot court, she chose a worthy opponent: her brother, who is a graduate student in math.
"His favorite thing has always been to argue with me," she says. "So that's come in really handy."
Turnage, who will spend this summer working at Wilmer Cutler Pickering Hale and Dorr LLP in New York City, says the competition has "cemented" her interest in pursuing a career in appellate practice and has bolstered her confidence.
"Being part of this process and seeing just how far working hard and being willing to commit can really take you has been a good learning experience for me," she says.
The Harlan Fiske Stone Moot Court Competition final arguments, part of the Paul, Weiss, Rifkind, Wharton & Garrison Moot Court Program, are the culmination of a three-round elimination competition in appellate advocacy. ​Read about the other finalists in the competition.