'Joyful Warrior' Anne Williams-Isom '91 Speaks at Fifth Annual Alumni of Color Talk and Reception
'Joyful Warrior' Anne Williams-Isom '91 Speaks at Fifth Annual Alumni of Color Talk and Reception
The leader of Harlem Children's Zone remembers her mentor Professor Kellis E. Parker and the roots of her advocacy for children.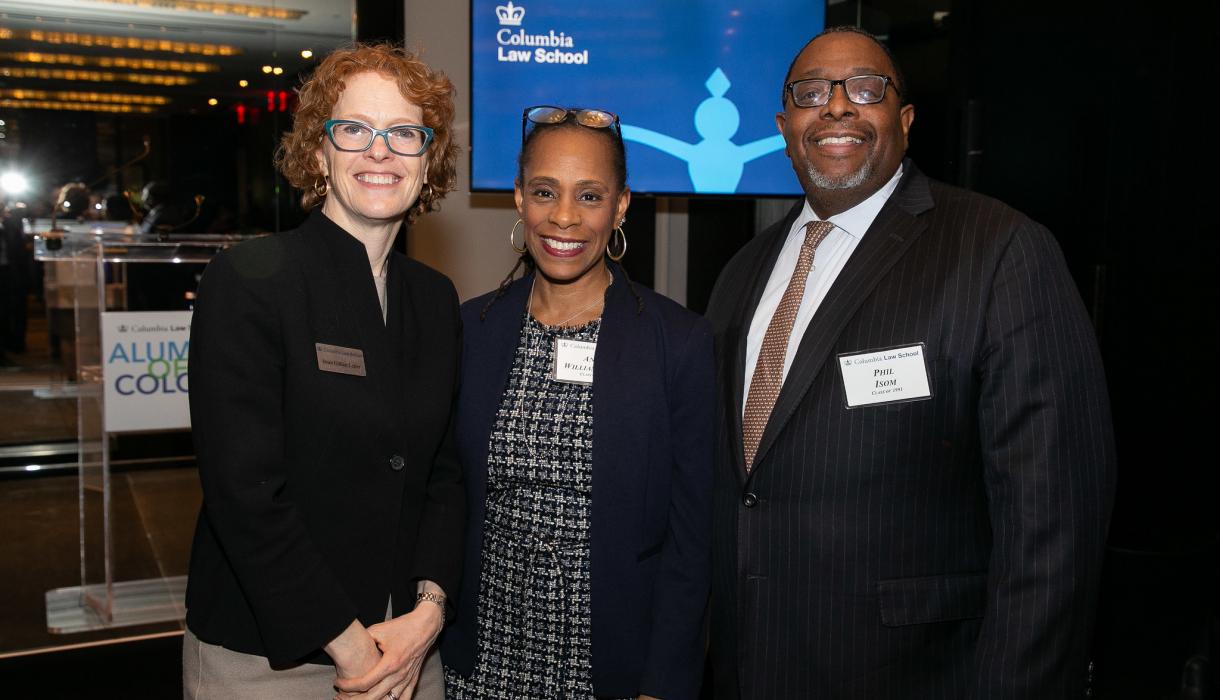 Pictured: Anne Williams-Isom '91 (center) with Dean Gillian Lester and Phillip Isom '91. Click to see more photos from the event.
If someone were to ask Anne Williams-Isom '91 what one thing the children of Harlem need in order to succeed, she'll retort, "What's the 'one thing' you do for your child?"
Her point, of course, is that children need everything, not one thing. As the CEO of Harlem Children's Zone since 2014, Williams-Isom oversees an organization that provides thousands of children and families in central Harlem with ongoing, comprehensive educational and social services from early childhood to college—resources she says all children deserve.
Williams-Isom reflected on her career of advocacy for families at Columbia Law School's fifth annual Alumni of Color Talk and Reception, held January 23. She urged the audience of more than 125 alumni, faculty, and students to "look into the mirror and ask, 'What does the world need from me? Am I a source of light or a source of darkness?'"
"I want to ask you all to tap into your passion,'' she added. "Be joyful warriors and constant justice seekers."
Recalling "the root of my own advocacy," she spoke about her upbringing in Queens, and the help that her family received, which made possible a better life. Her mother, an immigrant from Trinidad, was the victim of domestic partner violence until a neighbor and the police intervened. Money remained scarce, and as a single parent, Williams-Isom's mother paid parochial school tuition a few dollars at a time for her four children. "We needed the support of the nuns and our neighbor, Mr. Paul,'' Williams-Isom said. "Those are the things that I remember when I think about the Harlem Children's Zone: that families need support, that they want to do the best for their children.''
Williams-Isom also paid tribute to three people present in the crowd: her husband, Phillip Isom '91, whom she met at the Law School, and her mentors Kendall Thomas, the Nash Professor of Law and director of the Center for the Study of Law and Culture, and Jane Spinak, the Edward Ross Aranow Clinical Professor of Law, who leads the Law School's clinic representing families and children. And she recalled the enduring influence of Kellis E. Parker—the Law School's first full-time African American professor and an expert on contract law and the music industry, a civil rights activist, and a jazz trombonist—who died in 2000.
"He was just such an important part of our lives, and every time I pass by the Law School, I can still see him,'' she said. "The thing that I remember the most about Kellis is that he loved us." In 1990, dozens of law students, including Williams-Isom, occupied the dean's office to demand the Law School hire more faculty of color. It was Parker, she recalled, who persuaded the group to stand down. "He counseled us, and he was proud of us, and he loved us. Yes, he was a professor. Yes, he taught us. But when someone loves you and takes care of you, then they can use that [influence] when you do something crazy,'' Williams-Isom said. "He could tell us, 'I want you to graduate, so I really think you need to go now.'" (The protest ended after 24 hours with then-Dean Barbara Black agreeing to some student demands for changes to the hiring process.)
Gillian Lester, Dean and the Lucy G. Moses Professor of Law, introduced Williams-Isom at the reception, held at Andaz 5th Avenue in midtown Manhattan, and announced that the Eric H. Holder Jr. Scholarship Fund, launched at the first Alumni of Color reception in 2016 by George W. Madison '80, is nearly two-thirds of the way to its goal of raising $1 million to provide financial aid to students of color.
Dean Lester also highlighted two recently appointed faculty of color: Lynnise E. Phillips Pantin'03, Clinical Professor of Law, and Madhav Khosla, the Dr. B.R. Ambedkar Visiting Associate Professor of Indian Constitutional Law.
"We've got a dream for the future that is to have a fully diverse faculty,'' Dean Lester said. "We're not there yet. We have work to do. But I want to say that I've been very proud to be the dean during a time when we've made significant progress.''