Inaugural Executive LL.M. Class Moves From Online to In-Person
Inaugural Executive LL.M. Class Moves From Online to In-Person
In Columbia Law's accelerated six-month Executive LL.M. program, U.S. business law is only the beginning.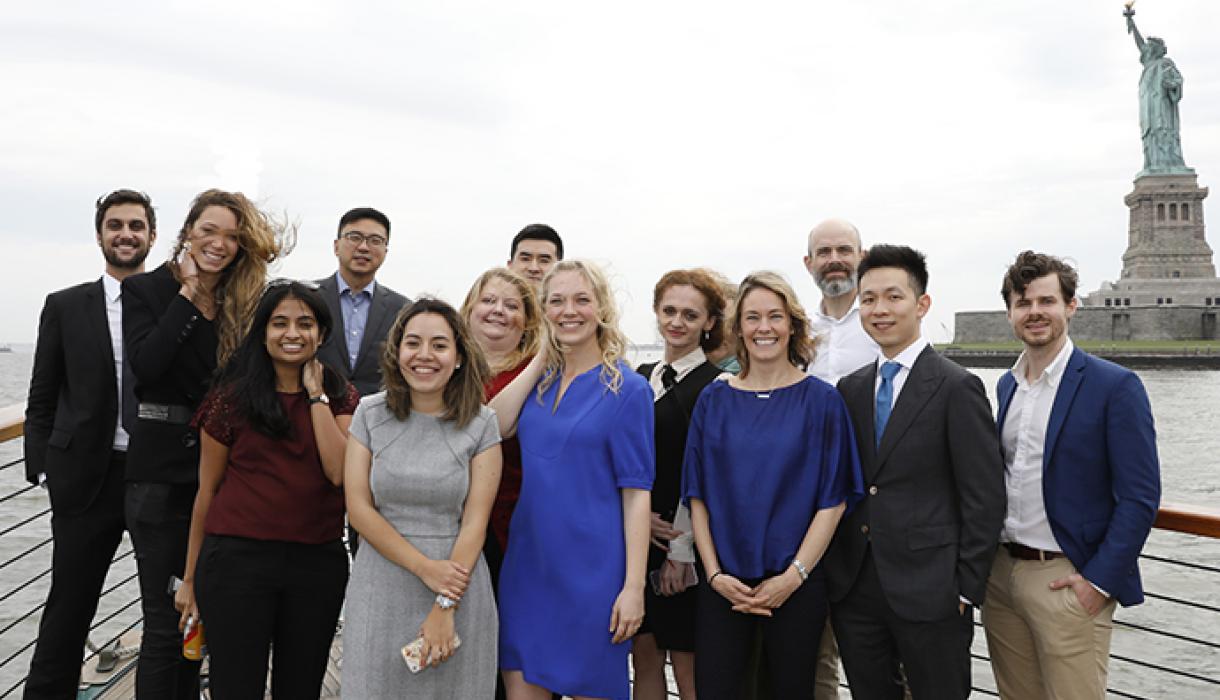 After eight weeks of learning online, students in the inaugural class of executive LL.M. students have come face to face with each other and Columbia Law School.
Students in the program arrived on campus May 23 for a three-month intensive session of classes and leadership, management, and executive presence training—plus the occasional New York Yankees game. The curriculum, which focuses on business law with a global perspective, includes four three-week modules combining core classes and electives as well as a 12-week long colloquium that covers eight practice areas.
After the residency finishes, a final online class will complete the course of study. The accelerated program covers the same amount of material as a yearlong LL.M. program.
"I think it's just incredible that after six months I'll have a master of laws," says Heather Von Toennemann, a lawyer from Sydney.
Launched in October, the Executive LL.M. in Global Business Law is the first new degree program the Law School has offered since the inauguration of the three-year J.D./MBA joint degree in 2010. The curriculum focuses on business law to capitalize on the Law School's "depth of faculty and expertise, and to take advantage of the enormous resources and connections that the university has in practitioners," says program director Julie Sculli. While other such hybrid online–on campus LL.M. programs exist, only Columbia's, which requires at least five years of professional experience, can be completed in six months and "also has a substantive co-curricular program that's focused on leadership, management, and executive presence," Sculli says.
While on campus, the LL.M. cohort is together in classes from 9 a.m. to 4:15 p.m. on weekdays with frequent "lunch and learn'' programs featuring alumni and practitioners connected to Columbia Law School. In addition to courses including American Corporate Law, Commercial Arbitration, and Corporate Finance, the colloquium offers brief immersion in topics including financial statement analysis, taught by senior lecturer in law Norman Bartczak.
"Everyone loved him, and it's not exactly in the heart of a lawyer to love accounting," said Bernardo Viana, whose practice at Saud Advogados in Rio de Janeiro focuses on anti-corruption compliance.
After completing the summer residency, Viana will return to open an office in São Paulo for his firm. "The fact that the course has a specific focus on global business law was great for me," Viana says, "Not only because the classes and the professors are great, but also [because] all topics relate to our practice." Because all of the participants are focused on business law, Viana says, "We have the opportunity for more-intense networking." All of which, he says, contribute to the benefit of the LL.M. degree: "adding even more value to the work we provide to our clients."
The executive LL.M. class represents five continents, coming from Australia, Belarus, Brazil, China, India, and Mexico, and decades of practice experience. Neelu Mohan, a litigator in Delhi, says she applied to five LL.M. programs but Columbia was her top choice for the quality of the law education and its compressed schedule. "The timing of it was very attractive. The cost-benefit analysis of being away for a year was a little too much for me to do."
Aliaksandra Tyhrytskaya, who works for the World Bank in Washington, D.C., says she was attracted to the Columbia program because the focus on global business law "targets professionals who want to fill the gaps in specific areas which come between them and their dream job or next step."
Like traditional LL.M. students, some members of the cohort are learning a common-law system rather than the civil law system in which they trained. Most are experiencing for the first time the Socratic teaching method—which in a small class means a cold-call question is inevitable.
"You have to be prepared. You will be called on," Sculli says. On the other hand, she says, "You will have opportunities to engage with the faculty, practitioners, and alumni in a small intimate setting."
Max Wong, a counsel at a technology company in Hong Kong, praised Jody Kraus, the Patricia D. and R. Paul Yetter Professor of Law, and Katharina Pistor, the Edwin B. Parker Professor of Comparative Law, for providing "insights and practical perspectives" in classes on U.S. contract law and corporations. "That's more important than just understanding the law," Wong says.
But students can ask questions too, says Marisol Alvear, a partner in Alvear y Asociados in Mexico City. "I really like that [professors] ask you, 'What are the questions that you have from the material that you read?' They are making us [feel] like we are capable of reading it and understanding it. It's a very different way of teaching than in Mexico. They engage you in the learning part."
Despite the compressed schedule, even three months away from work can be tough: Some of the students continue to email with clients and participate in conference calls, before dawn if necessary.
 "It's impossible not to" carry on with some law firm business, Viana says, but he jokes that being on campus at Columbia means living—and dressing—like a student rather than an aspiring partner. "Why isn't my shirt tucked in? Why am I using a backpack instead of a briefcase?"
To make sure that students can focus on work, the program provides students with daily breakfast and lunch, a cleaning service in the furnished campus housing, and outings that have included a Yankees game, bowling, and a river cruise.
 The point of that packed schedule, says Mohan, is for the students to get everything they can from this experience: The LL.M. program administration "has created an environment where the message is 'put your heads down and study, and we take care of the rest.'" 
# # #
Published on June 26, 2019