In 2018, the Law School commissioned a custom lace collar to commemorate the 25th anniversary of the investiture of Ruth Bader Ginsburg '59 to the United States Supreme Court. Elena Kanagy-Loux of the Brooklyn Lace Guild created the intricate custom pattern mirroring the interlocking 25s that appear on the Law School's commemorative book.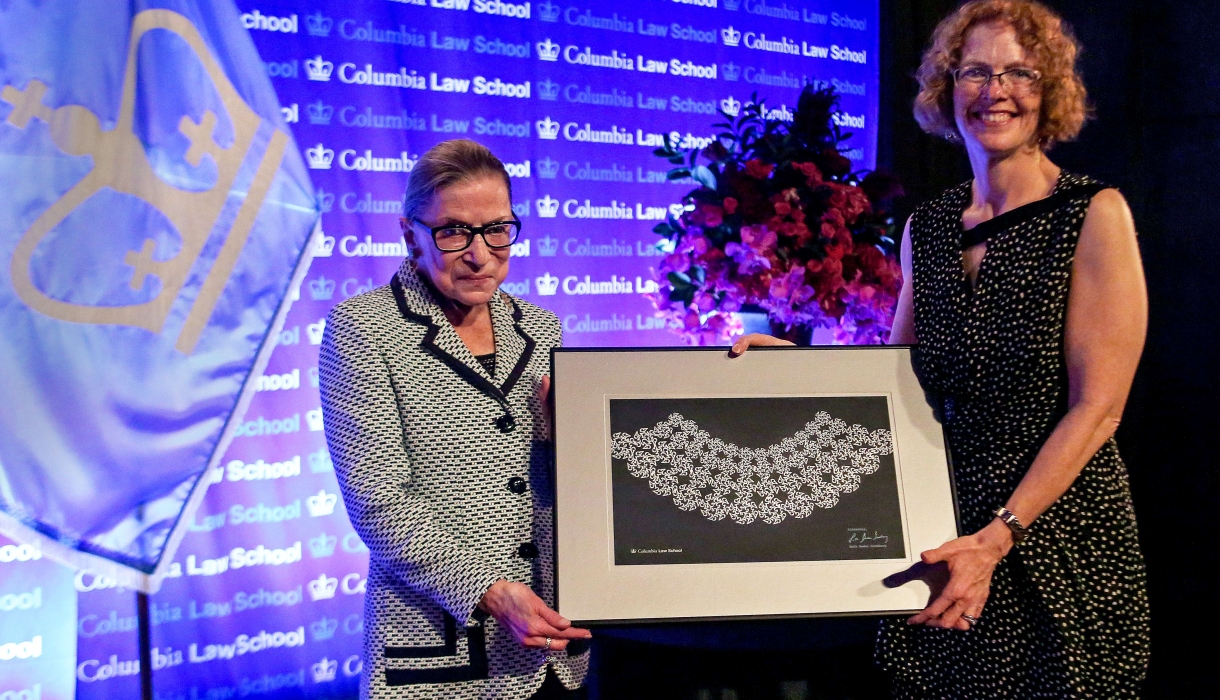 Pictured: Dean Gillian Lester presents Justice Ruth Bader Ginsburg '59 with a rendering of a custom lace jabot.
Justice Ruth Bader Ginsburg '59 captured the public imagination with her brilliant legal mind and her personal style. The justice was known for wearing decorative jabots—each possessing its own special meaning—with her judicial robes. In 2018, Columbia Law School added to her collection by gifting her a special handmade collar as part of its celebration of the 25th anniversary of her investiture to the U.S. Supreme Court.
Textile designer Elena Kanagy-Loux, founder of the Brooklyn Lace Guild, was commissioned to create the one-of-a-kind collar, which she made of torchon lace, with a half stitch of Egyptian cotton thread for the motif and scalloped edge. She used torchon ground for the background and picots around the outer edge with Japanese silk floss for the gimp. Kanagy-Loux devoted more than 250 hours of work to the task, calling it "the most meaningful and important project I have ever had the honor of working on."
In a 2009 Washington Post article, Ginsburg said, "You know, the standard robe is made for a man because it has a place for the shirt to show, and the tie. . . . So Sandra Day O'Connor and I thought it would be appropriate if we included as part of our robe something typical of a woman. So I have many, many collars."
About the Artist 
Kanagy-Loux studied lacemaking in Europe while she was a student at New York City's Fashion Institute of Technology. She teaches bobbin classes at the Textile Arts Center in New York City and is a collections specialist at the Antonio Ratti Textile Center at The Metropolitan Museum of Art in Manhattan.