Diversity at Law Firms: A Renewed Focus
Diversity at Law Firms: A Renewed Focus
Columbia Law alumni are working to diversify the legal industry's demographics.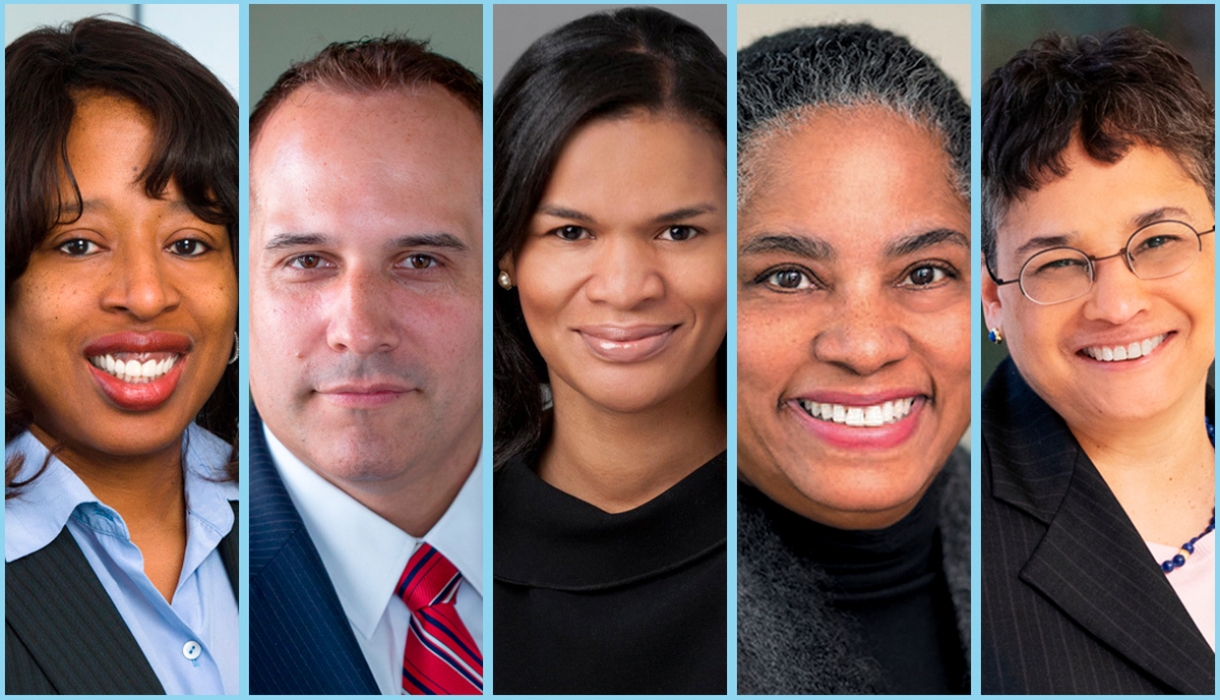 In a year when racism and racial equity have dominated the national conversation, law firms are grappling with recruiting, retaining, and promoting lawyers of color. According to the most recent report from the National Association for Law Placement (NALP), persons of color make up 25% of law firm associates but less than 10% of partners. Less than 2% of law firm partners identified as African American, 2.5% as Latinx, and 3.9% as Asian American. NALP described the progress toward diversity at law firms as steady and incremental but "so slow as to almost seem imperceptible." That is despite the fact that just over half of the firms in the 2020 Law 360 Diversity Snapshot have appointed a diversity leader. 
Five Columbia Law School alumni who are leading their law firms' efforts to increase diversity shared their perspectives on the challenges for Big Law to recruit and retain attorneys of color. 
What remains the biggest barrier to greater diversity in Big Law firms?
Juan Arteaga '02, Partner and Diversity Council Co-chair, Crowell & Moring LLP: The absence of partners of color continues to be the greatest obstacle for enhancing diversity within large law firms. Due to the lack of more partners of color, many large law firms are missing critical perspectives and voices when making important recruiting, staffing, and promotion decisions. Associates of color do not have access to enough mentors and sponsors who have firsthand knowledge of the unique challenges they face within Big Law and who can help them achieve their professional goals. The relatively low number of partners of color also makes it more difficult for large law firms to recruit and retain attorneys of color. It creates the impression that there is no path for success within these firms.
Lorraine McGowen '86, Partner and Co-Chair of Diversity and Inclusion Initiative, Orrick Herrington & Sutcliffe LLP: It's actually very simple: accountability. Corporations across the United States are much more diverse than law firms; they have demonstrated that when they set a business objective and put their minds to it, they get it done. But the same can be true for law firms; if we really want to achieve something, we can accomplish it. Orrick is a founding member of the Move the Needle Fund (MTN), a bold and collaborative initiative to drive change in the industry and within our firm, in collaboration with our clients. MTN is our way of putting our mind to it and accelerating our progress—it provides that measure of accountability. 
Kim Walker '91, Counsel and Chief Diversity and Inclusion Officer, Willkie Farr & Gallagher LLP: Unconscious bias remains the largest barrier to diversity, equity, and inclusion. Firms must offer frequent training sessions and workshops to provide their employees with the tools necessary to recognize and counter their biases. 
Inajo Davis Chappell '85, Partner and Diversity, Equity, and Inclusion Committee Chair, Ulmer & Berne LLP: Implicit bias of law firm decision-makers continues to be a challenge in recruitment, retention, and advancement of diverse lawyers. Strategic decisions about allocation of resources, projects, opportunities for client contact, and business development all affect the trajectory of careers at law firms, and particularly those of diverse lawyers. If those decisions are not being made equitably and fairly, goals for DEI [diversity, equity, and inclusion] will remain aspirational only.
"Due to the lack of more partners of color, many large law firms are missing critical perspectives and voices when making important recruiting, staffing, and promotion decisions."
—Juan Arteaga '02
Zakiyyah T. Salim-Williams '01, Chief Diversity Officer, Gibson, Dunn & Crutcher LLP: Given the current state of affairs, I believe that the sky is the limit and that any remaining barriers will be broken down. Law firms, clients, and future lawyers care deeply about diversity, equity, and inclusion and are laser-focused on getting results. 
How have the events of this year's racial justice movement shaped your law firm's diversity efforts moving forward? 
Arteaga (Crowell & Moring): Our firm has created a Racial Equity Task Force—which includes our firm chair and executive committee chair—to conduct a 360-degree review of every aspect of our firm's operations in order to ensure that diversity and inclusion are at the forefront of everything we do. The task force is conducting a holistic review of legal talent recruiting, case assignments, professional development investments, promotion decisions, client relationship succession planning, potential billable credit for time spent on diversity and inclusion initiatives, and diverse attorney representation in firm leadership positions. We have been asked to identify concrete steps that the firm can take in the near term to effectuate positive change as well as longer-term steps to achieve systematic and long-lasting change.
Chappell (Ulmer & Berne): Since the murder of George Floyd and amidst the racial justice movement that has ensued, our diversity efforts have intensified. Membership on our Diversity, Equity and Inclusion team has increased, and we have doubled down on tackling difficult structural issues of racism, place-ism, and white privilege with renewed passion and focus.
McGowen (Orrick): Firm leaders met with our Black lawyers and legal professionals following the death of George Floyd. Our board and management committee have been meeting regularly with leaders of Orrick's Black affinity group and with leaders of our D&I [diversity and inclusion] initiatives. To hold ourselves accountable, D&I has a standing agenda item for our weekly partner and associate town hall meetings. We have also assigned each of our midlevel and senior associate Black and Latinx lawyers a management committee or board sponsor. We increased the amount of bonus-eligible credit for time spent planning, executing, and participating in D&I-related efforts. We also launched the Orrick Racial Justice Fellowship Program to enable at least five Orrick lawyers to devote a year each to working on civil rights and social justice issues. 
Salim-Williams (Gibson Dunn): Gibson Dunn launched a Racial Justice & Equity Initiative designed to focus on racial justice issues, including tackling police and criminal justice reform and providing pro bono assistance to minority-owned businesses around the world. We held discussions on racial justice and equity in all 20 offices. These included attorneys and staff and provided an opportunity for our employees to share their personal experiences and to brainstorm action items to pursue as a firm. We have expanded some of our current diversity initiatives, such as book clubs that discuss issues around race and our participation in the SEO Law Fellowship Program, and donated to charitable organizations. 
Walker (Willkie): We have offered more programming tailored to our Black employees, including quarterly town halls with the firm's co-chair Matthew Feldman and a session facilitated by an expert to discuss strategies for handling the impact of racism on our mental health.
What is the role of law schools in diversifying the legal profession?
Salim-Williams (Gibson Dunn): Columbia Law School admits and graduates the finest lawyers in the country. I am constantly astounded by the rich, diverse talent that we see during on-campus interviewing and through lateral recruitment. It is critical that Columbia Law continue to build on that rich tradition. I also think it is critical that law schools continue to connect past, current, and future generations of diverse lawyers. I always tell law students that I can trace nearly every great thing in my career and life back to Columbia Law. I personally have benefited from the mentorship of Black Columbia Law grads—such as Mylan Denerstein '93, Kim Walker '91, Anne Robinson '94, Rashida La Lande '98, and Kristen Clarke '00—who came before me, but also from my classmates and many who have followed. I would implore the Law School to continue to be that bridge for future generations of Columbia Law's diverse graduates. 
Chappell (Ulmer & Berne): The law school pipeline continues to be integral to law firm hiring. So there needs to be a critical mass of minority students in law schools comprising the pool of minority candidates to be employed by law firms. Statistics indicating that the number of minority law students is decreasing are concerning. Diminishing numbers of diverse law students is a significant barrier to diversifying the legal profession.
Walker (Willkie): I remember fondly working with Professors Jane Spinak and Philip Genty to advocate for and mentor foster youth via Columbia Law's Child Advocacy Clinic and mentoring middle school students via the Harlem Tutorial Program. Law schools must continue and build upon these types of programs, as we must expose young people to the legal profession as early and as often as possible.
"I am proudest when others achieve. When a person of color makes partner and thanks me for the small role I played, it is incredibly gratifying."
—Kim Walker '91
What led you to choose diversity work as part of your professional portfolio? 
Arteaga (Crowell & Moring): I was raised by a single Latina mother in a public housing complex that was plagued by drugs and gang violence. When my mother arrived from Puerto Rico, she did not have a high school diploma and did not speak any English. However, she worked multiple jobs while going to night school to get her high school equivalency diploma and then associate's degree from a community college in order to provide my sister and me the best educational opportunities possible. From the moment that I arrived at Columbia and became a lawyer, I fully understood what it means to feel like an outsider and wonder whether you belong. This caused me to gravitate to individuals who shared my background as a means of creating my own community and support network. I have tried to replicate these types of communities and support networks for others with similar backgrounds and experiences because I know firsthand the difference that feeling valued and welcomed can make in a person's ability to achieve his or her full potential.
McGowen (Orrick): I have been very fortunate in my career to have had sponsors who did not look like me or have the same background but who nonetheless believed in me, pushed me, and advocated for me to rise to the level that I've been able to achieve. I stand on the shoulders of those who have come before me, and I want to pave the way forward for many more Black and Brown, women, LGBTQ+, and differently abled lawyers to have the same—or better—opportunities than I had. 
Salim-Williams (Gibson Dunn): After clerking for two judges of color, I felt that it was really important to diversify the clerkship pool by encouraging diverse law students to apply for clerkships. My first entry into diversity work was bringing diverse judges of color to Columbia Law School to encourage various groups to apply. Kwanza Butler '98, who worked at the New York City Bar Association, invited me to participate on a committee, and that led me to eventually running the Diversity Office there. I moderated a panel with Rashida La Lande '98 and that relationship ultimately led me to Gibson Dunn. As you can see, Columbia Law has always been part of my journey along the way.
What's your proudest achievement in your diversity work?
Walker (Willkie): I am proudest when others achieve. When a person of color makes partner and thanks me for the small role I played, it is incredibly gratifying. Even more gratifying was attending the college graduation of one of our former high school mentees, an extraordinary young man who at the time lived in a homeless shelter. Willkie supported this student in many ways, including by presenting him with the firm's annual Eagle Academy for Young Men graduation scholarship. I was honored to be invited to his graduation and cannot put into words the level of pride I felt as he walked across the stage to receive his University of Pennsylvania diploma. 
Chappell (Ulmer & Berne): Earlier this year, our firm was privileged to receive an inaugural Diversity Team Award from Profiles in Diversity Journal. The recognition was really meaningful because it acknowledged the work of all of the members of our Diversity, Equity, and Inclusion Committee and the programming and initiatives we launched.
Arteaga (Crowell & Moring): For over 10 years, I have served on the board for Legal Outreach, a legal pipeline organization that helps youth in underserved New York communities get into the nation's most selective colleges and law schools. I have taken great pride in seeing the meaningful difference that Legal Outreach has made in the educational careers of these students—most of whom are students of color—and the joy that their achievements have brought to their families and communities. Some of Legal Outreach's students have graduated from Columbia Law School. Last year, I worked with Chief Judge Roger L. Gregory of the 4th U.S. Circuit Court of Appeals, for whom I clerked, to arrange for a group of Legal Outreach students to meet with Chief Justice John Roberts and receive a private tour of the U.S. Supreme Court. It was a trip that allowed the students to see what they can achieve if they work hard and never let anyone place limits on their dreams or goals.
McGowen (Orrick): I'm most proud of our Veterans Legal Career Fair, launched in 2015. It's the only legal career fair in the United States devoted exclusively to veterans, active-duty service members, and military spouses. I am also especially proud to have helped bolster an environment at Orrick where we all can step out of our comfort zones and engage in candid dialogue. We've had a lot of very impactful and frank conversations within the firm on the importance of racial and social justice and economic empowerment in the wake of the deaths of George Floyd, Breonna Taylor, Ahmaud Arbery, and others. And that dialogue and our commitments to make change—as a firm and individually—give me more hope and faith than I have ever had before.