Rashida La Lande '98: 57 Varieties of Wise Counsel
Rashida La Lande '98: 57 Varieties of Wise Counsel
As Kraft Heinz general counsel, La Lande loves her wide-ranging role.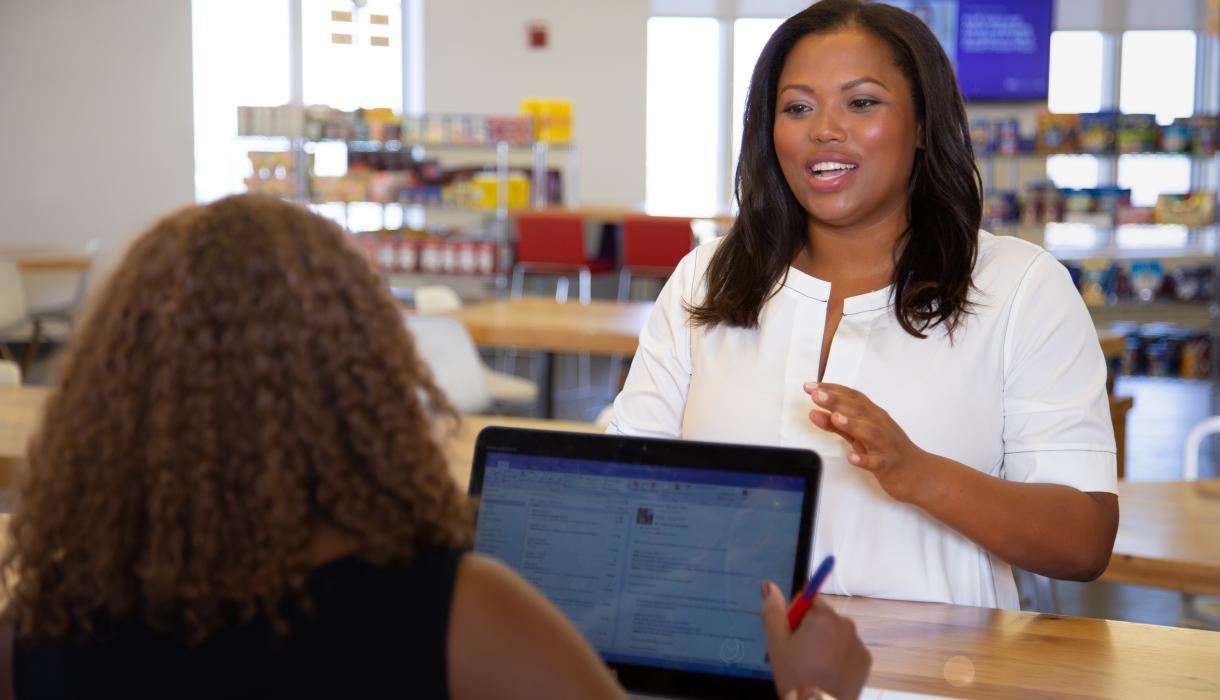 Rashida La Lande's first day at Columbia Law was a lesson in more ways than one. Not only did students attend orientation and Legal Methods class, but because of ongoing renovations to Jerome L. Greene Hall, they were also given hard hats to wear in the classroom. 
"It was an eye-opening and honest foray into liability management," La Lande recalls. "It was a great entrée into the legal profession."
Today, liability is but one of the issues La Lande manages as general counsel and corporate secretary for food giant Kraft Heinz, where business challenges can make a hard hat seem like a sensible accessory.
Corporate law wasn't always her plan. As a self-described "argumentative" only child who grew up in Queens, New York, La Lande came to Columbia Law School directly from Harvard, where she had earned her B.A. in African-American studies. Her career focus was unclear ("I didn't even understand what corporate law was,") until her first summer associate job showed her a world of lawyering that didn't focus on litigation. La Lande went on to take courses in mergers and acquisitions (M&A), corporations, and even "accounting for lawyers." She spent two years at Chadbourne & Parke, and in 2007 moved to Gibson, Dunn, & Crutcher, where she became a partner. In 2018, La Lande arrived at Kraft Heinz. 
Her transition to corporate general counsel illustrates how the role has expanded in current corporate governance, as well as the slowly diversifying demographics of the position.  
From Many Clients to One
Traditionally, the job of in-house counsel focused on the law as it affected the company. "Now it is very much about being a business partner: protecting the assets of the company and figuring out the right path for the company to take as it grows," La Lande says. "You have to be able to really think like a businessperson and advise and consult like a businessperson. It is legal advice that you're giving—but with a deep understanding of the constraints that impact the business." 
At Gibson Dunn, La Lande specialized in M&A, leveraged buyouts, and private equity deals. "I really loved what I was doing as a partner at the firm. I liked being able to work on different types of transactions with different companies, to go from client to client to client." As the general counsel (GC) at Kraft Heinz, La Lande can devote 12 hours a day to back-to-back meetings on a wide array of topics: "I might spend an hour talking to the (subsidiary) businesses about food law issues. I might spend an hour on litigation, an hour on labor and employment issues. I might spend an hour on communication. It's a constant shifting of your brain to think in a different way. But I really enjoy that." 
Although, she adds, "I made coffee my new best friend."
The company has more than 200 brands—from A-1 to Velveeta—but only one business: food. "I don't have to know seven or eight companies' charters; I have to know one, and I have to know it cold," she says. 
The role of a corporate general counsel has grown as the competitive environment has intensified in the food business, thanks to consumers' changing tastes, and as the regulatory environment has become more "fraught," La Lande says. "Everything is a minefield. The risks that people have to navigate today are extremely different from what they were in the past. And so managing that minefield can make a huge difference for a company." 
That is particularly true when a company faces difficult times. In June, Kraft Heinz installed a new CEO, but the company's sales are down, and its stock has slumped more than 25 percent this year. In August, Kraft Heinz took a $1.2 billion write-down of its brands' asset value.
In tough times, general counsel "are more in demand, and the importance of GCs is more understood," La Lande says. "Taking the bad with the good—and the good with the bad—really allows for the legal voice to be heard, and the direction around compliance and risk mitigation to be center stage for companies. In today's world, it's important for every company to have that view."
Increasing Representation in the Fortune 500
La Lande is a member of two groups where lawyers of color are scarce: Just 2 percent of law firm partners are African American, according to a Vault 2018 survey, and only 5 percent of general counsel are minority women. 
"I know the numbers are not great," La Lande says, but she doesn't feel lonely. At Gibson Dunn, the percentage of African-American partners was low, but there was a critical mass, she says. "We had a community." She says the same is true in the corporate world, particularly among consumer-facing firms, and quickly names firms with African-American general counsels, including Hershey (Damien Atkins), Vanguard (Anne E. Robinson '94), and Discover Financial Services (Wanji Walcott). 
"There are people accomplishing great things, both at law firms and in house," La Lande says. "While the numbers are not where I want them to be in 2019, I do see them as getting better, and I think we will see more African-American partners and GCs going forward."
For any law student interested in following La Lande into a career as in-house counsel, a law firm, she says, can "provide a great base of training [for] learning the law, learning expectations, how to manage caseloads, how to manage work generally." Her overarching advice? "Put your head down, work hard, and don't give up."
More Advice From the Top of the GC Ladder
Being a parent and a law partner: La Lande and her husband, Derrick Diggs, the president of a commercial development firm, are the parents of four children under age 12. "For myself, the biggest thing was, Was it possible? After that, I had my head down and just, you know, did it. Hopefully now you're seeing more examples, and you see that it is possible. Don't spend too much of your time worrying or being concerned about it—just know that when the time comes, it'll happen." 
Working hard: "I think sometimes people think that if you work hard you'll definitely succeed or, conversely, if you're talented, you can get away with not working hard. And I think neither of those things is true. Success is a process. Some days it's up, some days it's down. What matters is that over the course of the trajectory there are more steps forward than there are steps back." 
Mentoring: "What can be really hard is when people put all their hope in one person. It's better to look to a variety of different people and say, 'Okay, that person is not a lawyer, they're a tax adviser, but they really have a great understanding of rules, regulations, and the company, and so they can mentor me in that way.' I am a mother of four children. I have a mentor to help me manage and think about my life and my career as well as my family, my husband, and my children. Truly strong mentoring relationships have to be reciprocal, and you spread it out a little bit. You need to have your mentor's back and vice versa."
Her favorite Kraft Heinz product: "Right now it's the Philadelphia Dip. Individual bits of tortilla chips and Philadelphia spread. Jalapeño cheddar or buffalo chicken. A 3 o'clock in the afternoon treat."
# # # 
Published on December 19, 2019