Distinguished Alumni From the Federal Bench Weigh In on the "Vanishing Trial"
Distinguished Alumni From the Federal Bench Weigh In on the "Vanishing Trial"
Anita Blumstein Brody '58, Miriam Goldman Cedarbaum '53, Robert D. Sack '63, and Jack B. Weinstein '48 Participate in the Stone Circle and 50th Reunion Panel Discussion, "Judging Without Trials"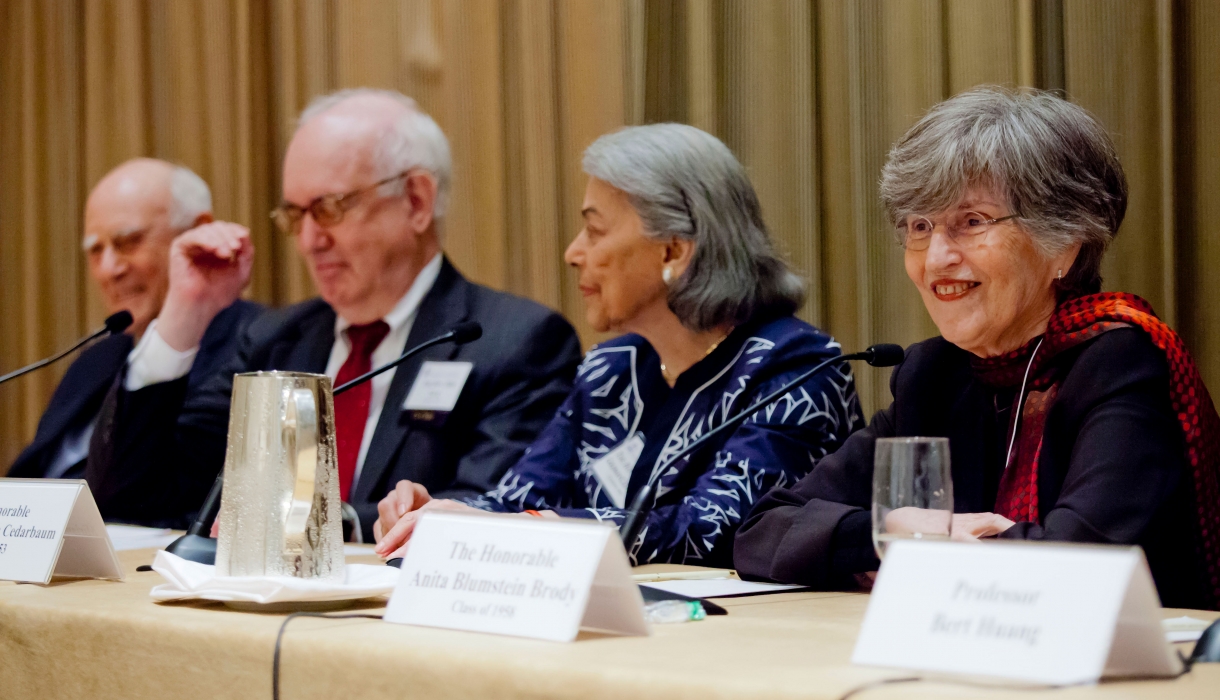 Four distinguished Columbia Law School alumni who have collectively served nearly a century on the federal bench helped kick off the first day of Reunion 2013 on Friday, June 7, at the Waldorf Astoria in New York with a timely and informative Stone Circle and 50th Reunion panel discussion about an increasingly rare courtroom experience: trial.
When Stone Circle members—alumni who graduated 50 or more years ago—were finishing law school, one out of eight civil cases filed in federal court went to trial, said Associate Professor Bert I. Huang, who moderated the panel, "Judging Without Trials." Today, only one out of 80 federal cases is tried before a judge or jury.
The so-called "vanishing trial" is a major topic of discussion among practicing lawyers and academics, said Huang, whose expertise includes civil procedure, remedies, and the courts. It is also a trend that is familiar to each graduate who participated in the panel discussion: Anita Blumstein Brody '58, a senior U.S. district judge for the Eastern District of Pennsylvania; Miriam Goldman Cedarbaum '53, a senior U.S. district judge for the Southern District of New York; Robert D. Sack '63, a senior judge on the U.S. Court of Appeals for the Second Circuit; and Jack B. Weinstein '48, a senior district judge for the Eastern District of New York.
Huang asked Brody, who was a Pennsylvania state court judge before being appointed to the federal bench by George H.W. Bush in 1992, to describe how judges' attitudes toward trials differ between the two judicial systems. Brody said she felt her primary responsibility in state court was to resolve disputes.
"Therefore, it wasn't difficult for me to reconcile settling cases because that's what I was there to do," she said.
In federal court, however, she said she feels less attached to the disputes pending before her and more concerned with upholding the public interest.
"I'm saying to myself, 'I want this exposed; I want this public, so that people know what's going on,'" said Brody, who is a member of the Law School's Board of Visitors. "Public exposure of issues is really an important function, especially in federal court."
But settlements are a form of justice, too, said Cedarbaum, especially in cases that do not involve novel issues of law.
"I happen to think that it is a very rare case where all truth and justice are on one side and all wrong on the other," she said. "Greater justice is accomplished when parties can work out a result that they both agree to."
Cedarbaum, recipient of the 2012 Distinguished Alumna Award from the Columbia Law Women's Association, said litigants are further encouraged to settle by high legal fees.
"That's an incentive to working things out," she said.
Sack, an adjunct professor at the Law School who is also on the Board of Visitors, said other factors contributing to the decreasing trial rate are recent court rulings that have raised plaintiffs' burden at the pleadings stage, as well as the enormous protection the U.S. Supreme Court has given to arbitration clauses.
Weinstein, who was appointed to the federal bench by President Lyndon B. Johnson in 1967 and who taught at the Law School for nearly five decades, agreed. He said federal courts are growing less friendly to the "average small litigant" and suggested that jury trials are a much better way to determine a result in a case.
"We don't see what the public wants," he said, referencing research that argues against settlements. "The people—a cross-section of the people—ought to speak constantly about how real life works."
In bringing judges' insights to the Law School in a give-and-take format, the panel followed the model of the Colloquium on Courts and the Legal Process, a workshop series Huang launched several years ago.
Before "Judging Without Trials" concluded, Weinstein said it gave him a "joyous feeling" to look out at the audience and see so many of his former students.
Two of those students—Sack and Brody—were seated with Weinstein on the panel. Sack described waking up early three days a week for Weinstein's civil procedure class.
"Had I known that at any time in my lifetime I was going to be on a panel of judges, sitting next to Jack—on the same side of the table—I would have happily done it seven days a week at two in the morning," he said.