Defending the Planet: Climate Change in the Courts
Defending the Planet: Climate Change in the Courts
In episode four of Columbia Law School's limited-series podcast, hosted by Michael B. Gerrard,  Michael Burger '03 of the Sabin Center for Climate Change Law and Peter Lehner '84 of Earthjustice discuss litigation as a tool when legislative and political remedies are insufficient.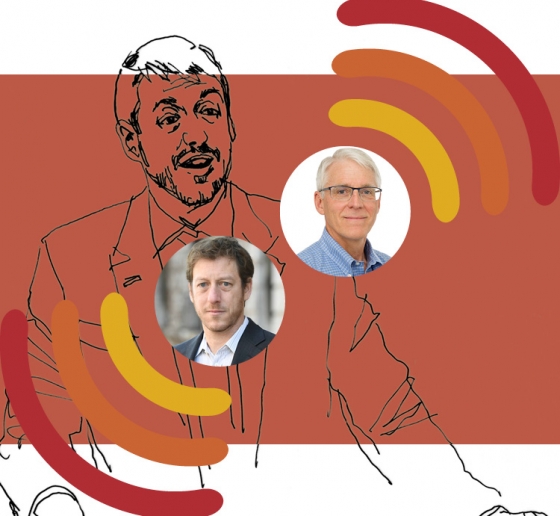 Strategic litigation has been effective in advancing civil rights and gender equality in the United States and privacy and human rights across Europe. Can lawsuits filed by environmental groups and activists around the world compel corporations and governments to curb carbon emissions? Was an important precedent set when a Dutch court ruled recently that Royal Dutch Shell must reduce its emissions significantly by the year 2030 and to net zero by the year 2050? Do judges have more power to combat climate change by enforcing existing laws or offering new interpretations of constitutional, human rights, and common law principles? 
Michael Burger '03, executive director of the Sabin Center for Climate Change Law, and Peter Lehner '84 of Earthjustice and a lecturer in law at Columbia Law join host Michael B. Gerrard to discuss new developments in climate-related litigation. Download the transcript here.
Stay tuned for new episodes of Defending the Planet. Subscribe on Apple, Spotify, or wherever you get your podcasts and learn more about the series. 
Meet the Experts
Michael Burger '03 is executive director of the Sabin Center for Climate Change Law and a senior research scholar and lecturer in law at Columbia Law School. His research and advocacy focus on legal strategies to reduce greenhouse gas emissions and promote climate change adaptation through pollution control, resource management, land use planning, and green finance. Burger is a widely published scholar, a frequent speaker at conferences and symposia, and a regular source for media outlets, including The New York Times, The Washington Post, Rolling Stone, and The Guardian. He is the editor of two recent books: Combating Climate Change With Section 115 of the Clean Air Act: Law and Policy Rationales (Edward Elgar, 2020) and Climate Change, Public Health, and the Law (Cambridge University Press, 2018). He also is of counsel at the environmental law firm Sher Edling and a fellow of the American College of Environmental Lawyers. Prior to joining the Sabin Center in 2015, Burger was an associate professor at Roger Williams University School of Law, where he taught environmental law, administrative law, and law and literature, and he was founder and director of the Environmental and Land Use Law Clinical Externship program. He previously taught in the Lawyering Program at New York University School of Law and served as an attorney in the Environmental Law Division of New York City's Office of the Corporation Counsel. He is a graduate of Columbia Law School and of Brown University and holds a Master of Fine Arts from the Creative Writing Program at NYU. 
"I think that we will continue to see litigation that seeks to force emissions reduction through a range of theories, including human rights–based theories, constitutional theories, public trust theories, as well as statutory and policy-based theories." 
—Michael Burger '03
Peter Lehner '84 is managing attorney of Earthjustice's Sustainable Food and Farming Program and teaches a seminar on food systems and U.S. environmental law at Columbia Law School. He is on the boards of the Rainforest Alliance and Environmental Advocates New York and is a member of the American College of Environmental Lawyers. From 2007 to 2015, Lehner was the executive director of the Natural Resources Defense Council (NRDC) and the NRDC Action Fund, leading all aspects of the organization's work. From 1999 to 2006, Lehner served as chief of the Environmental Protection Bureau of the New York State Attorney General's Office, prosecuting a wide variety of polluters and developing innovative multistate strategies targeting global warming and air pollution emissions from electric utilities. Previously, Lehner worked with the New York City Law Department, starting and leading its Environmental Prosecution Unit.
"Litigation is not something one does entirely independent of other activities. Litigation is, and is and always has been, part of a larger strategy that includes legislative change." 
—Peter Lehner '84
Michael B. Gerrard, Andrew Sabin Professor of Professional Practice, is the founder and faculty director of the Sabin Center for Climate Change Law. He writes and teaches courses on environmental law, climate change law, and energy regulation. He was the chair of the faculty of Columbia University's Earth Institute from 2015 to 2018. 
Before joining the Columbia Law School faculty in 2009, Gerrard practiced as the partner in charge of the New York office of Arnold & Porter Kaye Scholer, where he remains senior counsel. As an environmental lawyer, he tried cases and argued appeals in federal and state courts and administrative tribunals. Gerrard has written or edited more than a dozen books, including Global Climate Change and U.S. Law (co-edited with Jody Freeman, ABA Book Publishing, 2014), the first and leading work in its field. He is the former chair of the American Bar Association's Section of Environment, Energy, and Resources. He also has chaired the New York State Bar Association's environmental law section. 
"The deniers of climate change are loudly heard in various legislative chambers and various television and radio channels. But they've gotten nowhere in any court in the world." 
—Michael B. Gerrard