Classes of 2020 and 2021 Cross the Stage and Celebrate Together
Classes of 2020 and 2021 Cross the Stage and Celebrate Together
After two years of virtual ceremonies, Law School alumni donned their tams for a special in-person celebration of their graduations.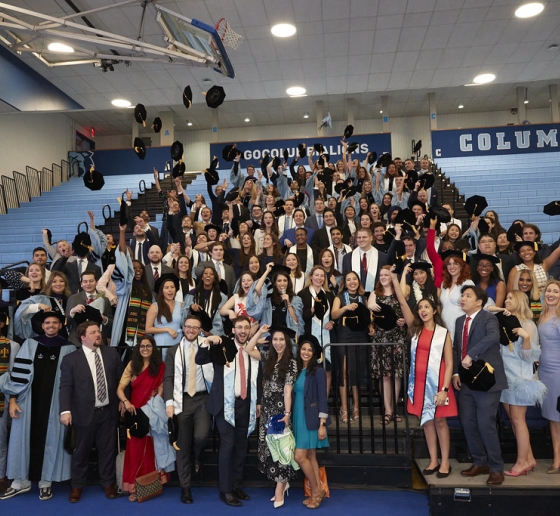 In a long-awaited moment, members of the Classes of 2020 and 2021 heard their names read as Columbia Law School graduates as they crossed a ceremonial stage to receive congratulations from Gillian Lester, Dean and Lucy G. Moses Professor of Law.
The in-person ceremony—held on May 19, 2022, as part of Columbia University's weeklong commencement activities—celebrated the two classes for which graduations were held virtually due to the COVID-19 pandemic. 
Dean Lester welcomed more than 325 members of the classes of '20 and '21, who processed into Levien Gymnasium wearing their velvet Law School caps (known as "tams"), applauded by a cheering audience of family and friends. The celebration continued with a reception on Ancell Plaza. 
In her remarks, Dean Lester noted the uniqueness of their time at the Law School, as they experienced the suspension of in-person classes in the spring of 2020 and a year of virtual learning necessitated by the pandemic. She devoted special recognition to those who cared for ill family members while continuing their coursework, pro bono work, and extracurricular activities—all remotely. 
"None of you would be here today if you hadn't persevered," she said. "I stand in awe of your fortitude." 
The dean recalled her remarks to each class at the time of their official, virtual graduations: sounding a theme of "gratitude and purpose and hope" for the Class of 2020 and telling the Class of 2021 they were "trained in the twin registers of change and adaptation." Since leaving the Law School, she told the gathered alumni, "you have indeed brought purpose and hope to your work. You have indeed shown yourselves to be masters of adaptability, tenacious in the face of change. 
"The pace of change shows no sign of slowing, and the law and legal institutions will need to adapt. I am convinced that you, this microgeneration of Columbia graduates, with your unique heritage, will do nothing short of transforming those institutions for a changed society," Dean Lester said. "No classes, no lawyers, no young people are better prepared than you are for this work, and it's a good thing because the world needs you now more than ever.''