Andrew Yang '99 to Speak at Columbia Law School Graduation
Andrew Yang '99 to Speak at Columbia Law School Graduation
Yang will deliver the keynote address to the graduating Class of 2022 during the May 16 ceremony to be held on campus.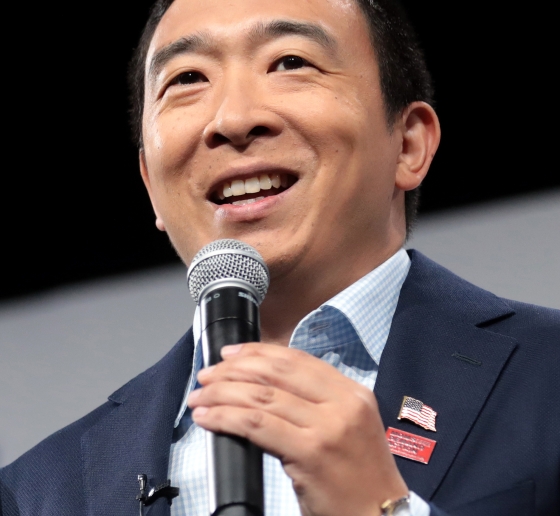 Entrepreneur, author, political candidate, and nonprofit leader Andrew Yang '99, will deliver the keynote address at Columbia Law School's 2022 graduation ceremony, which will take place on Monday, May 16, 2022 at the University's Morningside Heights campus. Yang gained widespread visibility as a candidate for the 2020 Democratic presidential nomination and the 2021 New York City Democratic mayoral primary.
In announcing the news to the Columbia Law community, Gillian Lester, Dean and Lucy G. Moses Professor of Law, said, "Andrew is fearless in challenging long-standing norms, as an entrepreneur, thought leader, and the first Asian American man to seek the Democratic presidential nomination." Yang is an engaged member of the Columbia Law community and spoke at a Dean's Distinguished Speaker Series event in 2020. 
Yang began his career as a lawyer and executive at several early-stage technology companies, eventually founding Venture for America, an education nonprofit that works to create economic opportunity in American cities. He was named as a Presidential Ambassador for Global Entrepreneurship and a "Champion of Change" by former President Barack Obama.
While a candidate for U.S. president, Yang raised nearly $40 million in grassroots funding from enthusiastic supporters dubbed the "Yang Gang." He subsequently established Humanity Forward, a nonprofit that successfully lobbied Congress for direct cash relief for struggling American families during the pandemic, while simultaneously distributing over $8 million directly to families in need. He also founded the political action committee Forward Party, which seeks to form a new political party in the United States focused on on advancing structural changes to the political system, such as open primaries and ranked-choice voting, and on lessening extreme partisanship. Yang's latest book, Forward: Notes on the Future of Our Democracy, lays out his ideas for improving the state of the nation beyond his signature proposal for universal basic income.
In addition to Yang and Dean Lester, graduation speakers include Eric Talley, Isidor and Seville Sulzbacher Professor of Law and winner of the 2022 Willis L.M. Reese Prize for Excellence in Teaching; J.D. class speaker Eni O. Popoola '22; and LL.M. class speaker Jordan A.J. Jarrett '22.
"I am thrilled at this fantastic lineup of speakers and excited to convene such a vibrant and fitting celebration of the Class of 2022," said Dean Lester.
The graduation ceremony will be livestreamed and available to watch here.