The 2023 Harlan Fiske Stone Society Reception
The 2023 Harlan Fiske Stone Society Reception
Members of the alumni society gathered on May 10 to honor Cathy Kaplan '77.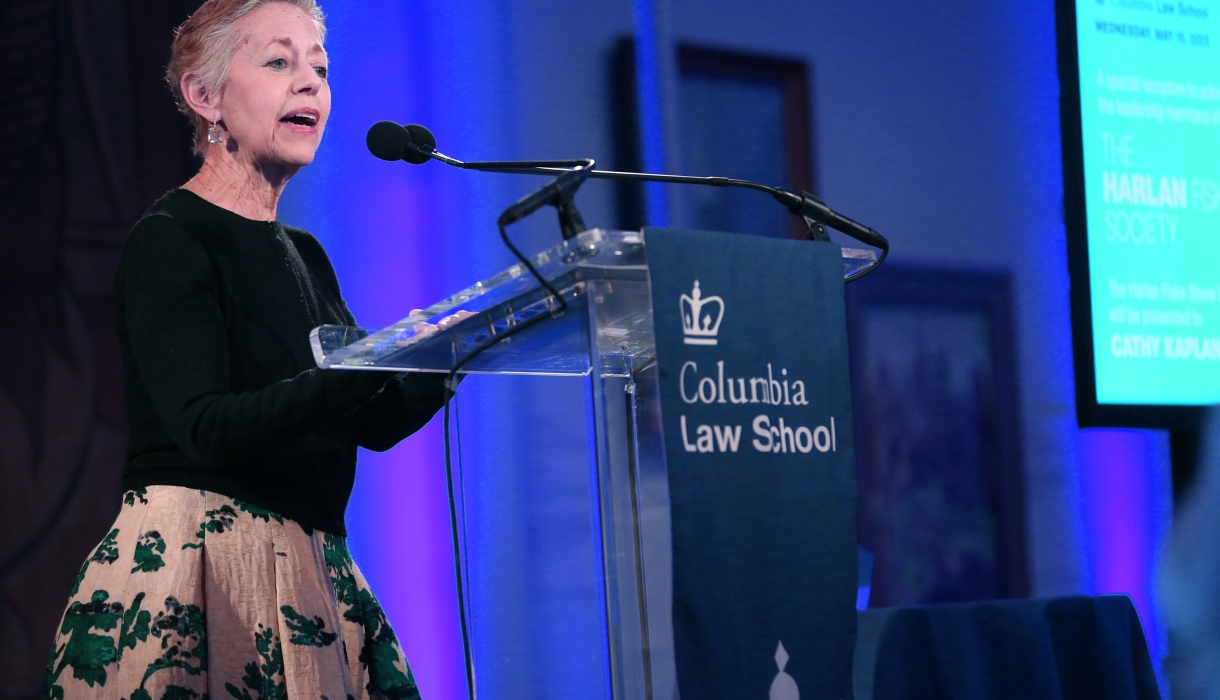 Pictured: Cathy Kaplan accepting the Harlan Fiske Stone Society Award at the May event.
Calling her "a leader among alumni; a distinguished practitioner; a creative, resourceful, and generous member of our alumni community," Gillian Lester, Dean and Lucy G. Moses Professor of Law, honored Cathy Kaplan '77 with the Harlan Fiske Stone Society Award on May 10 at the society's annual reception. Alumni members of the Harlan Fiske Stone Society, along with family and friends, gathered at the New-York Historical Society to recognize Kaplan's contributions to the Law School as an alumni volunteer.
"This award is bestowed upon an individual who embodies what it means to be a loyal supporter of the Law School—leadership in annual giving, volunteerism, civic engagement, and contributions to and achievements within the legal profession," said Dean Lester in her introduction. "I can think of few others who exemplify more of these qualities than tonight's honoree."
Kaplan is a second-generation Columbian. She established a scholarship in honor of her mother, Ann A. Kaplan '46, last year.
As a law student, Kaplan worked with then-Professor Ruth Bader Ginsburg '59 on the groundbreaking Women's Rights Project at the American Civil Liberties Union. After graduation, she joined Brown & Wood, where she became one of the firm's first female partners.
In 2001, Brown & Wood merged with Sidley Austin, and Kaplan became co-head of the New York global finance practice and served on the firm's executive committee. She also represented collectors, artists, museums, and others in a wide range of arts-related transactions—and continues to do so in retirement. In 2022, she was honored by the New York Law Journal with its Lifetime Achievement Award. She serves on the board of several arts-related organizations, including the Aperture Foundation, Yale University Art Gallery, and the Bronx Council on the Arts, as well as on the Photography Committee of the Whitney Museum. 
At the Law School, Kaplan serves as chair of the Board of Visitors and member of the Dean's Council. Additionally, co-chaired her 30th, 35th, and 45th reunion committees and is a lecturer in law. Courses she has taught include Law and Finance of the Art Market; Law and Finance in Theory and Practice with Katharina Pistor, Edwin B. Parker Professor of Comparative Law; and Colloquium in Global Business Law with David Schizer, Harvey R. Miller Professor of Law and Economics and Dean Emeritus. 
"From the very start of my deanship, I saw in Cathy a leader among alumni," said Dean Lester, who recognized Kaplan as a "mentor to our students through her teaching, and to me personally: a wise counselor and, in time, valued friend."