Why Clerk? Andrea Saavedra '06 Has the Answers
Why Clerk? Andrea Saavedra '06 Has the Answers
As assistant dean and dean of judicial clerkships and judicial relations, Saavedra is building on the Law School's clerkship traditions and culture.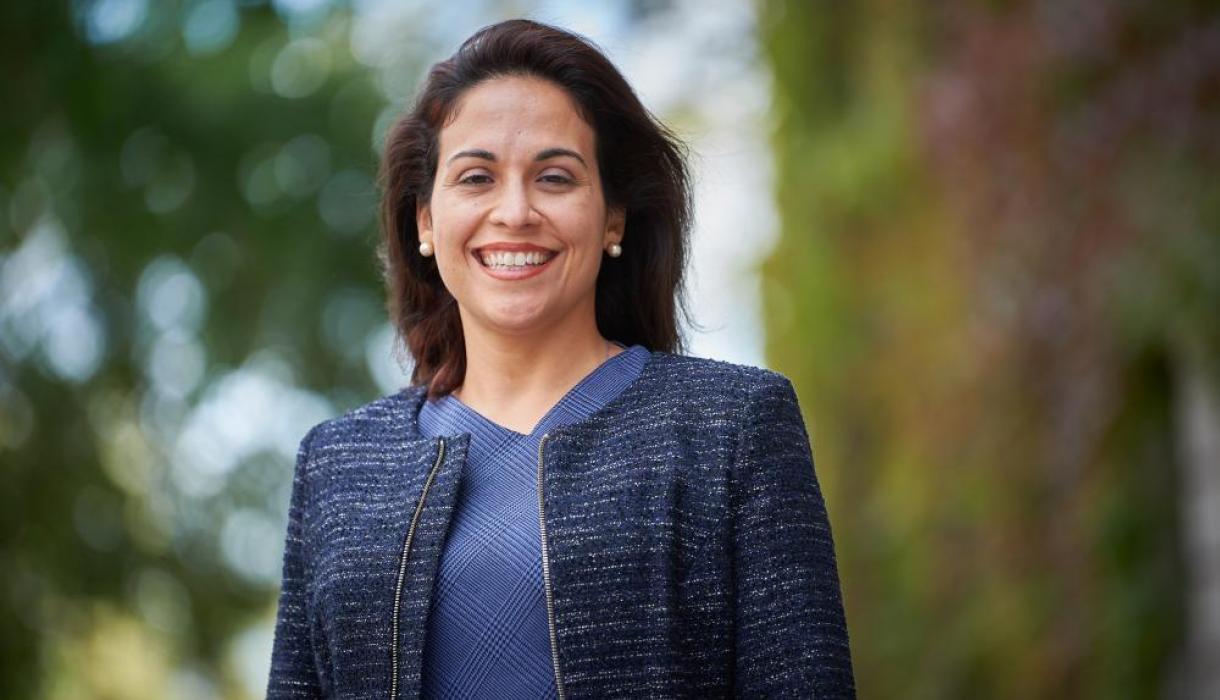 In February, Columbia Law School welcomed back Andrea Saavedra '06 as dean of judicial clerkships and judicial relations. Her return marks a milestone in the institution's efforts to increase its clerkship placement rates and to provide holistic guidance to students and alumni questioning whether to clerk and how a clerkship fits into their overall career vision.
"It's about helping applicants find their 'why,'" says Saavedra. "A lot of applicants look at a clerkship as a box they need to check off, but they don't stop and think about why they should do one."
Clerkships offer students and alumni a number of professional benefits: clerks develop their already honed legal writing and research skills and gain an insider's perspective into how judicial decisions are made. Some law clerks also go on to become judges and justices themselves. If they do an excellent job, Saavedra notes, "they will have a judge as their friend in the law for life." 
Establishing Columbia as a Clerkships Leader
Saavedra's goal is clear: "It's important for both current and prospective students to know that if they want a clerkship, Columbia is the place to be," she says.
Her first step is to improve the clerkships pipeline. "I'm doing a lot of outreach to our alumni law clerks and judges to find out how we can best partner with them to help our current students [and] maximize the number of students applying for and receiving clerkships," she says. Other plans for the upcoming year include securing clerkships for all members of the Class of 2020 who seek one; increasing applications from students with diverse practice interests, backgrounds, and career plans who may not see a clerkship as benefitting their professional development; and enhancing Columbia's reputation and visibility among courts and the judiciary. Saavedra also wants alumni who are currently law clerks to consider pursuing second—or even third—clerkships.
To realize these objectives, the Office of Judicial Clerkships provides one-on-one advising and placement services, arranges and leads judicial lectures and panels on campus, and creates networking opportunities with current law clerks and judicial alumni along with members of Columbia's faculty. The office's work was aided in June when an ad hoc group of leading federal judges, with the support of more than 100 law schools (including Columbia), sought to make the clerkship process more transparent by adopting the Federal Law Clerk Hiring Plan. The two-year pilot program encourages judges to wait to consider clerkship candidates until after their second year of law school—thereby supporting applications from a more diverse group of students.
The team's efforts are already paying off. The Class of 2019 nearly doubled its clerkship placements since March (from 42 to 80), and this fall, 101 Columbia alumni began clerkships in both state and federal courts, including two in the U.S. Supreme Court.
Back to School
When Saavedra graduated from law school, she never anticipated returning to Columbia in this role. She worked at Weil, Gotshal & Manges LLP, where she practiced in the firm's business finance and restructuring department. She left the firm to become an in-house insolvency lawyer at Nomura Securities International and later joined Goldman Sachs in the executive office.
Despite her corporate momentum, something pulled at Saavedra. "I was getting farther and farther away from what I wanted to do when I chose to go to law school," which was to teach or be a judge herself, she explains. Making the difficult decision to step away from corporate life, Saavedra volunteered with a distinguished bankruptcy judge in Newark near her home in New Jersey while she considered her options.
"I was volunteering for five or six weeks when the judge asked if I would [clerk] full time," says Saavedra. She was eager to dive into public interest law and learn about restructuring from the court's perspective, but says that "it was a little bit awkward for me to process."
"I had just come from being an executive at Goldman and now I'd be a law clerk?" Saavedra says. "But sometimes, you're in a certain place for a reason, and the judge was so great and the court so incredibly welcoming, so I said, 'Why not?'" Plus, she advises, when "you get a chance to work with a fantastic jurist, you should take it."
The experience gave her a new appreciation of the importance of the law clerk's role. "Your number one job as a law clerk, not dissimilar to that of an associate at a Big Law firm, is to make your judge's job easier," she says. "You've got to be eager, engaged, and accurate at all times, and constantly looking for ways to improve the workday and your judge's—and court colleagues'—caseload."
Now that she is back at the Law School, her unexpected path has come full circle. "If you had asked me when I graduated, 'Andrea, your choice in 15 years is to be back at Columbia or practicing somewhere,' I would have said, 'Could I be back at Columbia?'"
That question answered, Saavedra is wasting no time moving forward with her plan to help students and alumni get the same breadth of opportunities she did. And, in the long run, Saavedra hopes she may even have a hand in helping some Columbia law clerks become judges themselves.
# # #
Published November 6, 2019