Student Spotlight: Erin McKissick '23 on Leadership, Law, and Justice
Student Spotlight: Erin McKissick '23 on Leadership, Law, and Justice
McKissick served as the 2021–2022 OutLaws president and was the recipient of the 2021 Manne Prize at the 8th Annual Stanley M. Grossman Innovators Invitational at the Center for Urban Business Entrepreneurship.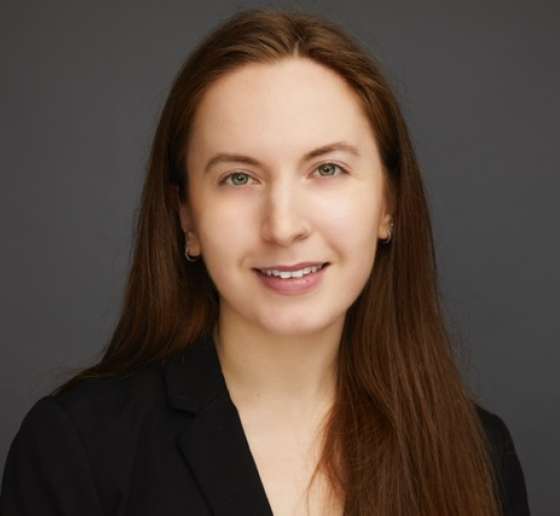 While pursuing a degree in psychology and gender and women's studies at Bowdoin College, Erin McKissick '23 spent a semester at Smith College, where she took a gender and law course; it left the idea of a law career lingering in her mind. "I began to understand the difference between a career centered on research and writing about legal issues versus what I perceived as the more direct problem-solving role of a lawyer. I also saw how topics I cared about and felt intuitively drawn to, like gender studies, are implicated in our legal system in a way that fascinated and, at times, frustrated me," she says.
McKissick's Columbia Law School journey didn't begin as expected—she spent most of her 1L year on Zoom due to the COVID-19 pandemic—but she took full advantage of the Law School's coursework and programs. Now, she is in her final year after serving as president of OutLaws during the 2021–2022 academic year, winning the 2021 Manne Prize at the 8th Annual Stanley M. Grossman Innovators Invitational at the Center for Urban Business Entrepreneurship at Brooklyn Law School, and externing for the New York Attorney General's Labor Bureau. She also developed an interest in gender justice and LGBTQ+ rights, Title VII and Title IX discrimination work, and employment law—an area in which she plans to practice following graduation.
Learn more about McKissick's Law School journey and what she hopes to do next.
Why did you choose Columbia Law School?
I was excited about opportunities to take classes from the fantastic faculty at the Law School's Center for Gender and Sexuality Law and participate in clinics or externships that would allow me to interface with organizations and clients. I really wanted exposure to many different kinds of people and ways of thinking, so being part of a larger student body was appealing. I also wanted to try living in New York for a period of time, and the Law School seemed like a wonderful excuse to get some time in the city. 
What are your long-term career goals? 
I'll be starting my career at a corporate law firm in New York City, where I hope to practice in the executive compensation and employee benefits group as a means of gaining exposure to employment law. I'd also like to incorporate teaching into my career in some fashion, perhaps even serving as a Legal Practice Workshop instructor at the Law School a few years after graduating. In the long term, I'd like my career to center on the issues that I care about—equity and justice for marginalized people, especially at work and at school. It feels exciting to admit that I don't know exactly what that will look like, but I am confident that a degree from Columbia will set me on a path to figure this out. In the more distant future, I imagine that I might try to work in higher education administration, either in a college dean's office or as a Title IX coordinator.
How have your first two years at Columbia Law influenced those goals?
First, my coursework: Employment Law with Professor Mark Barenberg and Gender Justice with Professor Katherine Franke both reminded me of the issues I care about and the reason I came to law school. Second, experiential learning: Participating on the Gender and Sexuality Moot Court team and working as an extern for the New York Attorney General's Labor Bureau helped me figure out what kind of lawyer I want to be—not just what subject matter I want to work in, but what actual tasks of being a lawyer are most enjoyable to me. And third, serving as an academic coach and teaching assistant—I really treasure the opportunity to help first-year law students unpack and understand a legal concept or case. 
What role has OutLaws played in your Columbia Law School experience, and what did you focus on as president of the organization?
Joining and leading OutLaws has been one of the highlights of my experience at Columbia Law. As a 1L taking all of my classes on Zoom, it helped to have a community outside of my classmates to feel connected and to have friendly faces to show me around a new city. OutLaws provided so many resources—social, academic, professional—and helped me feel welcome in what was at times a daunting and stressful environment. 
People come to Columbia Law with such different experiences of being queer—for some, it's a newer blossoming identity and for others a lifelong source of pride. Some have been more closeted in their hometowns, while others have never had to think twice about presenting as their full selves in public. As president of OutLaws, I tried my best to keep all of these people in mind and to focus on programming that would appeal to a wide range of members. Since the group hadn't previously been able to hold any in-person events during my time at the Law School, I also focused on community building and creating opportunities for people to come together and get to know their classmates.
You won first place and the 2021 Manne Prize at the 8th Annual Stanley M. Grossman Innovators Invitational at the Center for Urban Business Entrepreneurship—can you tell us more about your winning project?
The project was an idea for a website that will allow tenants to rate their experiences living in a property and to provide anonymous feedback on their landlords. The site, called Roost [still in development], was inspired by hearing about frustrating encounters with landlords and by a lack of transparency around what you're getting yourself into when you sign a lease. Someone who is [finding a tenant for a] sublet, for example, is more incentivized to get someone to quickly take over the lease than to be completely honest about their struggles with the living situation. The landlord-tenant relationship is a dynamic ripe for exploitation, and through Roost, I sought to create a platform to attempt to rectify this power imbalance. 
What are your interests outside of the law?
The first thing that comes to mind is fitness—it's one of the most consistent parts of my life outside of law school. It's been very important to me to get self-esteem and confidence from something outside of an academic environment, and I love what exercise teaches me about setting goals, working hard, and exceeding my own expectations of myself.
I also cherish any opportunity to find a patch of nature amid the concrete jungle! I love the location of the Law School, situated right between three parks—Riverside is my favorite. 
This interview has been edited and condensed.