Standout Alumni Awarded Medals for Excellence
Standout Alumni Awarded Medals for Excellence
Dean Gillian Lester presented this year's medals to Jim Millstein '82 and Franklin Thomas '63 at the 71st annual Winter Luncheon.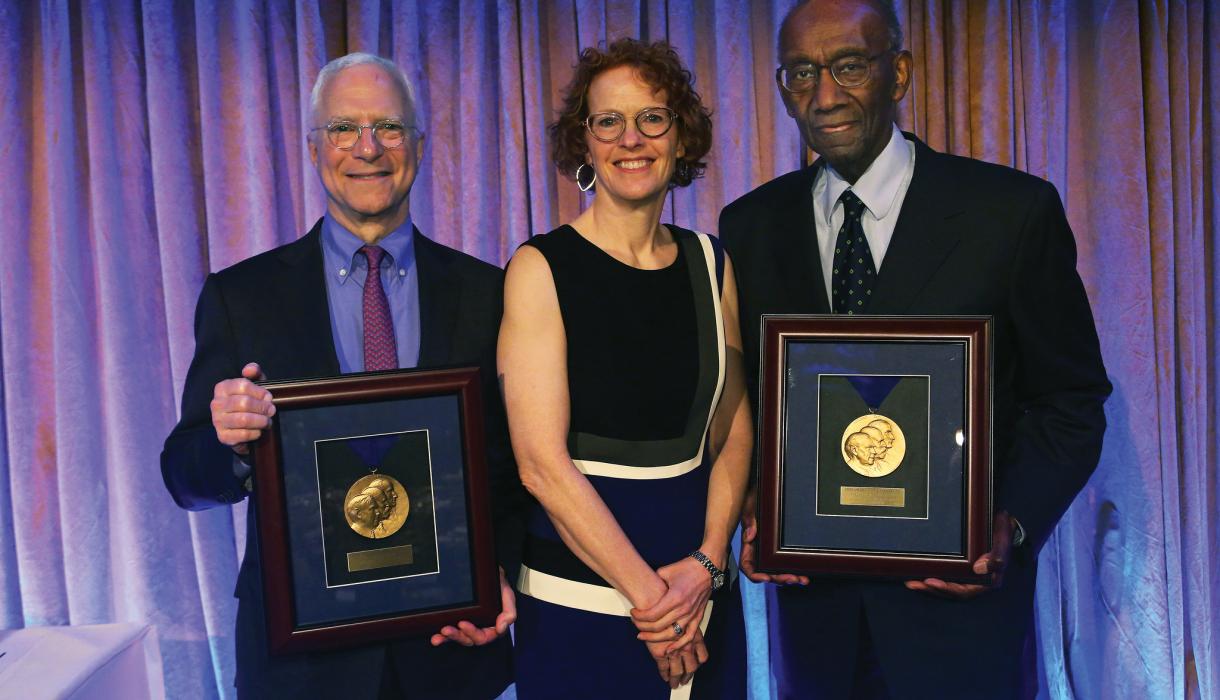 Columbia-educated lawyers, each with a deep commitment to public service, Franklin Thomas '63 and Jim Millstein '82 have been honored with the Law School's Medal for Excellence. 
Inaugurated in 1964, the Medal for Excellence is Columbia Law School's most prestigious award. It is presented annually to alumni and faculty members who exemplify the qualities of character, intellect, and social and professional responsibility that the Law School seeks to instill in its students.
Jim Millstein '82, co-chairman of Guggenheim Securities, the investment banking and capital markets division of Guggenheim Partners, served as chief restructuring officer for the U.S. Treasury Department following the 2008 financial crisis. Franklin Thomas '63 led the Ford Foundation and the September 11th Fund and was the founding head of the Bedford Stuyvesant Restoration Corporation, the pioneering community-development agency.
Gillian Lester, Dean and the Lucy G. Moses Professor of Law, presented the awards on February 28 at Cipriani 42nd Street in New York City before an audience of 350 alumni and friends of the Law School. She praised the medal winners as leaders in public service at a time when civic engagement is critical.
In her remarks, Dean Lester recalled historian Francis Fukuyama's assertion, made in his 1992 book, The End of History and the Last Man, that the universalization of liberal democracy had eliminated "the worst injustices" of laissez-faire capitalism and nationalism. 
"It's fair to say that the reports of the death of authoritarianism, nationalism, income inequality, and challenges to the rule of law and fair elections were greatly exaggerated," Dean Lester said. "We are observing the awakening of ethno-cultural nationalism—born, in part, by growing income inequality around the world."
Columbia Law and similar institutions, Dean Lester said, bear the responsibility "to close the gap between the aspiration and the reality of social and economic mobility through education and to nurture successive generations of informed and engaged citizens who are prepared to grapple with the most difficult challenges our society can imagine—and many it can't."
Columbia Law must train lawyers "to apply the law to the most pressing and intractable issues of our time and to design, preserve, and safeguard healthy and well-functioning institutions of democracy," she said. "As Columbians, we embrace these responsibilities."
This year's Medal for Excellence winners have shown their commitment to that mission.  
A Banker Intrigued by Public Policy 

Millstein has "charted a career at the intersection of finance and policy, innovating in the private sector and giving of [his] talents to our nation in a time of crisis," Dean Lester said. 
Accepting his medal, Millstein cited his "muckraker's fascination with corporate and governmental failure" that led him into a career that combined banking and public policy. At the Treasury Department, he spent three years helping to restructure companies that received government bailouts. Now, he said, he is focused on climate change—"the most fundamental change in our circumstances over my lifetime." Spurred by the California wildfires, which have become more frequent and disastrous because of climate change, Millstein described his involvement in creating a fund to cover wildfire losses so that utilities can stay solvent and make infrastructure upgrades necessary to avoid future fires.
In confronting climate change, "the Law School has an important part to play,'' Millstein said. "The law is the common language we use to interpret causation, to allocate costs, and to establish precedents to guide us in an uncertain future. . . . I'm looking forward to having a small part in helping the Law School play a larger part in helping to meet this existential challenge.'' 
Millstein's award was doubly notable: Ira M. Millstein '49 was present to watch his son receive the medal. The elder Millstein, founder of the Law School's Ira M. Millstein Center for Global Markets and Corporate Ownership, received the Medal for Excellence in 2014, thus making the Millsteins the only father and son medalists in the award's history.
A Trailblazer Cognizant of His Roots 

Throughout the many decades of his distinguished career, Thomas has spent little time practicing law, "but a lifetime promoting the rule of law," Dean Lester said.
From Columbia Law, Thomas went immediately into public service as an assistant U.S. attorney for the Southern District of New York and deputy commissioner for the New York Police Department before answering the call of Sen. Robert F. Kennedy to lead the Bedford Stuyvesant Restoration Corporation.
In his speech, Thomas said he'd certainly planned to practice law, but events intervened. "The community [in Brooklyn] that I'd grown up in was under attack," he said, from unemployment, poverty, and blight. The situation prompted him to take on the challenge of community development. Later, as head of the Ford Foundation, he promoted deeper engagement with South African civil society at a time when the popular view was to divest. Ford funded South African legal education programs and law clinics to support the nation as it emerged from apartheid. 
Thomas's achievements came "in the face of barriers that many of us could never imagine," Lester said. He was often a "first." As a Columbia College undergraduate, he became the first African American person to captain an Ivy League basketball team. (His rebounding record stands unbroken after 65 years.) Later, at the Ford Foundation, he became the first black head of a major U.S. foundation. 
Growing up in Brooklyn, Thomas recalled, his mother taught him to "make yourself available for the things that help not just yourself but other people." Receiving the award, he remarked, "I can almost feel her saying, 'I'm glad you remembered and did what you were instructed to.'"
See images from the event: