Jim Millstein '82: A Private and Public Career
Jim Millstein '82: A Private and Public Career
Throughout his singular career as a lawyer, banker, policy analyst, scholar, and public servant, the 2020 Medal for Excellence honoree has devoted himself to restructuring financially distressed companies and governmental units.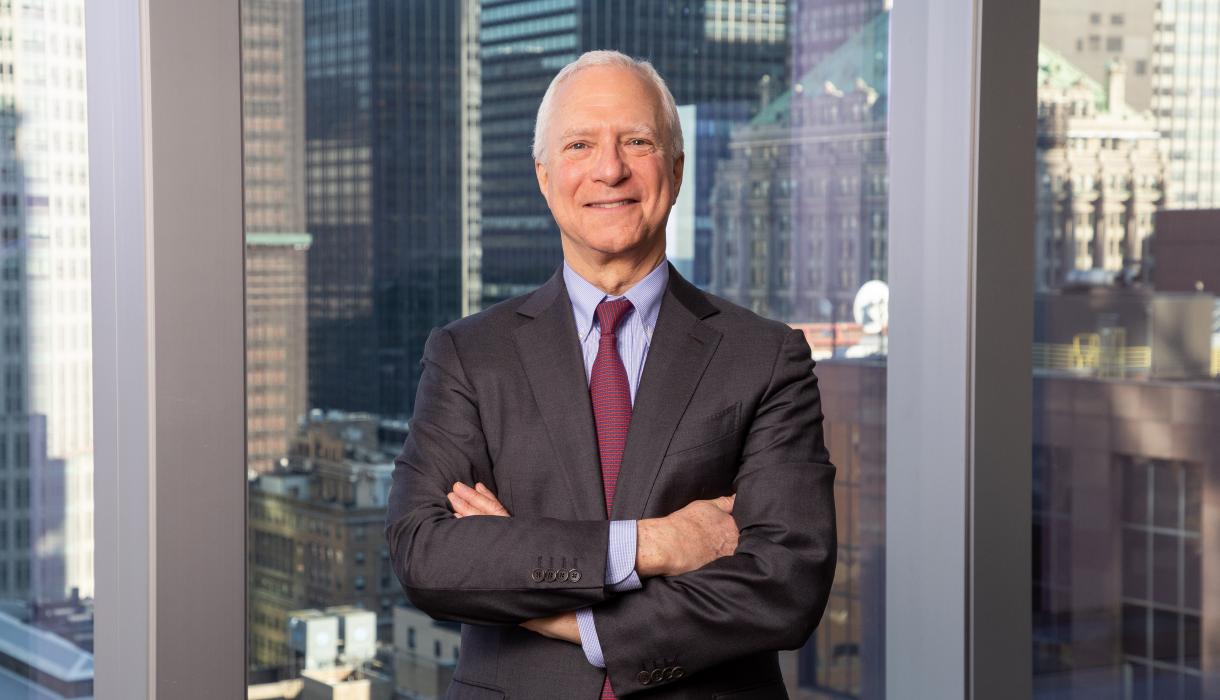 The day after Barack Obama was elected president in 2008, Jim Millstein '82 received a call from the head of the Department of the Treasury transition team seeking his help in ensuring a seamless passing of the policy baton to the new Administration. The lawyer-turned-banker headed from New York to Washington for what he expected would be a couple of weeks of consulting. He ended up staying nearly three years after agreeing to serve as the Treasury's chief restructuring officer—helping to stabilize the financial institutions that the government had bailed out during the financial crisis.
"I stood at the relatively uncrowded intersection where finance and public policy meet," says  Millstein, co-chairman of Guggenheim Securities, the investment banking and capital markets arm of Guggenheim Partners, and a member of the investment committee of middle-market private equity firm Mill Point Capital. "There are very few investment bankers who know a lot about public policy, and there are very few public officials and public servants who understand anything about the markets."
Millstein is that rare exception. For his achievements in law, finance, and the public sector, as well as his service to Columbia, the Law School will present him with the Medal for Excellence award on February 28 at Cipriani 42nd Street in New York City, along with fellow honoree Franklin A. Thomas '63.
For the past two years, Millstein has led a team of Guggenheim bankers serving as financial advisers to the governor of California helping to address the financial and practical repercussions of the state's catastrophic wildfires and the related bankruptcy of the Pacific Gas and Electric Company, whose power lines had sparked major fires in 2017 and 2018. "We helped craft legislation that was passed last summer to create a new state-sponsored Catastrophic Wildfire Fund, a policy solution ensuring that the state's investor-owned electrical utilities retain market access to fund the upgrade of their networks and that they have adequate funds to pay the victims of the fires that their lines may cause in the future," says Millstein, who notes that, in an era of higher winds resulting from climate change, it is becoming increasingly expensive for utilities to provide both affordable and safe power to the state's residents.
Millstein's interest in political economy dates back to his undergraduate studies at Princeton, where he wrote his thesis on Hegel, Marx, and the theory of scientific progress. He then went on to the University of California, Berkeley, where he earned an M.A. in political science in the Political Economy of Advanced Industrial States program. He landed consulting gigs with the U.S. Congress to study industrial policy and emerging technologies in the semiconductor and biotech fields, bringing him to Washington to meet with members of Congress. "When I talked to them about policy alternatives to promote American industry's international competitiveness, they would always ask me, 'How do we change the law?'" he recalls. "I thought, all right, I'll get a legal degree."
Millstein, who grew up in suburban Rye, New York, moved back east to attend Columbia Law School (his father, Ira M. Millstein '49, is also a Medal for Excellence recipient, and they are the only father/son duo to receive the award). But he maintained ties with the Berkeley Roundtable on the International Economy, a research institute he had co-founded during graduate school. "Our consulting contracts with the Office of Technology Assessment helped me support myself through law school," he says.
After graduating from the Law School, Millstein chose to join Cleary Gottlieb Steen & Hamilton, an international firm founded primarily by former State Department officials to help with the reconstruction of Europe after World War II. "I liked that it had a public service patina," he says.
The early 1980s were an ideal time for a young lawyer to begin a restructuring practice because the bankruptcy code had been recently overhauled. "Unburdened by the old rules, I also had a slight advantage from my consulting days because I really did understand the competitive dynamics that make a business succeed or fail," he says.
His restructuring practice took off, and he worked on deals with New York's leading investment bankers, including the legendary Felix Rohatyn of Lazard Frères. "Early on, Felix said I was in the wrong profession and should become a banker and join Lazard," he recalls.
Millstein met with Lazard's chairman Michel David-Weill, who made and then rescinded a job offer once he realized Millstein wasn't motivated by money alone. "He said, 'In my experience, the best investment bankers are interested primarily in making money for themselves, their firm, and their clients. You, however, are interested in prestige and honor, and as a result, I won't be able to control you,'" recalls Millstein.
A few years later, while Millstein was still at Cleary, two other Lazard bankers he was working with on a deal also suggested that he join the firm. "I told them to make me an offer I couldn't refuse, and—to my surprise—they did," he says. Millstein joined Lazard in 2000 and helped to develop what he describes as "the then-largest restructuring practice on Wall Street."
Although Millstein enjoyed working at Lazard, the invitation to join the Department of the Treasury in 2008 was too good to refuse. Over the next three years, Millstein helped recapitalize and restructure troubled companies that had been bailed out by the government, including GMAC (now Ally Financial) and insurance giant American International Group (AIG).
"It was the most interesting thing I've ever done," he says. "I came to Washington with some real-world experience, which proved useful to a team of very talented public servants who were doing heroic things to save the country from the next Great Depression." Millstein stepped down only after all the major banks that had taken money under the Troubled Asset Relief Program (TARP) had repaid the federal government and after the recapitalization of AIG was consummated.
Before returning home to New York, Millstein taught a seminar on the financial crisis at Georgetown Law. He also started a financial policy consultancy that eventually mushroomed to a financial advisory and investment management firm with 50 employees in New York and Washington. Among his firm's various engagements, they advised the Commonwealth of Puerto Rico on the restructuring of its $75 billion of institutional indebtedness, US Airways on its hostile takeover of American Airlines in Chapter 11, and the European Stability Mechanism on the restructuring of its loans to the Greek Republic.
In 2018, he decided to sell the advisory side of his firm to Guggenheim, where he currently works. Millstein continues to devote a significant portion of his time to various public service efforts. He is a member of the senior leadership council at Her Justice (after serving on its board for more than a decade), an organization that provides legal services to victims of domestic abuse. He is also on the board of the Land Trust Alliance, a national conservation organization, where he is working to help land trusts register their lands for participation in the carbon credit markets.  "Once their properties are qualified, the land trusts can then sell their carbon credits for cash and use the proceeds to buy more grasslands and forests, which serve as natural carbon sinks, to generate further credits," Millstein explains. "Those credits can then be sold into the carbon credit markets, thereby creating a 'virtuous conservation cycle.'"
Millstein has also deepened his ties with Columbia Law School. He's increasingly involved in the activities of the Ira M. Millstein Center for Global Markets and Corporate Ownership, which his father founded. Last fall, Millstein taught a seminar on private capital with Eric Talley, the Isidor and Seville Sulzbacher Professor of Law and co-director of the Millstein Center, and he's hoping to teach an advanced bankruptcy and restructuring course in the 2021–2022 academic year. Along with his father, he continues to support the Millstein Public Service Fellowship, established in 2016, which provides funding to recent Law School graduates who have secured positions with Congress or the executive branch in the area of financial regulation.
"If there had been such a fellowship when I was at Columbia, I might have turned down Cleary and joined the federal government," says Millstein, who has also created a loan forgiveness program for Columbia Law graduates who go into public interest law. "Corporate law needn't be the fail-safe, fallback choice for every student out of financial necessity. If you have a real interest in public service, we hope to create incentives to allow recent law graduates to resist the siren call of Wall Street and to be able to explore a career in the public and public interest sectors."