Sheila Boston '93 Leads City Bar Association Into a Brave New World
Sheila Boston '93 Leads City Bar Association Into a Brave New World
A litigation partner at Arnold & Porter Kaye Scholer and a self-described person of faith, Boston is the first woman of color to be elected president of the New York City Bar Association. Her priorities include encouraging diversity and inclusion in the profession, navigating the repercussions of COVID-19, and safeguarding the rule of law.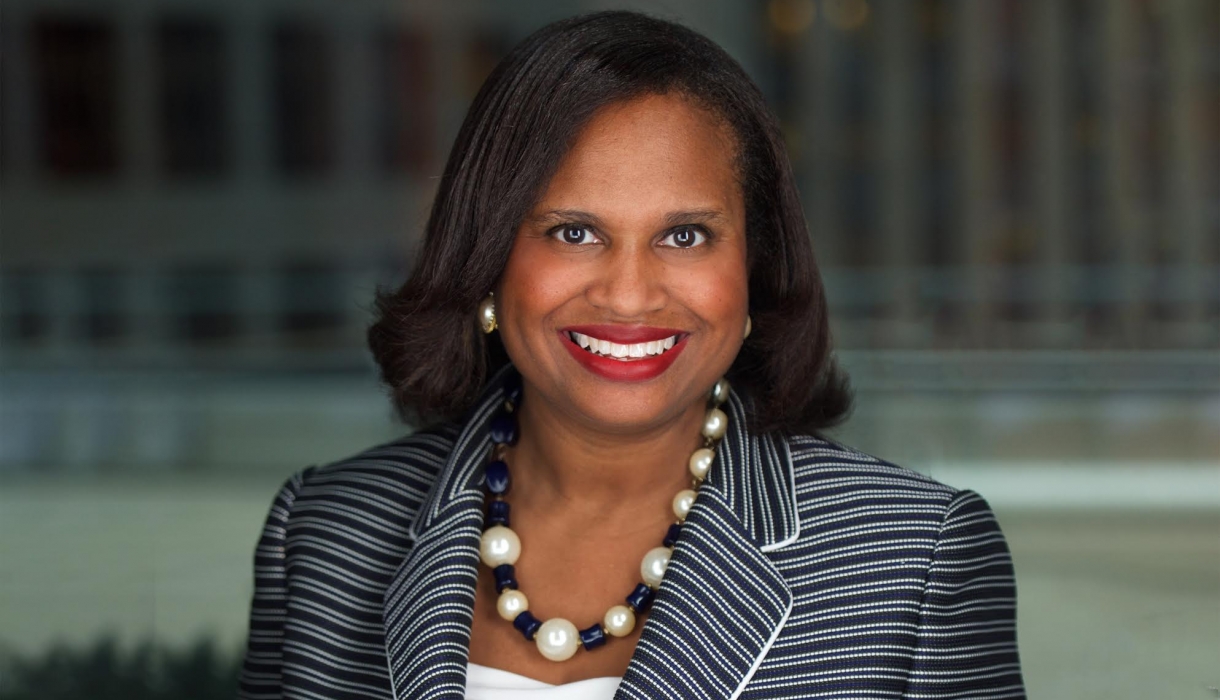 When Arnold & Porter Kaye Scholer LLP partner Sheila S. Boston '93 was nominated late last year to be president of the New York City Bar Association, she hesitated before accepting. "I had to think about it and pray on it," she says. A trial lawyer and litigation strategist whose specialty is product liability (with clients such as Bayer and Pfizer), Boston was concerned because her "plate was already full," and she did not want to compromise her close relationships with clients, colleagues, mentees, friends, and family. But, she adds, "It did not escape me that this was a historic moment as well, and I would be the first woman of color in this role in the association's history. By all indications, it seemed like divine providence that I had to do this." 
Boston was inducted as the 150-year-old association's 69th president in May. The Zoom ceremony, with more than 300 attendees, was bittersweet. "At first, I was very disappointed because the City Bar building is so august and beautiful, and the ceremony is always such a big deal. I wanted my friends, family, supporters, and members of my firm to be there," she says. "But since everybody was pretty much sheltering in place, I think more people were able to attend. In the end, I was very pleased."
A few weeks later, from her home office in White Plains, New York, Boston reflected on the role Columbia Law School and the City Bar have played in her career; what it means to be married to a retired New York State trooper as protests against the police sweep the nation; and how she is leading the organization during the pandemic.
Bar None
Since the beginning of her career, Boston has been an active member of the City Bar. "I remember going as a junior associate to the building for CLE programs and being so impressed with the presenters and programs," she says. Boston was recruited by Andrew MacDonald, one of the partners at her firm, to take his place on the association's Committee on Recruitment and Retention of Lawyers. She championed its Diversity Fellowship Program, which places 1Ls in summer jobs or internships at law firms, corporations, and district attorney's offices. "I consider it one of the signature projects of the City Bar, and I sometimes affectionately call it our Head Start program," she says in her characteristic ebullient fashion. Boston eventually became chair of the parent Diversity, Equity, and Inclusion Committee and later joined the board of directors as secretary and then as a vice president. 
"I was able to expand my wings in the bar association setting," she says. "The bar is a collaborative place—a place of learning and collegiality—and it helped me with confidence-boosting and developing what they call soft skills, and I transferred those skills to my work at the firm."
A Unique Position
In her May acceptance speech, Boston set out six priority areas for her tenure as president: COVID-19 recovery projects; mental health and wellness; access to justice; diversity, equity, and inclusion; criminal justice reform; and protection of the rule of law. 
The most personal item on her agenda is arguably criminal justice reform. Boston's son is a corrections officer, and her husband, Jerome Robinson, was a New York State trooper for about 13 years before becoming a minister. (Coincidentally, Boston's father is also a minister.) 
"We have a lot of interesting conversations in our house," she says. "I'm in a unique place because I know about 'blue lives,' and I love the police, who properly serve and protect like my husband did. I also know, however, that there are issues of systemic racism undergirding the misconduct in the policing of Black and brown communities.
"In response to Black Lives Matter, there are people who said, 'Blue Lives Matter' and 'All Lives Matter,' and I'd say, 'That's true, but you are missing the point,'" she continues. "We are saying 'Black Lives Matter' because we are suggesting Black lives are not being considered. They are not being respected. They are not being included in the phrase 'All Lives Matter.' If you are Black in America, you know that our lives are more endangered in police interactions. Period."
Boston is in an ideal position to be a leader in the conversations around criminal justice reform. "It's a multifaceted problem," she says. "There is systemic racism and unconscious bias, but the police have an important job to do; they need better training and must learn how to de-escalate situations. And I'm excited that people are now seriously talking about solutions."
The Urgency of Now
When Boston accepted the nomination as president, she never imagined that she would have to steer the association's response to a pandemic. "As a leader in the community, how could the City Bar not try to educate people, share information, and bring people together to discuss and adopt policies to contribute to our recovery?" she says. "It's very important that we work with the courts to help establish standards for reopening. "And our Legal Referral Services, the City Bar Justice Center, and member volunteers have helped people with small business loans and questions about evictions." 
And COVID-19 informs another of Boston's priorities: mental health and wellness for lawyers. "It's become more urgent because of sheltering in place and people having more time with their own thoughts and reflections," she says. "But even before that, I saw the statistics, and the legal profession does not have good numbers when it comes to mental illness and addiction—whether alcohol or drugs. Lawyers think we have it all together because we're alpha types, but we don't necessarily."
Lived Experience
Diversity, equity, and inclusion are central to Boston's values and lived experience and an integral part of her mission as City Bar president. As an undergraduate at Princeton University, Boston was vice president of its NAACP chapter and deeply involved with the Organization of Black Unity. She came to Columbia planning to become a social justice lawyer. But Professor (and future Law School dean) David Leebron's torts class intrigued her, and she decided she wanted to work in private practice instead. She credits Judith Brown Dianis '92—who was the president of the Black Law Students Association when Boston was a 2L and is now executive director of the Advancement Project—with "reinforcing the importance of giving back to the community and fighting for what's right and just." Boston adds: "She was such a strong, proud woman at this place where we were very much in the minority. I don't think she knows what an impression she made on me."
Boston's overarching priority for City Bar is safeguarding the rule of law. "It's the sine qua non, if you will. What has always distinguished the United States from other countries, even other democracies, is our true respect and adherence to the rule of law," she says. "It's so central to a fair society and a just government. That no one is above the law is a core value of the United States, and so I believe in protecting, promoting, and enforcing it as much as we can."
But Boston doesn't have time to dwell on any one subject these days. "One of the things I love about being the City Bar president is that I get to read reports that involve all aspects of the law, and nothing goes out in writing without my seeing it," she says. "I am learning so much, and it's a humbling experience—but a lot of fun."