Shearman & Sterling's Powerhouse Partner in Asia: Lorna Chen '99 LL.M., '01 J.D.
Shearman & Sterling's Powerhouse Partner in Asia: Lorna Chen '99 LL.M., '01 J.D.
From Beijing to Frankfurt, New York to Hong Kong, Chen has forged a unique path on her way to leading Shearman's international investment funds practice in Asia.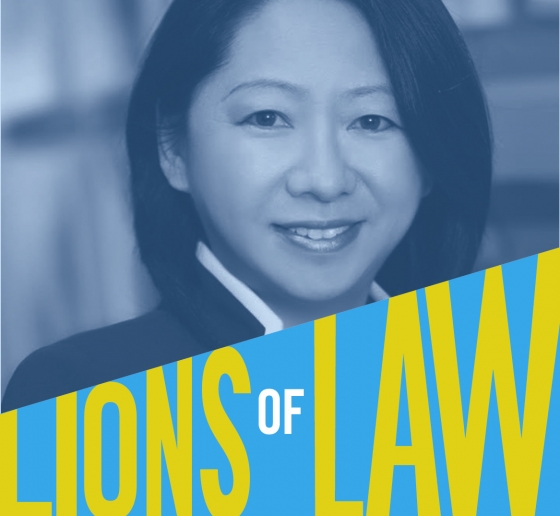 When Lorna Xin Chen '99 LL.M., '01 J.D. applied to the LL.M. program at Columbia Law School in 1998, she didn't have a law degree like other applicants did, but she had passed the Chinese bar exam and was already working for a Beijing law firm. The admissions team was impressed, and she was accepted into the program. "I didn't find out until I was graduating that they'd made an exception for me," says Chen, a Hong Kong–based partner at Shearman & Sterling. "I'm forever indebted to Columbia for giving me that chance."
During her LL.M. year, Chen realized she wanted to learn more about American and international law than a single year at Columbia would allow. So after receiving her LL.M, she took the unorthodox step of enrolling in the Law School's J.D. program for another two years. She also wanted to stay on at Columbia to take full advantage of its Chinese Legal Studies Center (now the Hong Yen Chang Center for Chinese Legal Studies). "Columbia gave me the opportunity to connect with visiting scholars from China and other countries," she recalls. "My worldview was expanded through engaging with their diverse perspectives." 
In 2000, Chen worked as a summer associate in New York at Shearman & Sterling, which employs more than 850 lawyers in 25 offices around the world. She was assigned to the corporate practice and was mentored by two investment fund partners. The experience proved to be life changing. She was invited back after graduation as a junior associate on the asset management team, and she says, "I have been with Shearman for my entire career ever since."
"Columbia gave me the opportunity to connect with visiting scholars from China and other countries." 
Chen has held multiple leadership positions at Shearman. Since 2017, she has been the head of Greater China and its three offices. "I'm the first woman and the first partner with a PRC [People's Republic of China] background to be the head of China for the firm, which is an exciting development," she says. 
In 2020, Chen became the first woman to serve as the firm's Asia regional managing partner in charge of six Shearman offices, and she joined the firm's global executive group. "I work closely with my fellow partners in Asia to map out and implement the regional strategy. The role involves promoting collaboration across the practices to drive the business forward, which energizes me," says Chen. "We are continually assessing the market for opportunities and looking for new ways to offer our clients the best service." 
Chen also finds a profound sense of accomplishment from her executive group responsibilities. "It is incredibly exciting to be able to contribute to the strategy of a global elite law firm. Being involved in strategic discussions at a global senior management level also means I can provide even more value-added insights to my regional leadership role."
"It is incredibly exciting to be able to contribute to the strategy of a global elite law firm."
In addition to her management responsibilities, she maintains an active practice as head of the asset management and investment funds group in Asia. As Chen assumed these top posts at the firm, she began getting invitations to speak on panels about work-life balance and the challenges women face in the legal profession. Surprisingly, gender issues were not a subject she had previously thought much about because, she says, she never felt limited as a woman at Shearman. "I have always felt that I have worked in a supportive and collegial environment at Shearman, and I am extremely grateful for that," she says. "If your immediate work circle of colleagues and superiors provides a supportive environment, you will still have to work hard to prove yourself, but you will definitely have a better chance to thrive."
Growing up in Beijing, Chen was always a top student. "Even when I was young, I was always a group leader and would go on stage to speak before the whole school," she says. She began studying English in the third grade. "I remember my English teacher telling us that learning a foreign language is like opening a door that will lead you to another world."
In college and graduate school in Beijing, Chen majored in English language and literature before shifting her focus to American studies. "We had a lot of professors from the United States, and all our Chinese professors were U.S. educated, so I was exposed to American culture at university," she says. "We studied everything—history, social studies, culture—and the language became very natural to me, but at that time, I hadn't really thought about going to the States."
Although she'd been considering getting an MBA, Chen serendipitously ended up on the pathway to a legal career when she attended a job fair and was hired by Liu Shen & Associates, a new law firm established by the "founding father of intellectual property law in China," she says. Chen took a national exam to become a trademark agent and ranked first, which emboldened her to take (and pass) the Chinese bar exam before having formally studied the law. Her career took off at the firm, and then Chen was offered an opportunity to spend six months as an international associate in the aviation practice in the Frankfurt office of Bruckhaus Westrick Heller Löber (now Freshfields Bruckhaus Deringer).
"I have the best of both worlds by being a lawyer with both legal acumen and business sense."
Chen discovered that many of the lawyers at Bruckhaus had LL.M. degrees from U.S. law schools. "Quite a few of them had gone to Columbia, and they encouraged me to go," she says. "Their experiences inspired me to go ahead and apply."
In 2006, while based in Shearman's New York office, Chen was offered a sabbatical. She had the option to take one month off to do whatever she wanted or to spend three months at one of Shearman's other 24 offices around the world. "I chose to go back to Asia," she says. "Three months later, I brought back a few Asian clients to New York as the private equity and venture capital industry was developing [in Asia] at that time. I covered them for a few years from New York, and then they became my first clients when I relocated to Hong Kong in 2008. It was the beginning of a brand new practice that I've built up over the next 13 years, and now we're one of the largest investment funds teams in Asia among all international law firms."
After two decades at Shearman, Chen says she's ended up exactly where she's meant to be. "I originally wanted to become a business person, but I have since found that I've been able to fulfill my commercial ambitions through being a lawyer, a partner at a law firm, and more recently, being in law firm management positions," she says. "Ultimately, I have the best of both worlds by being a lawyer with both legal acumen and business sense. I enjoy it a lot."