Professor Bernard Harcourt Honored by New York City Bar Association
Professor Bernard Harcourt Honored by New York City Bar Association
The Columbia Law professor receives the Norman J. Redlich Capital Defense Distinguished Service Award for his longtime advocacy on behalf of individuals on death row.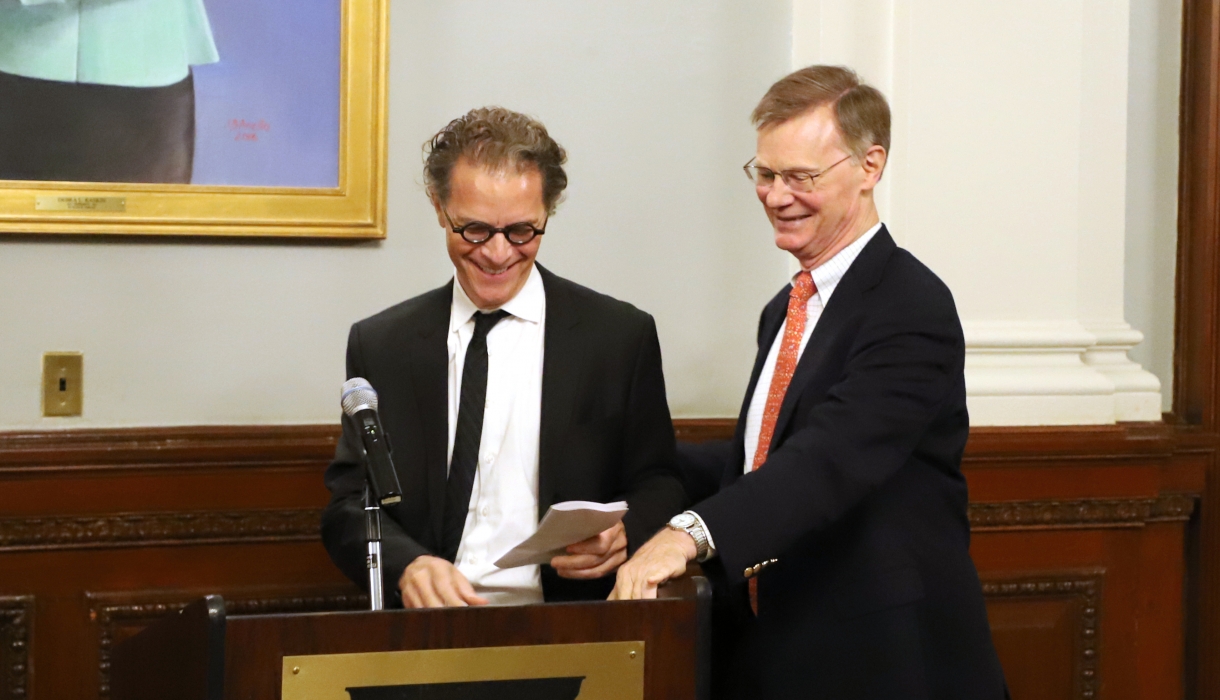 Bernard E. Harcourt—the influential contemporary critical theorist, justice advocate, and prodigious scholar who has written extensively on the criminal justice system—was lauded for 30 years of championing the civil and human rights of prisoners on death row or serving life sentences.
On July 25, at a celebration in the New York City Bar Association's historic headquarters in midtown Manhattan, the association's Capital Punishment Committee presented Harcourt with the prestigious Norman J. Redlich Capital Defense Distinguished Service Award, which is given annually to a practitioner in New York who has demonstrated outstanding lifetime commitment to capital defense work.
The ceremony was also timely as it took place on the day that U.S. Attorney General William Barr announced that, for the first time since 2003, the federal government plans to resume executing individuals on death row.
"On this dark day, with a U.S. Department of Justice that resembles more the evil of the ministry of J.K. Rowling than anything that could possibly have the word 'justice' in it," Harcourt began, "it is particularly warming to be together as a community. As I look around the room, I see giants who have dedicated their lives—their entire lives—to serving the poor and most vulnerable on death rows around the country, who have done truly God's work, and who inspired me, nurtured me—and so many others—to do the little that I have done."
Harcourt, who joined the Columbia Law faculty in 2014, is an Isidor and Seville Sulzbacher Professor of Law and Professor of Political Science. He is executive director of Columbia University's Eric H. Holder Jr. Initiative for Civil and Political Rights, the founding director of the Columbia Center for Contemporary Critical Thought, and a directeur d'études at EHESS (École des Hautes Études en Sciences Sociales). He is also the author of eight books, including The Counterrevolution: How Our Government Went to War Against Its Own Citizens and Exposed: Desire and Disobedience in the Digital Age.
Harcourt was introduced at the award ceremony by his mentor, Stephen B. Bright, the former president of the Southern Center for Human Rights (SCHR), where Harcourt worked in 1989 while a student at Harvard Law School. Bright recounted how Harcourt took a job in 1990 with another SCHR alum, Bryan Stevenson, at the Equal Justice Initiative in Montgomery, Alabama. Their work led to the exoneration of death row inmate Walter McMillian. (The case is the basis of Just Mercy, a film opening in December, which is based on Stevenson's book.)
Bright described himself as Harcourt's "colleague, co-counsel, close friend, and at times co-conspirator for 30 years." (Incidentally, Bright taught Harcourt's daughter, Isadora Ruyter-Harcourt, at Yale Law School this past spring.) He lauded Harcourt for his pro bono work on behalf of capital defendants—most notably Phillip Tomlin and Doyle Lee Hamm in Alabama—while simultaneously teaching law and political science and writing books. "Bernard's persistence, his extraordinary advocacy, and his eloquence in the courts of law and in the court of public opinion are part of a lifetime commitment to capital defense work," Bright said.
Surrounded by family, friends, students, and colleagues, Harcourt was clearly moved when he accepted the award that commemorates the late Norman J. Redlich, a law school professor and dean who initiated the pro bono defense of death row inmates and recruited other academics and students to work on appeals at Sing Sing prison. Under his leadership, the team saved five men from the electric chair between 1960 and 1963.
Harcourt then invited two colleagues to join him at the podium: journalist Jennifer Gonnerman, whose article in The New Yorker, "The Long Defense of the Alabama Death-Row Prisoner Doyle Lee Hamm," brought national attention to Harcourt's work; and Dr. Mark Heath, an anesthesiologist at NewYork-Presbyterian/Columbia University Irving Medical Center who traveled with Harcourt to Alabama to examine Hamm.
Harcourt also acknowledged his clients who could not attend. "I only wish that the women and men who we fight for could be more part of this celebration," he said. "One of the differences with capital work is that the men and women do not return and, with rare exceptions, are not reintegrated. . . . But this is only a physical separation, and one thing I know and have felt is how much my friends and clients on death row value our work and this community. How meaningful, lifesaving, [and] life sustaining it is to have you and this community on their side."
# # #
Published August 7, 2019
Learn more:
Students Win Medical Care for Alabama Inmate (2018)
Columbia Law School Professor James Liebman Honored for Capital Defense Work (2014)