My Virtual Summer Job: BigLaw Associate
My Virtual Summer Job: BigLaw Associate
Students worked—and networked—remotely during truncated summer associate programs. Those lavish law firm lunches? This year, they were takeout at home.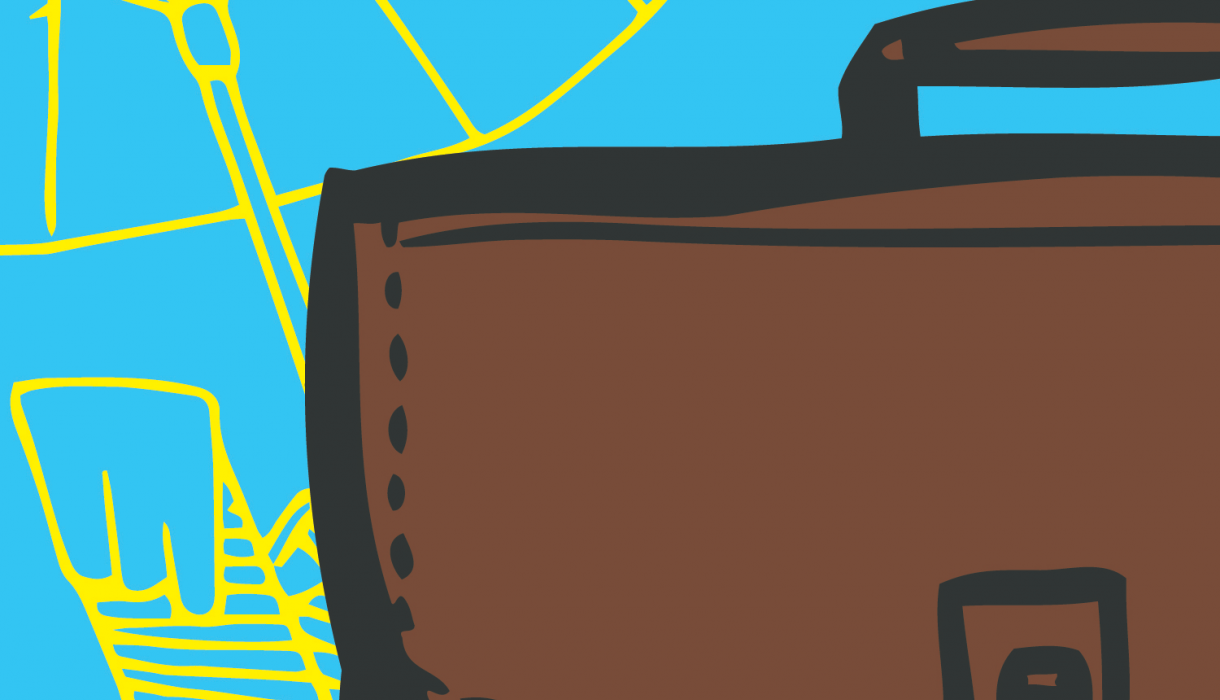 Columbia Law School students hired as law firm summer associates in 2020 say that working and networking remotely managed to be intellectually stimulating and enjoyable, though virtual coffee dates replaced restaurant lunches and online Scrabble subbed for after-work outings. 
The COVID-19 pandemic caused many law firms hiring Columbia Law students to trim the duration of summer associate programs. As a result, the "summers" found their schedules jam-packed with legal assignments, virtual meetings with partners and associates, and online activities to foster socializing and networking among law students and law firm colleagues. 
"We are fortunate that so many of our 2L students were able to experience virtual life at a law firm this summer," says Marta Ricardo '94, assistant dean and dean of the Office of Career Services and Professional Development. "Through their client billable and pro bono work, they were able to get a sense of legal practice and to better discern their career path." 
Cole Campbell '21 spent the full 10 weeks of the summer associates program at Jones Day, but not in the firm's Washington, D.C., office as he had hoped. Instead, Campbell set up shop in his childhood bedroom in St. Louis with three monitors arranged on a folding table alongside Precious, the cat. (His brother, an investment banker, was in the bedroom next door with his own folding table and triple monitors.) 
"It would have been really easy for the firm to say, 'Well, you know, we'll give you a few weeks,' just kind of check the boxes," he says. Instead, Campbell's assignments included "things I never thought I would work on: doing compliance work, dealing with customs and border agents concerning tariffs, helping advise clients on PPP [Paycheck Protection Program] loans. It's been a really good array." Through his partner and associate mentors, he was able to set up meetings with lawyers focusing on the area he hopes to pursue, regulatory litigation, after he completes two federal clerkships. "The program definitely gave the feeling that the firm really cares about their summers," he says. 
The vigorous networking he was expecting along with the legal work "is still going on," he says. "It's a little harder, but you have to just put the effort in." 
Sneha Pandya '21 spent six weeks working remotely for Cravath, Swaine & Moore LLP. Summer associates were told they'd be fully immersed in the firm's work, and that was true, she says. The cases she was assigned to moved fast, which for her meant "very quickly learning how to be an expert in different areas of law, feeling confident in my research skills, and turning assignments around quickly," says Pandya, who hopes to pursue a career in law teaching. "I think it was just as challenging and rewarding an experience as a normal summer." 
Instead of a Midtown office at Cravath, Pandya worked from an extra bedroom at her parents' home in Sarasota, Florida. Her officemate was her cockatiel, Coco. "She freaks out a lot in the middle of the day, so I have to be on mute in meetings," Pandya says. 
Pandya has also taken time to schedule Zoom coffee dates with other summer associates from different law schools. "Cravath has a Starbucks downstairs, and I feel like I would have been doing that every day," she says. "I've been trying to imitate that and just have a quick coffee chat with other Cravath summers. Camaraderie and collegiality are so important—I do miss the in-person element, but we all found other ways to connect." 
For Hanna Jeon '21, the summer stint at Sidley Austin LLP was shortened from 10 weeks to four, so it was packed with assignments, training, and almost daily meetings with associates and partners to learn more about her practice areas of interest: capital markets and mergers and acquisitions. "There's nothing that has been hugely missing from this virtual program as opposed to an in-person program," she says. 
The only wrinkle: Jeon has been living at her parents home in Busan, South Korea, since Columbia Law switched to remote classes in March. To stay on New York law firm time, she started work at 10 p.m. and wrapped up in the early morning, when she joined her parents for breakfast (or, rather, dinner) before going to sleep. It was a schedule that constantly amazed her colleagues. "They're always asking, 'Oh my God, what time is it there?' And I'm like, 'Oh, it's 4 a.m.' They seem to be so shocked every time they hear that, which is very funny to me at this point."
In lieu of in-person lunches and dinners, law firms arranged virtual events that ranged from cerebral to gustatory. At Jones Day, summer associates watched a documentary about U.S. Supreme Court Justice Clarence Thomas and then participated in an online discussion with a number of Thomas' former clerks. There were book groups, trivia contests, and painting and cooking classes. Firms encouraged students to order in meals for virtual lunch dates.
 Sidley also arranged a cocktail-making class for its associates, and regardless of the distance, sent Jeon not only logo swag—"I have a bag. I have a Yeti mug. I have a yoga mat"—but also all of the ingredients for recipes. "It's amazing how they ship these things to me," she says. The only ingredient that didn't make it to South Korea, she says, was raspberry sorbet for the cocktail-making session. (The firm promised to reimburse her for buying the sorbet locally.)
Pandya turned 25 this summer, and during a team trivia contest, her colleagues sang "Happy Birthday" to her. Because of the transmission lag, "everyone was a little bit off," she says. "I feel the effect was emblematic of the time."