2023 Private Sector Career Symposium
2023 Private Sector Career Symposium
More than two dozen lawyers in private practice shared insights with J.D. and LL.M. students over two days.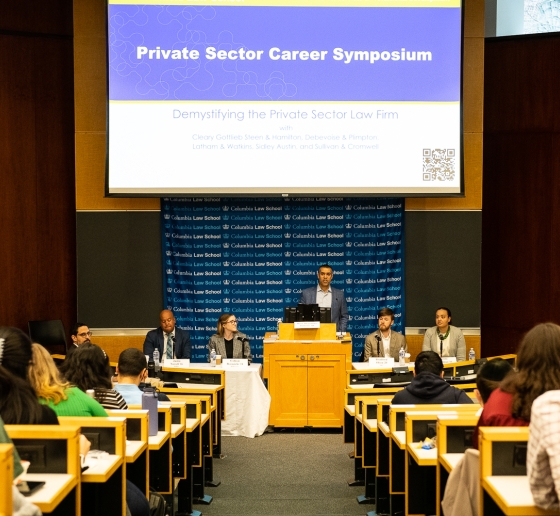 Columbia Law School's Office of Career Services held a Private Sector Career Symposium during the spring semester as a professional development opportunity for J.D. and LL.M. students at the Law School. "The symposium is an opportunity for students to meet with and hear from practitioners in the field, to help prepare students for and be successful on their private sector career path," says Danielle Schweiloch, assistant dean and dean of career services. 
Generously sponsored by Latham & Watkins, the two-day symposium kicked off with a keynote address by Jess Leinwand '09, general counsel and chief legal counsel for UNICEF USA, followed by a networking reception with students and distinguished practitioners. More than two dozen law firm partners and associates, along with Columbia Law faculty experts, participated in timely, themed conversations, including:
Demystifying the Private Sector Law Firm
A Discussion of Industries of the Future
Beyond the Badge: A Discussion of DEI in Today's Law Firm
Antitrust
Corporate and Transactional Practice
Future of Litigation
The popular panels offered deep dives into important areas designed to prepare students to embark on their legal careers. "The goal was to make sure that the students are not only aware of changes in the profession and private sector practice," says Schweiloch, "but also to know how to successfully navigate these developments and best position themselves in a dynamic environment." 
Columbia Law School is grateful to Latham & Watkins and its partners for their generous support of the Private Sector Career Symposium. The firm is the lead sponsor through 2025.
See photos from the 2023 Private Sector Career Symposium Reception: