Meet 'Columbia Law Review' Editor in Chief Jeffrey Rivas '23
Meet 'Columbia Law Review' Editor in Chief Jeffrey Rivas '23
The head of the prestigious journal is taking steps to diversify its membership.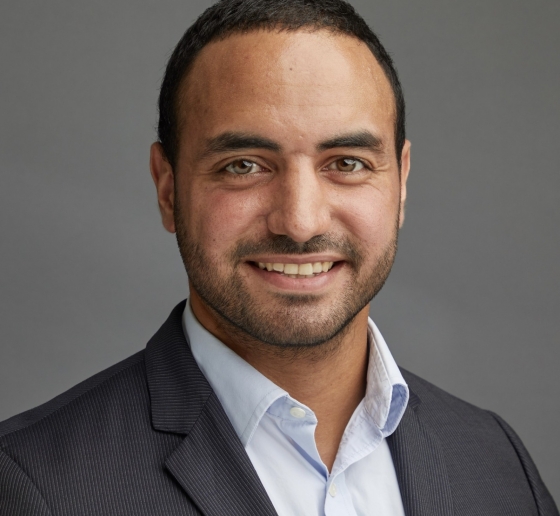 Like many law students, Jeffrey Rivas CC '17, CLS '23 was exhausted at the end of his 1L year and craved the relaxation of a vacation at home—in the Dominican Republic—with extended family. He wasn't about to spend his precious downtime working on an application to join the Columbia Law Review. He was also a little nervous about not making the cut: After all, about 180 students apply for only 45 slots.
But if he didn't apply, he realized, he'd forever regret it. So on the plane back to New York, he finally started to write. 
Now, a year later, he's working from the office of the law review editor in chief, chosen to lead the student-run journal, founded in 1901 and one of the nation's most prestigious. 
"I knew it would be a lot of work, and I knew it would be great," he says of taking the top job. Rivas, like the rest of the law review executive board, worked on the publication throughout his 2L year. Next fall, rather than beginning a more relaxed final year of law school, he'll continue working just as hard as editor in chief. "It's a challenging year, but it's all worth it," he says.
Since becoming EIC in February, Rivas has expanded the review's membership from 45 to 50 and changed the title of diversity editor to diversity, equity, and inclusion chair, to expand the position's focus beyond the demographics of recruiting law review members.
"We bring in diverse members, but are we ensuring that they're [truly] included? Is there really equity? Emphasizing that through that title change is important," he says.
Rivas hopes a more diverse staff will have an intrinsic influence on the journal's content. "If you have people from different backgrounds, that is going to certainly inform the conversation that takes place [about what to publish]. These are long, carefully thought-out conversations, and there is disagreement. Disagreement extends the conversation and addresses the fundamental issues of: What are we trying to do here? What type of pieces are we trying to publish? If [those discussions lead] to taking on different pieces from the past or pieces on topics that haven't been addressed in the past, I absolutely, wholeheartedly believe that that is a good thing."
A Path Around the Bases to Law School
Rivas, 27, is the law review's second Latinx editor in chief, after Liliana Zaragoza '13. Though he was born in Brooklyn, Rivas remembers happily his early childhood in the Dominican Republic, where he ran around barefoot in the rain with his cousins and, like almost all boys there, learned to play baseball. He moved back to New York with his mother, Ana, who had trained as a lawyer but after immigrating worked two jobs—as a dishwasher and health aide. 
 "It wasn't the lawyer in her that inspired me; it was the determination, the grit, and the sacrifices that she made," Rivas says. 
After being named an Oliver Scholar, a program for disadvantaged Black and Latino youth, Rivas attended a private high school in the Bronx. He was a talented baseball player, but throughout his upbringing his parents taught him to prioritize academics. "In high school the decision was, do I pursue baseball more seriously? My coaches encouraged me to. But I had ingrained in myself this idea of, you know, school can also take me pretty far."
As an undergraduate at Columbia, he majored in economics with an eye to possibly working on Wall Street. The potential earnings were attractive, but he couldn't summon the interest. Instead, Rivas worked as a substitute teacher and bilingual tour guide at Yankee Stadium. The part-time jobs meant he could pick up his little sister at school and spend time with his mother. "Having that flexibility was awesome, but certainly not the story you think ends up leading to editor in chief of the Columbia Law Review, right?" he laughs. 
A mentor from the Oliver Scholars program suggested law school. To Rivas, it seemed a way to stay close to sports because he could acquire tools to address what he sees as inequity in the way players are treated. During his childhood in the Dominican Republic, he watched the baseball scouting system encourage young boys to give up school for a shot at being signed by a club. His cousin, a hard-throwing pitcher the same age as Rivas, was one of those boys. "The reality of it is there's a bottleneck [of players that make it to clubs] and a lot of kids wind up dropping out of school. And they have absolutely nothing to fall back on," he says. "None of it is regulated, and the kids don't know enough about all the layers to it. There are few guardrails." He hopes to focus on sports law when he joins a firm after graduation. 
Embracing Leadership 
Heading the law review brings considerable prestige, but working on the journal also teaches considerable skills, Rivas says. "The diligence that the Law Review builds in you translates across all aspects of life. You get really good at catching stray commas or a missing hyphen," he says. "That speaks more broadly, of course, to the skill of being able to see problems and issues." Both abilities proved useful during his externship with Judge John Cronan of the U.S. District Court for the Southern District of New York.
The journal also brought him a community. Rivas says strong bonds are easy to build when law students spend hours working together in the review's offices in William C. Warren Hall:. "This is an opportunity for us to really be leaders. We are invested in this together, and we want to ensure that we uphold the standard that's been set for the last 122 years."
At Columbia Law, Rivas has also served as social co-chair of the Latinx Law Students Association. This summer he'll work at Cravath, Swaine & Moore as well as at Skadden, Arps, Meagher & Flom, where he was a 1L Scholar and an SEO Fellow. 
Rivas continues to live at home in Washington Heights. "If you walk outside [campus] to 125th Street or to Washington Heights and you mention Columbia Law, there's an aura to it, a shock factor to it," he says. "There's sort of a moment of silence." People in the neighborhood whom he doesn't know tell him they're proud of him. It's a daily reminder of the distance between his cousin's prospects and his own, thanks to his parents' insistence that he prioritize school.
With that praise can come high expectations, like it or not. 
"When you are blessed with opportunity, it is incumbent upon you to show others, to open that door and show others," he says. "I don't want to be the Latino EIC that somehow butchered everything and and failed, because I don't want it to be another 122 years before another Latino—or another decade before another Latina—is able to take on the mantle. And so there is pressure to it. But I think pressure is a privilege."