Mass Incarceration Clinic Helps Free a Woman Who Spent 34 Years in Prison
Mass Incarceration Clinic Helps Free a Woman Who Spent 34 Years in Prison
Students argued for a new parole hearing for their client in New York State Supreme Court.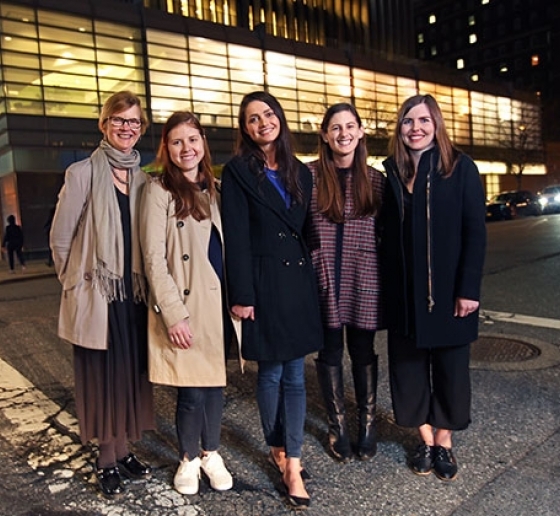 Professor Brett Dignam (above, far left) with a team of clinic participants who recently helped an incarcerated woman win parole. From left to right: Lillian Morgenstern '17, Amanda Johnson '17, Monique Hurley '17 LL.M., and Hannah Canham '16 LL.M.
When Karen Ely applied for parole in 2007, she had already served 24 years of her 25-years-to-life sentence for the second-degree murder of her ex-husband in 1982. According to court documents, she was an exemplary prisoner, and had spent her time productively at the Taconic Correctional Facility in Bedford Hills, New York. Ely served as the secretary to the prison superintendent, helped initiate a domestic violence awareness program, and worked with fellow inmates to help them prepare for their parole hearings. She had also been offered a job as a paralegal at a Manhattan law firm upon her release.
But the parole board saw her as a risk and turned her down in 2007—and again every two years from 2009 to 2015.
Frustrated and disheartened, Ely, 67, wrote to Columbia Law School's Mass Incarceration Clinic asking for help. Hannah Canham '16 LL.M. and Amanda Johnson '17, both students participating in the clinic at the time, read her letter and consulted with the clinic's director, Professor Brett Dignam. Ely was found guilty in 1983 of hiring an accomplice to strangle her ex-husband. During her trial, she testified that she and her son were battered and abused by her ex-husband, which the jury and sentencing judge rejected. Canham and Johnson decided to visit Ely in prison and review the reams of material she had assembled for each of her failed parole hearings. Dignam encouraged them to pursue the case, although she considered it a long shot. "I thought they had less than a 1 percent chance of winning," she said.
Nevertheless, over nine months, the pair sorted through previous parole and trial transcripts, disciplinary records from Ely's time in custody, and letters of support from prison personnel. Ely's COMPAS (Correctional Offender Management Profiling for Alternative Sanctions) Risk and Needs Assessment was positive "across the board"—and she was "assigned the lowest possible risk for felony violence, re-arrest, and absconding," according to court documents. Yet the parole board concluded she "would not live and remain at liberty without again violating the law," and that her release "would so deprecate the serious nature of her crime as to undermine respect for the law."
Canham and Johnson filed what's known as an Article 78 petition of the Civil Practice Law and Rules, along with a supporting memorandum of law. In July 2016, Canham, having graduated from the Law School that past May, presented her oral argument before Justice Barbara Jaffe at the Supreme Court of the State of New York in lower Manhattan. (Johnson couldn't join her because she was working as a summer associate in Chicago.) "We felt we had done everything we could," Canham recalls. "I thought Karen got a fair hearing."
Canham and Johnson had to wait six months before Jaffe made her ruling, but it was worth the wait. The judge found that the parole board's decision to deny Ely parole was "arbitrary and capricious." She ordered that Ely be given a new hearing/interview within 30 days before a board of parole commissioners who had not sat on her 2015 parole hearing.
The team was surprised and overjoyed. "The likeliness of success in these cases is very slim," says Johnson. "It was rewarding to be able to tell someone's full story. For so long, Karen had only been seen through the lens of her offense—and to put it into words and bring it before the court and parole board was very gratifying."
At the time of the ruling, Canham had already returned to her native Australia, where she is a criminal lawyer at Victoria Legal Aid, and Johnson was no longer enrolled in the clinic. Instead, new clinic students, Lillian Morgenstern '17 and Monique Hurley '17 LL.M., continued with the case and prepared Ely for the make-or-break hearing on March 7. 
Three days later, Ely was granted parole, and she was released from prison on April 18.
The team has not seen Ely yet, but there have been many phone calls. "She's busy settling into her new life," says Dignam. "Karen is very grateful for our help and appreciates the high-quality work we did for her and others. She thanks us every time I speak to her about our 'beautiful work' and mentions each of the students by name."
Ely's victory follows just a few years after Dignam and students in the Mass Incarceration Clinic helped Scott T. Lewis win his freedom in 2014. In prison for nearly two decades after being convicted of a double murder, Lewis was ultimately released after Dignam and her students were able to convince a federal judge that he had been denied his constitutional right to a fair trial.
In their work on cases like Lewis' and Ely's, students in the Mass Incarceration Clinic learn the principles of client-centered lawyering and get hands-on litigation experience. While they focus specifically on issues such as prisoners' claims on religious freedom, medical care, and mental health, Ely's team sees their victory in a much broader perspective. "When trying to address systemic problems with the criminal legal system, like the mass incarceration machine, it is a real privilege to use your legal knowledge and skills to help meaningfully challenge the system one client at a time," says Hurley.
Canham says the experience has taught her that criminal law is more than a procedural process. "Litigation isn't enough," she says. "You have to change hearts and minds."
###
Posted on May 19, 2017