Margaret Garnett '00: The Gift of Doing What's Right
Margaret Garnett '00: The Gift of Doing What's Right
The deputy for the U.S. Attorney for the Southern District of New York always knew she would serve her country. The only question was how.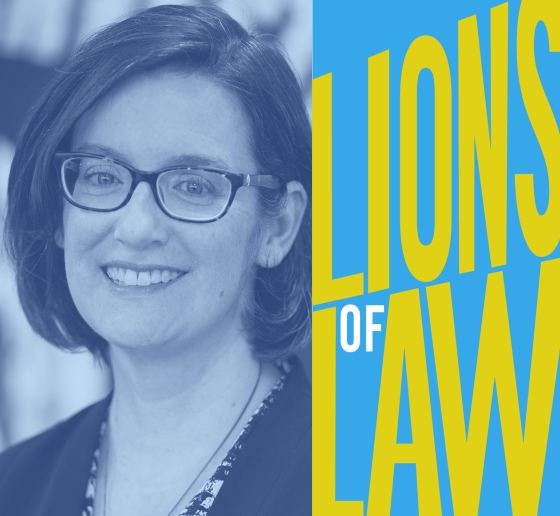 Like most military kids, Margaret Garnett '00 never lived in one place long; her father was an Army officer and the family moved often. So in November, when Garnett became top deputy for the U.S. attorney for the Southern District of New York, she felt a rare and treasured sense of returning home. 
Garnett began her public service career at the Southern District: in the course of a dozen years, she rose to be chief of criminal appeals before moving to the New York attorney general's office in 2017. In 2018, then-mayor Bill de Blasio appointed her as commissioner of New York City's Department of Investigation. Last fall, as her term heading the city's anti-corruption agency was ending, newly appointed U.S. Attorney Damian Williams asked her to return to the federal prosecutor's office as his No. 2. Garnett was delighted. 
"The way that I grew up, to spend 12 1/2 years at one place is a lifetime," she says. The Southern District office "is like home for me. . . . It's the place that really formed me as a lawyer and as an adult in many ways." 
Garnett has returned to the Southern District at "a really important time" for the U.S. attorney's office, she says. The years of President Donald Trump's administration "were very challenging ones for the Department of Justice [DOJ] and the Southern District in terms of the historical, nonpartisan, apolitical function of the DOJ as a whole." In June 2020, Trump fired U.S. Attorney Geoffrey Berman, who had investigated the president's personal lawyer. Berman's top deputy, Audrey Strauss '71, was named as his successor only after controversy when Trump tried to appoint an ally to the job, Securities and Exchange Commission Chairman Jay Clayton.
Berman and Strauss "both really did heroic work under very challenging circumstances to protect the office's independence and its prerogatives," Garnett says. "But I think it's a reality that they were doing that under . . . a lot of pressure from main Justice [headquarters in Washington, D.C.]. The media environment around law enforcement and prosecutors was very challenging also during those years. So I think and hope that we have an opportunity here to not have to spend so much time on the basics and on fending off interference from main Justice or from partisan pressures."
Serving Community and Country
A second legacy of Garnett's Army-brat upbringing is her desire to serve her country. Calling national service a family tradition barely covers it: Garnett is the granddaughter of two generals and the daughter of a sixth-generation West Point graduate. (Two cousins were the seventh generation.)
"I was completely steeped in that my entire childhood—this deep sense that you have an obligation to find a way to use your gifts and talents to be of service to your community, to your country," she says. "That is kind of baked into my bones. So I certainly felt an obligation to do that but also a pull to do it. . . . [I wanted] to have work that felt really meaningful, important, satisfying."
In 2012, during her first stint in the federal prosecutor's office, Garnett was instrumental in exonerating five people wrongly convicted of murdering a cab driver in 1995. Public awareness of wrongful convictions has only increased since then. 
"The prospect of it, the possibility should absolutely keep everyone in this business up at night and be a thing that you think about every day, as much as you think about ensuring that people who are guilty are held accountable and convicted," she says. "Our job is to do justice, and that is a much broader task and quest than racking up convictions."
A priority Garnett brings with her from her days at the state attorney general's office is to identify "the cases that if we don't do them, no one will." On the state level, that was campaign finance enforcement, which she calls "an incubator for public corruption." 
At the U.S. attorney's office, she says, "the way you can really drive the docket and agenda" is through allocation of resources and investment in relationships among law enforcement agencies. That way, "when those cases come in the door, you have the right resources and the right relationships to act on them and to turn them into something big."
Serving in a rattled organization is familiar for Garnett: She was Attorney General Eric Schneiderman's executive deputy when he resigned in disgrace in May 2018; later that year, she took over at the city's Department of Investigation, when the watchdog agency's commissioner was fired after clashing repeatedly with the mayor.
Her challenge there was to rebuild a demoralized department, as well as to manage the agency through more than 18 months of the COVID-19 pandemic. She focused on creating "a culture of excellence," eliminating some layers of management, and empowering leaders of the department's 10 investigative squads. She also emphasized the importance of smaller cases—a health inspector taking a bribe, for instance—which, she says, not only often lead to bigger cases but also are a primary way in which citizens evaluate the honesty of their government. 
Before becoming commissioner of the Department of Investigation, Garnett said in an interview that she would hang up on any official who tried to pressure her to stop an investigation, even if it were de Blasio, the mayor appointing her. A month before her departure, she issued a report outlining de Blasio's misuse of his security squad for political purposes and as a "concierge service." The size and power of the city's Department of Investigation is "the envy" of other cities, she says, and that has produced results: "New York, for a major city, is not that corrupt." 
Doing Work That Matters
As a "dyed in the wool library kid," Garnett thought for a time that she'd become an academic; she pursued a political science graduate degree at Yale University after graduating from the University of Notre Dame. But she missed a sense that her work "mattered to the world," and, motivated partly by a love of crime novels, turned back to an earlier ambition: law school at Columbia.
It was the right choice. "From the very first day of classes, I was like, 'This! Yes, this, this, obviously!'" she says. "The whole atmosphere in the classroom was about curiosity, interest, a deep understanding of the law and what it teaches us about society and our social choices, and what we value and don't value. Those tools, that way of thinking, have stayed with me."
After graduation, she worked at Wachtell, Lipton, Rosen & Katz. The initial decision to enter private practice was "100% financial" to pay off law school debt, but her time at Wachtell turned out to be a "wonderful experience." She moved on to a clerkship with Gerard E. Lynch '75, Paul J. Kellner Professor Emeritus of Law at Columbia Law and, at the time, a U.S. district judge for the Southern District of New York, before she became a federal prosecutor.
Garnett now lives in Brooklyn with her two children and her husband, Seth, a script supervisor for TV and film. "We've been really fortunate that we both get to do work that we're passionate about," she says. On the other hand, "He has no real idea what I do, and I have no real idea what he does." (Apparently, the subject never came up on their honeymoon, a 10-week bicycle ride from Florida to Los Angeles.)
Garnett has stayed connected with the Law School and serves on the practitioner advisory board for the Max Berger '71 Public Interest/Public Service Fellows Program. When she was a student, the Law School was in its early efforts to support students who wanted to pursue public service careers. She was one of the first to receive summer funding, which enabled her to take an unpaid job with the U.S. attorney for the Eastern District of New York. And she was in the first cohort of an externship at the U.S. Court of Appeals for the 2nd Circuit, where she worked in the chambers of then-Judge Sonia Sotomayor. 
The Law School's public interest initiatives have grown, but a challenge then and now, Garnett says, is persuading law students to consider a long-term career in government lawyering, and not just public interest work at advocacy organizations or representing the indigent. "I'm biased, but I think having public interest–minded people who have been educated at Columbia do important work as government lawyers is a real service to our city. To our country."
For Garnett, one of the appeals of choosing government service is that she doesn't have clients—or, rather, not an individual client, whose interests must be served. As chief watchdog for the city, her client was all of New York—"you and 8 million other people"—and as a federal prosecutor, she answers to "the justice system writ large." 
That means she has the luxury of thinking about only "what is right, what seems right, and to try to do it," she says. "Sometimes you can have fierce debates. It's not easy to know: What is justice? What is morally right? These are hard, hard questions. But to be lucky enough to do your work in a setting where the answers to those questions—the process of thinking about those questions—is what guides you and is the scaffolding around the work? What a gift that's been."