Lucy Lang '06: An Advocate for Criminal Justice Reform and Government Integrity
Lucy Lang '06: An Advocate for Criminal Justice Reform and Government Integrity
The author, educator, and former Manhattan assistant district attorney is the new inspector general of the state of New York.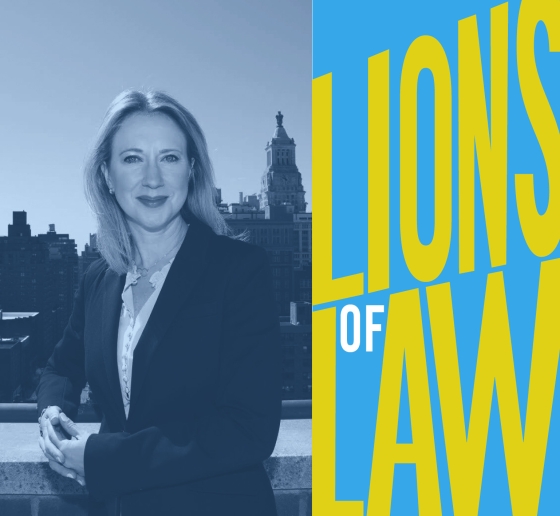 For the first six months of 2021, Lucy Lang '06 devoted much of her considerable energy to running in the Democratic primary for Manhattan district attorney. Her campaign slogan was, "Dignity. Equity. Safety." But she did not prevail when the votes were tallied in June. "It was an incredible privilege to be able to run for office," says Lang, who served as an assistant DA in Manhattan from 2006 to 2018. "I am really proud to have been among some incredibly hardworking, thoughtful public servants and aspiring public servants who were campaigning to improve things for New Yorkers." 
Now, four months later, Lang has found a new, high-profile public service role as the inspector general (IG) of the state of New York. Appointed in October by Gov. Kathy Hochul in the wake of Gov. Andrew Cuomo's resignation, Lang is responsible as IG for investigating complaints concerning allegations of corruption, fraud, criminal activity, conflicts of interest, or abuse in all state executive branch agencies, departments, divisions, boards, and commissions.
"I am honored to play a role in ensuring that government officials and agencies obey the law and earn the public trust at a time when confidence in New York government has never been more important," says Lang.
Lang has been on a public service career path since she was a 1L, when she interned for Judge Jed S. Rakoff of the U.S. District Court for the Southern District of New York, a longtime adjunct professor at Columbia Law School. Rakoff spoke at Lang's graduation from Swarthmore College (also Rakoff's alma mater) in 2003, and she sent him a handwritten note afterward to thank him for his inspiring words. "Like any college senior, I was worried about whether I was making the right choice to go to law school, and his speech confirmed that I made the right decision," she says. Rakoff wrote her back and told her he hired 1Ls, so she applied, and he offered her an internship at the courthouse.
Being in Rakoff's chambers and courtroom was transformational. She worked for him as he presided over a grisly capital murder trial in which he'd ruled before the trial even began that the federal death penalty was unconstitutional. (His decision was subsequently overruled.) "I was inspired by the prosecutors who were presenting the case against two men who had committed truly heinous crimes and a judge who had made this courageous decision about the death penalty," says Lang. The killers were sentenced to life in prison without parole. "The case really gave shape to the power of the law to affect people's lives, in particular, in their most vulnerable moments. It was the desire to be part of that which led me to the Manhattan district attorney's office." 
A Holistic Approach
During her first two years as an assistant DA, Lang worked on felony appellate matters. "There was no specialization in terms of the kind of crime," she says. "I then moved to the trial bureau and ultimately handled homicides, shootings, and domestic violence." One of the cases that had a profound impact on her thinking as a prosecutor was the murder of a young father by two young men. Lang and the victim's mother became close during the trial, and after his killers were convicted, she told Lang she'd slept well for the first time since the murder. But she added, "When I woke up, all I could think about were the moms of those two boys," referring to the men convicted. Lang says it hit home for her that a guilty verdict alone does not necessarily provide resolution for victims or communities.
Lang grew increasingly interested in restorative justice—the theory and practice that emphasizes repairing the harm of criminal behavior and recognizes that resolution is often best accomplished by bringing all stakeholders together. Lang's belief in this approach reflects her experience as a DA as well as the values instilled in her growing up. "I went to Quaker schools for much of my life and had been interested in the Quaker practice of consensus building and in the notion of seeing the inner light in everyone," she says.
An Agent for Change
As executive director of the Manhattan DA Academy—an in-house think tank—from 2017 to 2018, she advocated for prosecutorial reform policies. She also created Inside Criminal Justice, a first-of-its-kind college class for incarcerated students and prosecutors to study criminal justice together so participants could understand the system from perspectives other than their own.
In 2018, Lang stepped away from the DA's office to become the director of the Institute for Innovation and Prosecution at John Jay College of Criminal Justice. She was squarely aligned with the institute's mission to support the work of district attorneys and their communities in rebuilding a criminal justice system that would prioritize the safety, fairness, and dignity of everyone who participates in it. "We'd bring together thought leaders on issues such as racial justice and develop tools to support district attorneys in changing their policies and practices to be consistent with a vision for prosecution that does things differently from the way it has worked historically," she says.
Women's issues are also a high priority for Lang. "I have self-identified as a feminist since I was a child, and when I was at Columbia, I was editor in chief of the Columbia Journal of Gender and Law," she says. In spring 2020, she and her sister, Grace Lang, published March On!, a children's book they wrote and illustrated that tells the story of American women's suffrage in rhyme. 
Last fall, during the U.S. Supreme Court confirmation hearing of Amy Coney Barrett, which focused in part on the resilience of the precedent set in Roe v. Wade, Lang was moved to write an op-ed about her own abortion. "I had the protections that enabled me to make the best decision for myself, my future, and my future family," she wrote. 
Lang, who now has two young children, explains why she wrote the op-ed: "I felt that by sharing a bit about my experience, it would help remove some of the stigma for others. And thinking of my own daughter, who was 4, I thought, I don't want her to feel like something has to be a secret. Of course, anyone has the right to keep private decisions private but not because they're afraid of how people will react." 
Lang is also developing a reputation far beyond New York: Worth magazine recently named her to its list of "Groundbreakers 2021: 50 Women Changing the World."
Columbia Connections
As a student in the Prisoners and Families Clinic taught by Philip M. Genty, currently Everett B. Birch Innovative Teaching Clinical Professor in Professional Responsibility and vice dean for Experiential Education, Lang visited state prisons and worked with incarcerated New Yorkers on their cases. "Columbia helped me build a career from which I have found great satisfaction, in large part because my work has brought me together with all kinds of people—to learn about their lives and then think about how government can support people in moments of incredible trauma." 
"Columbia helped me build a career from which I have found great satisfaction."
Lang also made lifelong friends at Columbia, and they became a crucial support network as the COVID-19 pandemic progressed. She and three women who'd been her classmates had regularly scheduled Zoom calls. "We still speak every week to check in on one another," she says. "We have a range of careers, but they are very much my core support for thinking about my life as a professional and as a working parent." She also maintained her ties to the Law School when she was a lecturer in law teaching in the Legal Practice program.
For students or alumni interested in following in her footsteps as a criminal justice reformer, she offers this advice: "Seek opportunities with progressive-minded district attorneys. It's a challenging time to be a prosecutor, but it remains a profession in which the potential for impact is tremendous."