Karenna Gore '00: From Politics to a Movement
Karenna Gore '00: From Politics to a Movement
 A veteran of presidential politics now works to combat climate change through values and ethics.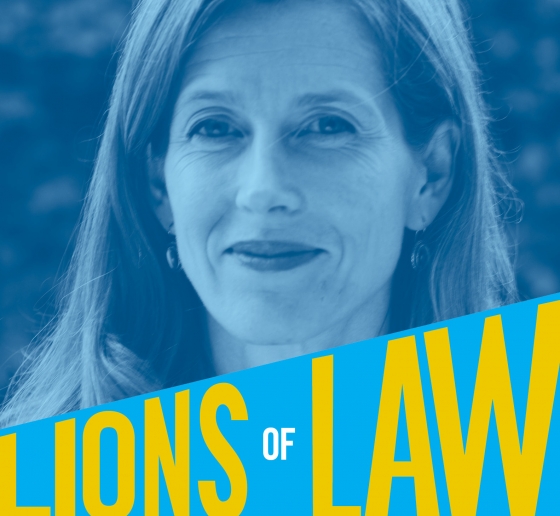 In the fight to stop climate change, there is a difference between engaging in politics and building a movement, says Karenna Gore '00, founder and director of the Center for Earth Ethics (CEE) at Union Theological Seminary. Both can lead to policy change, but only a movement can create a long-lasting cultural shift. 
"Politics can get so focused on individuals and judgments on people's personalities; it's too small for what we're dealing with in our country," Gore says. "Movements are grounded in principles and in shared values. It's not about one particular candidate: If that candidate loses, there will be another one." 
The movement she is nurturing at the center is one that defines—and fights—climate change as an ethical and moral imperative.
"Data and science are not enough to solve the climate crisis, and our current laws and policies are really inadequate to the task," she says, pointing out that half of the pollution in the atmosphere was generated in the past 20 years, after the risk of global warming was already well known and alternatives to fossil fuel were becoming available. "We're making progress, but there has been such a massive push for a narrow-minded model of economic development that it's actually destroying the environment. And it's such a short-term way of thinking." 
Gore says her legal training underlies her thinking on climate issues—"Why is it that we primarily relate to nature as property?" she asks—but a spiritual approach is what has drawn her to the environmental fight. 
"Working on the level of values and belief systems has always been what animates and concerns me," she says. "And it's where I feel I have the most to contribute." 
Gore earned a master's degree from Union Theological Seminary in 2013 and founded the Center for Earth Ethics after organizing a conference of religious and spiritual leaders at the seminary in conjunction with the 2014 United Nations Climate Summit. Her father, former Vice President Al Gore, had been working on climate change solutions for decades, but the conference enabled Karenna to approach the subject from a different angle: reframing climate change as a moral issue rather than an economic or scientific one. "I completely fell into climate work on different terms than I would have imagined," she says. 
The Center for Earth Ethics focuses on education, training ministers and religious leaders to talk about environmental issues from an ethical point of view, fostering public discourse, and "movement building," in partnership with local groups across the country that are battling environmental issues. The center collaborates with Columbia's Earth Institute and the Sabin Center for Climate Change Law at Columbia Law School and has helped organizations win court fights, including a decision in January in favor of Union Hill, Virginia, to prevent construction of a 600-mile natural gas pipeline.  In 2016, Gore was arrested at an anti-pipeline demonstration in Boston.
An "Instinctual" Career 
Creating an environmental movement based on moral values is far from electoral politics, as Gore well knows. She was steeped in politics from childhood: Her father was first elected to Congress when she was 4, eventually becoming a senator as his father, Al Gore Sr., had been for three terms. Immediately after her graduation from Columbia Law, Gore served as a top adviser to her father's 2000 presidential campaign, giving a speech to nominate him at the Democratic convention. That quest ended in the U.S. Supreme Court and Bush v. Gore—and she began her search for inspiration beyond party politics.
Her career path, Gore says, has been "more instinctual than planned," but it has always reflected her focus on "how social change happens." Her choice to attend law school was influenced by her grandmother, Pauline LaFon Gore, who in 1936 was among the first women to earn a law degree from Vanderbilt University Law School. 
At Columbia Law, she didn't have a grand plan. "I really admire those who have that clarity of vision about what their career would look like. I was not one of them," she says. Instead, she focused on her grandmother's advice. "Her argument was that thinking like a lawyer was so valuable for whatever else one might do in life. And that it would give me tools and some measure of, in a way, authority. Something to hold onto for credibility and effectiveness in whatever else I would do." 
Gore did a brief stint at Simpson Thacher & Bartlett LLP working on intellectual property issues (a pursuit inspired by a class with Jane Ginsburg, Morton L. Janklow Professor of Literary & Artistic Property Law). "I really love it when there are areas of law in which the very conceptual philosophical questions of life intersect with the practical things: Who owns an idea, or who should?" She moved on to the Association to Benefit Children, a social services group based in Harlem, where she worked on a federal lawsuit that required the city and state to provide free medical care for homeless children with asthma. 
"I really love it when there are areas of law in which the very conceptual philosophical questions of life intersect with the practical things."
In 2005, Gore turned her disillusion with electoral politics into a book. Lighting the Way: Nine Women Who Changed Modern America profiles well-known activists, like journalist Ida B. Wells and union organizer Mother Jones, and those out of the spotlight, including civil rights educator Septima Clark and reproductive rights champion Dr. Helen Rodríguez Trías. 
"I was really looking to go back into what was good about politics," she says about the book. "And by politics I don't mean Republicans versus Democrats. I mean people coming together in the democratic society in order to make decisions about laws."
It's a statement that could also serve well as the theme of her current environmental work. 
"Writing the book was identifying how social changes happen from the ground up. There are people who are not in elected office who make a big difference in discerning the will of the people and then do the work of translating that into laws and policies," she says. "That is very relevant to what I do now."
The Lions in Law series highlights the voices, stories, and impact of Columbia Law alumni.