Making Connections: 2019 Donors and Scholars Luncheon
Making Connections: 2019 Donors and Scholars Luncheon
Alumni who fund Columbia Law School scholarships joined students who benefit from their generosity at the annual luncheon held on November 25.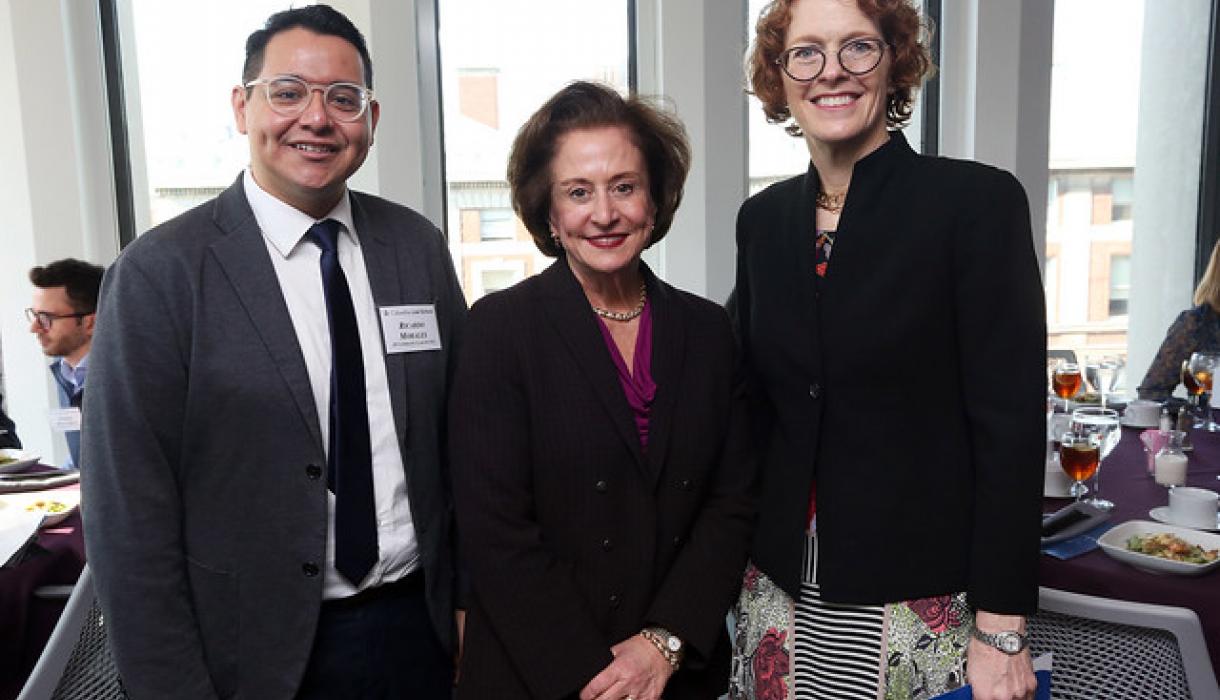 Fundraising for student scholarships is a top priority for Gillian Lester, Dean and the Lucy G. Moses Professor of Law. "[I have] a deeply held belief that talent knows no socioeconomic status. It is blind to socioeconomic status," she said at the 2019 Donors and Scholars Luncheon. "If somebody wants to come to Columbia, is inspired to come to Columbia, is hungry to be here and be part of this community, we want to make it happen."
Thanks to the loyalty of many donors, student aid has increased under the Dean's leadership. More than 68 percent of incoming students receive financial aid, up from 49 percent in 2015. At the same time, the median 1L financial aid award has risen to $32,000, up 45 percent from 2015.
"That's really significant," said Dean Lester. "Thank you to all of you who've been part of this project that has been so deeply important to me." 
Alumni speaker Annette L. Nazareth '81, a partner at Davis Polk & Wardell LLP and a former commissioner of the U.S. Securities and Exchange Commission, spoke about the importance of the cycle of philanthropy. As a former scholarship recipient and current donor, she highlighted the difference financial assistance can make to a student, as well as the gratification that comes from giving back. In particular, she established the Nazareth Ferguson Family Scholarship in 2017 and was one of the first donors to commit to the Jerome L. Greene Scholarship Challenge, which matched 50 gifts of $100,000 each from alumni and friends of Columbia Law, resulting in 50 new endowed scholarships and more than $10 million in endowed student aid. "I feel very fortunate to be able to manifest my appreciation by reciprocating in some way," she said.
Student speaker Ricardo Morales '21 said that while growing up in Arlington, Texas, he saw the ways the law limited life for his immigrant parents. But he eventually realized that "the law is a tool for effectuating change." Morales is currently involved in the Latinx Law Students Association and the Queer and Trans People of Color affinity groups at Columbia Law. During the summer of 2019, he served as a law clerk at the Mexican American Legal Defense and Educational Fund. (Watch Morales speak about his Law School journey.)
Morales thanked all the donors on behalf of his fellow scholarship recipients. "I am so honored to be here and to have the opportunity to express my gratitude to the generous supporters who make the Columbia Law School experience accessible for students like me," he said. "All the financial support provided by the donors in this room has . . . provided me the flexibility to pursue newly discovered interests and allowed me to gain knowledge from incredible professors who open the door to a community of supportive individuals."
As part of its commitment to ensuring that future students also benefit from Columbia Law School's distinguished legacy of providing access to an unparalleled legal education, the Law School is currently in the midst of a five-year, $300 million Campaign for Columbia Law. More than 70 new scholarships have been established since the start of the campaign.

"We are making a huge impact to ensure that the very best students from diverse socioeconomic backgrounds can attend Columbia Law School and have access to the finest legal education in the world," said Dean Lester.
# # #
Published on January 6, 2020