Lindsey Miller-Lerman '73: Marking a Path to Nebraska's Highest Court
Lindsey Miller-Lerman '73: Marking a Path to Nebraska's Highest Court
The first woman to be appointed an appellate-level judge in Nebraska is now the longest-serving member of the state's current Supreme Court.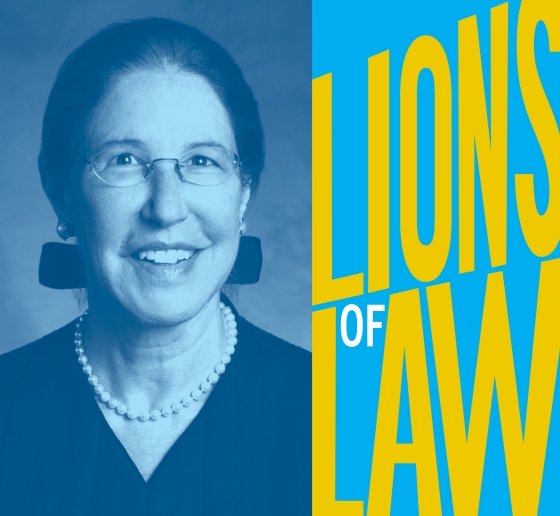 Nebraska Supreme Court Justice Lindsey Miller-Lerman '73 says her worst grade at Columbia Law School was in the first course taught by Ruth Bader Ginsburg '59. The subject was sex discrimination and the law, and Ginsburg was, her former student says, way ahead of the legal curve. "I really didn't get it," Miller-Lerman admits. "Her thinking was so far evolved." 
But since then, Miller-Lerman—a Harlan Fiske Stone scholar and Columbia Law Review editor—has spent her 50-year career "pathmarking," to use a word favored by the legendary Supreme Court justice, as a woman in the law. 
In 1980, when Miller-Lerman was named a partner at the Omaha law firm Kutak Rock, where she was a litigator, the move made the front page of The Wall Street Journal—because she worked part time. She was the first woman appointed to Nebraska's newly created Court of Appeals in 1992, and in 1998 became the first woman on Nebraska's highest court. 
The governor who appointed Miller-Lerman to both judgeships was the last Democrat to lead the state. Now, like her former professor, she finds herself on a court trending conservative.   
"I'm 76, and I clerked for Judge Constance Baker Motley," Miller-Lerman says, referring to the Columbia Law alumna (1946) and civil rights legend. "The youngest member of the court is 41, and he clerked for Justice Neil Gorsuch."
Ballotpedia rates Miller-Lerman a "mild Democrat" and the other six Nebraska Supreme Court justices "mild Republican" to "strong Republican." (For the past 25 years, the Republican Party has controlled the Nebraska legislature and the governor's seat; four of her six fellow judges have been appointed since 2015.)
The changed makeup of the Nebraska court comes at a time when state courts have new prominence in decisions about rights, Miller-Lerman says. "For a long time, we've had universal rights guaranteed by the U.S. Supreme Court," she says. "The trend now is, we're at the mercy of the states. So, to some extent, I'm where a lot of action is." 
The court's altered composition has made her job more "intense," she says. "I don't have a precise philosophy, but I generally start with process and due process." While she can't discuss the deliberations of the court, she calls her approach "opening the dialogue" between opposing interpretations of a case.
"We're not throwing chairs at each other," she adds. "I think my presence helps, as they say in Nebraska, get to the thread of the stream. Maybe you get to the middle. And you're confident that's the path." Sometimes, however, "I need to dissent. I'm not inclined to go along to get along."
Nearly all of the Nebraska court's decisions are unanimous, and Miller-Lerman wrote the 7-0 opinion in one of its most well-known: the 2007 State v. Winslow ruling, which allowed DNA testing for two men who were members of the Beatrice Six, convicted of murder in 1989. The DNA results showed that neither man committed the crime; they and four others who falsely confessed were eventually exonerated, released, and won a wrongful conviction judgment of $28 million. And in 2019, Miller-Lerman joined in a unanimous decision affirming the controversial Keystone XL pipeline construction through the state. (The next year, when Keystone's owner abandoned its effort to condemn property for the pipeline construction, the court, in a unanimous opinion, permitted some landowners to seek recovery of their attorney's fees for fighting condemnation. The pipeline was killed by President Biden in 2021.)
In weighing the court's cases, "I'm acutely aware of two things going on," she says. "One is, I'm deciding this case, and it's really important to the parties involved. But it also sets a precedent. And I'm keenly aware of how what we say in this case will apply to the next case."
In 2020, for instance, she dissented in Moser v. State, in which the court threw out a lawsuit against the state in the case of a prisoner strangled by his cellmate. The court ruled that the state's definition of sovereign immunity was so broad that it could not allow the lawsuit, and it further overruled a previous case that did allow a suit against the state. In her dissent, Miller-Lerman wrote that Nebraska should not have broader exceptions than those allowed by the U.S. Supreme Court, and criticized the majority's "dubious notion" that the state and federal courts "interpret the same statutory language so differently that adhering to U.S. Supreme Court precedent would offend Nebraska."
"I think it's important for the legitimacy of the court to not be going to extremes, or to be addressing problems that are not presented by the case," she says.
Miller-Lerman describes herself as an institutionalist and an incrementalist, and a protector of due process. She dissented in a 2019 5-2 decision that affirmed the conviction of a man who was found guilty of engaging in sexually explicit online conversations with a police officer posing as a 14-year-old girl. A lower court had allowed salacious texts from the defendant, unrelated to the case, to be introduced in the trial. Miller-Lerman argued that those texts—which she did not hesitate to quote in her dissent—would not only "poison" the jury against the defendant but also distract them from judging relevant evidence.
"Our job is to adhere to the rules of evidence and to guard due process even when it may temporarily benefit a defendant," she wrote.
Her professional style is straightforward and funny; she cracks jokes from the bench. In writing opinions, she follows a rule from her son, a film editor: "Don't bore, and don't confuse."
Nebraskans have retained her on the Supreme Court in four judicial elections. Voters evidently like her, she says, "because I'm really sensitive to the subject matter, and how it works in real life." 
Growing up in California, Miller-Lerman channeled her competitiveness into swimming—as a teenager, she won two gold medals at the 1961 Maccabiah Games—but her career ambitions were already formed. In grade school, as her family prepared to leave on vacation, she presented the dog-sitter with a contract she had written for the proper care of Poocher. 
"I can't remember when I didn't want to be a lawyer," she says. "I think it's an effective line of work, and that's my nature."
Miller-Lerman entered Columbia Law in 1968, but took two years off to accompany her then-husband to his postings with the public health service. After graduation came her clerkship for Motley, a member of the Class of 1946 and the first Black woman to be named a federal judge. 
"She was brilliant, and she was demanding," Miller-Lerman says. "She had a parade of interesting people come [to her chambers] either for lunch, or to chew them out. It was always entertaining; it was always intense." 
At the time, Miller-Lerman had a young child and so could not, as Motley's clerks usually did, accompany the judge on the subway when Motley went home to the Upper West Side. "That wasn't so good. But on the other hand, she loved my work." With her own clerks, Miller-Lerman shares her HIIT routine and welcomes their children and even their dogs in the office when the need arises.
Another federal judge, Marvin Frankel '48, referred Miller-Lerman to Kutak Rock in Omaha when she moved there in 1975 for her then-husband's new job. The firm accommodated her wish to work part time and partly from home. In that pre-electronic era, she sent documents back and forth by messenger and employed a second secretary, whose shift started at 5 p.m.
As a litigator, Miller-Lerman wore dresses in court "every third day … to acknowledge, without emphasizing, my gender," she wrote in a 1982 letter to Legal Times, pointing out that her Omaha firm had no trouble accommodating her part-time hours. "The wisdom of my working less than full time out of respect for the raising of my children has never been challenged."
Flexible work arrangements "build loyalty" to employers, she says. After she arrived, others at the firm, of both genders, were able to follow her example. When her youngest child entered school, she began working full time.
Nebraska created a Court of Appeals in 1991, and Miller-Lerman, who had a "hankering" to do appellate work, was selected as one of the inaugural judges. When she was elevated to the Supreme Court, she acknowledged, without emphasizing, her status as its first woman. 
"Ordinarily, I just ignore gender issues and perform my job," she told the Lincoln (Nebraska) Journal Star at the time. "But I am reminded periodically that I am setting an example, and I am attempting to set a good one."
She may well have succeeded. Unlike with her former professor Justice Ginsburg, who also set an example with her achievements as well as her dissents, there are no "Notorious LML" T-shirts, action figures, or biopics—as of yet. But last Halloween, a little girl in Miller-Lerman's Omaha neighborhood dressed up for trick-or-treating in a black robe. She carried a gavel and a sign: "I'm Lindsey—and I make the rules."