The Legacy Project: Harriet S. Shapiro '55
The Legacy Project: Harriet S. Shapiro '55
The Harriet S. Shapiro '55 Memorial Scholarship Fund honors the first female attorney in the U.S. solicitor general's office.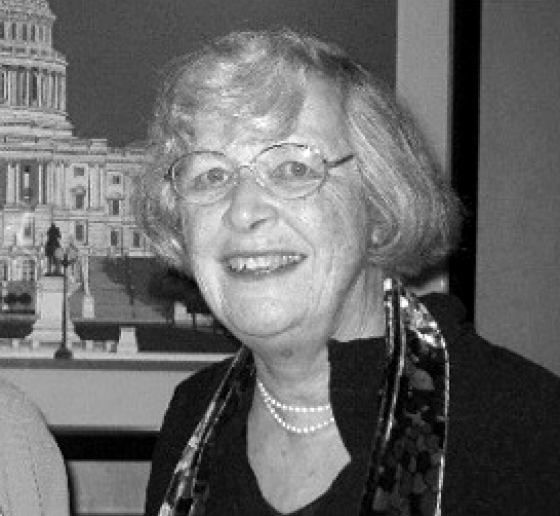 Harriet S. Shapiro '55 sometimes liked to "boast," as she described it, that her Columbia Law degree was paid for by the Nobel Prize. 
It was a legitimate claim but hardly the only thing Shapiro had to boast about. A lifelong pathbreaker, though completely unfazed to be one, Shapiro was the second woman to become editor in chief of the Columbia Law Review, and the first woman to be hired as an attorney in the office of the U.S. solicitor general. 
Shapiro was raised in California, where her father, Alfred Sturtevant, who earned a Ph.D. from Columbia, was a pioneering geneticist at the California Institute of Technology. 
When her father's mentor and colleague Thomas H. Morgan won a Nobel Prize in 1933 for his work on genetics, he divided the award among the children of his research team, to be used for their education. 
With Shapiro, the gift proved to be a good investment: At a time when participation in the law review was dictated solely by earning top grades, she became a member and then editor in chief. (The articles editor that year was future Columbia Law School dean and university president Michael Sovern '55.) At graduation, she won the Jane Marks Murphy Prize, which at the time was awarded to the top female student in the class.
Though Columbia Law began accepting women in 1927, Shapiro (then Harriet Sturtevant) was one of just 19 women in her class of 176 students. But six were among the 23 members of the law review, she recalled in an oral history interview in 2012. "We were motivated," she said. "There were a lot of people who wanted to know why I was in law school, but it wasn't really an unfriendly place." (She admitted being irritated by the question, with its implication of husband-hunting.)
Shapiro was only the second woman to lead the Columbia Law Review (after Janet P. Kane '52); she was encouraged to take the top job by her classmate and fellow law review member Howard Shapiro '55. The two worked together on the publication and married before their third year at Columbia. 
"When you were on the Review, you lived in the library," she said. "I have never worked as hard."
After law school, Shapiro worked at the Atomic Energy Commission in Washington, D.C., while sons Charles and Alfred were small—working out part-time work arrangements at a time when such things were rare.
In 1972, she joined the solicitor general's office, having been tipped off by her husband, a Justice Department antitrust lawyer, that Solicitor General Erwin Griswold had decided it was time to hire a woman attorney. "I was in the right place at the right time," she said in the oral history interview. "I really came in on the cusp; women were just beginning to be generally accepted as equal to men in abilities."
Nonetheless, when Howard Shapiro filed a motion for his wife's admission to the Supreme Court bar—having himself been recently admitted—the form required him to attest of the applicant that "he possesses the necessary qualifications." 
"And so . . . in front of the 'he,'" Shapiro recalled, "Howie put a little 's'"
Shapiro argued 17 cases before the Supreme Court, though she found oral arguments stressful despite the "ego rush" of announcing that she represented the United States. She loved the "jack-of-all-trades" nature of the work, as she put it, which ranged from cases involving constitutional questions of due process and equal protection to labor, environmental, and patent law. 
"With each case, you paint a miniature," she said. "You know a great deal of detail about the small subject of your painting but very little outside the frame." 
She firmly believed in the value of briefs over oral argument. "The brief is the most important part of the government's case," she said. "If you have a good brief, you're pretty much home free."
The briefs she wrote—for more than 72 cases—were considered elegant and precise. "No detours or distracting verbiage," her former colleague Kenneth S. Geller told the New York Times. "Her briefs went for the jugular."
In 2001, when she retired, Shapiro's colleagues wrote that she brought her "legal skill, unflappable nature, and unquestionable character" to the solicitor general's office.
Throughout her career, Shapiro brushed off expressions of sexism. In the solicitor general's office, for instance, briefs that were ready to file required a rubber stamp, with a line for the signature of the attorney who had reviewed it. Shapiro focused on the satisfaction of completing the work when she wrote her name. "For me, signing that stamp was a slightly emotional moment." The fact that the signature line was preceded by "Mr."—she ignored.
After Shapiro's death in February, her family established a scholarship fund in her name, directed toward students who are on the Columbia Law Review.
Because Harriet and Howard Shapiro met as law students, "we really wouldn't be here if it weren't for Columbia," their son Alfred says. "Throughout their lives they supported education. It was a value of theirs. What better use [of a memorial gift] than to support education? Columbia was very important to both of them and to us." 
An endowed scholarship will be an "enduring" memorial to Shapiro, her son says. "People will continue to hear her name and perhaps wonder who she was." 
What should future scholarship recipients know about Harriet Shapiro? 
"That she believed in the law. She believed in the process. She didn't always agree with the position she had to take, but she thought this was the best way to resolve disputes and arrive at the truth."
Alumni and friends who wish to honor Shapiro's legacy can make a gift here by choosing "other" and allocating the gift to the Harriet S. Shapiro '55 Memorial Scholarship Fund.