Law Students for a Day: Sixth Graders Study the U.S. Constitution
Law Students for a Day: Sixth Graders Study the U.S. Constitution
A constitutional law class at Columbia recently welcomed special visitors: a group of sixth graders.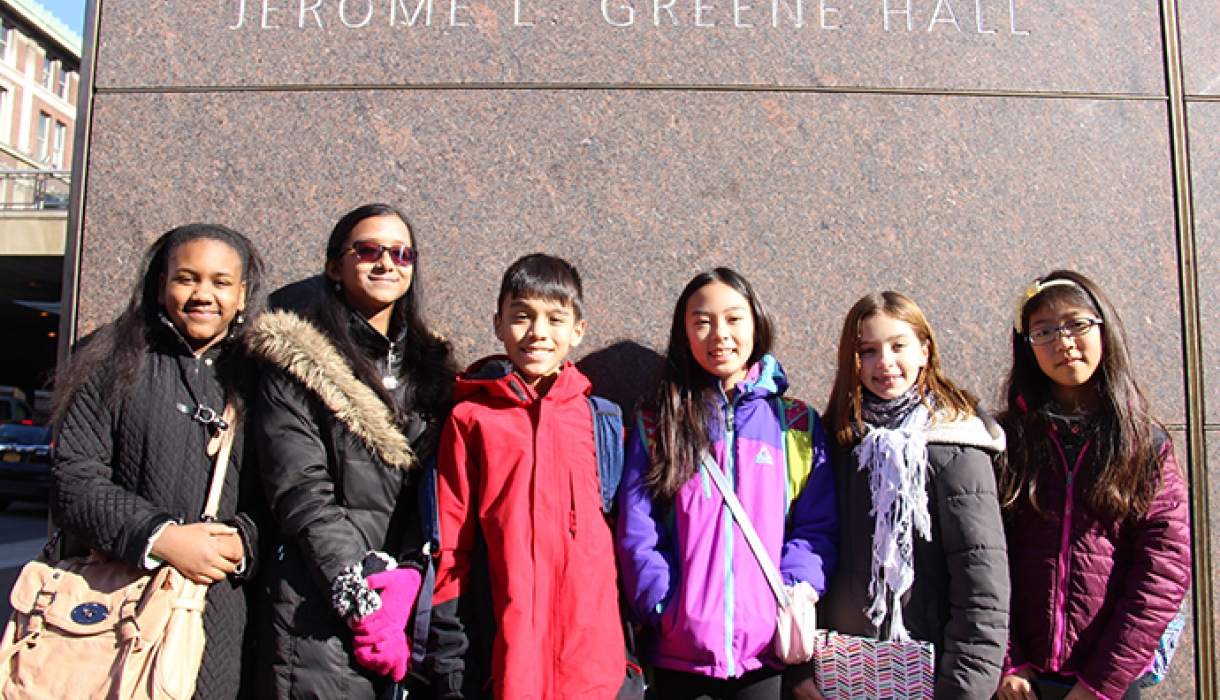 Pictured from left to right: Nicole Claussell, Kimberly Shrestha, Thomas Komsic, Madeline Chiu, Rei Maldonado and Hannah Lee
A constitutional law class at Columbia recently welcomed special visitors: a group of sixth graders.
Six gifted and talented elementary school from Valley Stream, New York sat in on Professor Mark Barenberg's class Monday morning. The students visited the Law School as part of the Kidsday newspaper program—a section of Newsday that is written by kids, for kids. The class, taught by Richard Rosenfeld, was recently chosen to be a Kidsday "Class of the Week."
"Our young guests might have expected to hear about more exciting issues today, like freedom of speech or LGBTQ rights, but we're going to be talking about the commerce clause," said Barenberg, the Isidor and Seville Sulzbacher Professor of Law and co-director of the Program on Labor Law and Policy, to laughter from the class. The Law School students turned in their seats to applaud and wave to the young visitors.
"Oh man this is so awesome," one Columbia student said as he was leaving at the end of class. "I wish I could have gone to law school when I was 12."
Following the lecture, the budding journalists met with Barenberg to ask him questions that would be most interesting to their readers—their young peers. Why did you want to become a law professor? What would you do if you weren't teaching law? What was it like to win your first case? What do your students typically do after law school? How does teaching here compare to your experience teaching in other countries?
Professor Barenberg talked about his time teaching law in China compared with the United States, explained how growing up during the Civil Rights Movement influenced his decision to become a lawyer, emphasized the importance of having experienced mentors who can help and guide you, and more. 
The interview was followed by a private tour of the law library with librarian Dana Neacşu.
The students' reports on their experience and interviews with Professor Barenberg (center)  will be published in Newsday in June.
# # #
Posted February 13, 2017