Joshua Mitts Joins Faculty as Associate Professor
Joshua Mitts Joins Faculty as Associate Professor
Lawyer's data-driven scholarship focuses on the law and finance.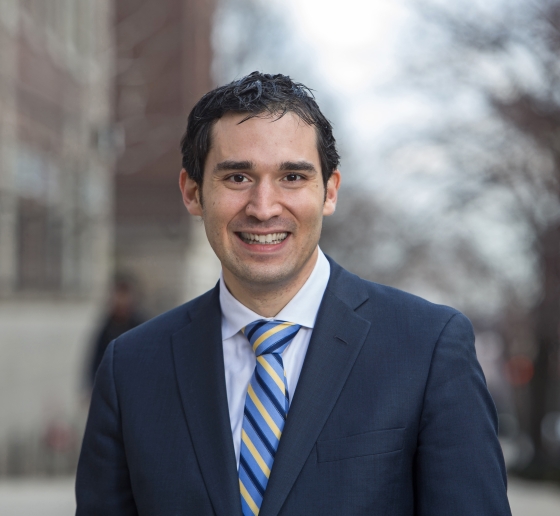 Joshua Mitts joined the Columbia Law School faculty as an associate professor on July 1, but he is already a familiar face on campus—he has served as a fellow at the Law School's Program on Corporate Law and Policy, while simultaneously working on a Ph.D. in finance and economics at Columbia Business School. His desire to push the frontiers of law and finance using recent advances in data science is what distinguished him as a rising young scholar whose expertise and energy will be a great addition to the Law School's faculty.
"I was so excited to come to Columbia because our faculty in law, finance, and empirical research are truly unmatched," Mitts said in a recent interview. "The University is really taking a leadership role in advancing cutting-edge interdisciplinary work in data science, and we're just beginning to discover how those tools can help us better understand corporate and securities law."
In announcing Mitts's appointment, Dean Gillian Lester, the Lucy G. Moses Professor of Law, said: "Josh's joining our faculty further solidifies Columbia's position as the place for top business law scholarship, and expands the impressive cohort of faculty who are doing influential empirical research."
Mitts, 31, approaches the law from a data-driven perspective. In the field of corporate and securities law, where he has already begun to make his mark, financial markets give scholars rich and deep sources of data to draw from when examining how investors respond to the law. "Working with large quantities of information and learning from what those data can tell us is something that is just now making its way into the business-law academy—and helps lawmakers think through policy questions," said Mitts, who earned his J.D. from Yale in 2013 after graduating from Georgetown in 2010 with a degree in liberal arts.
His facility as a computer programmer dates back to his teenage years—at just 15, Mitts won the Microsoft Windows Forms Coding Hero Award for developing software for the Microsoft .NET platform—and puts him in a unique position to bring data science techniques to the study of law. "When I graduated from law school, I realized that a lot of these computational techniques could help bring new evidence to bear on questions of legal policy in a rigorous way," Mitts said. "When I got to Columbia, I realized that I had an exciting opportunity to bring these fields together and ask empirical and theoretical questions that would push the research frontier forward."
Mitts's work has already begun to influence securities law policy. In 2015, he collaborated with Professor Robert J. Jackson Jr., the director of Columbia Law School's Program on Corporate Law and Policy, and Alma Cohen, a professor of empirical practice at Harvard Law School, on a groundbreaking paper, "The 8-K Trading Gap," which showed how public company insiders regularly profit by trading immediately before market-moving information is disclosed. Their research was the subject of articles in the mainstream media, including The Washington Post and The Wall Street Journal, and New York Congresswoman Carolyn Maloney introduced a bill last year to ban the kind of trading that Mitts discovered.
Mitts believes that the way investors receive information deserves more attention in today's data-driven world. "One of the big challenges we have in law is the need to effectively disclose information to investors and other market participants," he said. In another article which Mitts recently presented at the annual meeting of the prestigious American Finance Association, Mitts and co-authors Jackson and Columbia Business School Professor Wei Jiang revealed that the Securities and Exchange Commission's systems were mistakenly giving some investors an informational advantage over others—leading the Senate Banking Committee to call on then-SEC Chair Mary Jo White '74 to address the issue. "In the era of Twitter-style discourse we live in today," Mitts said, "we need to rethink how public-company investors receive information about the companies they own."
Mitts plans to bring these perspectives to a course he will teach this fall on securities regulation. "My plan is to teach Columbia students how data analysis works and can be brought to bear on the corporate and securities law that serves as the foundation of our economy," he said. "Technology is revolutionizing legal practice, and I want to make sure that students leave my classroom with a clear understanding of how they can use those innovations to deepen their understanding of the law."
###
Posted on July 5, 2017