Jeh Johnson '82: Success on Two Tracks
Jeh Johnson '82: Success on Two Tracks
The former homeland security secretary, now a Columbia University trustee, says public service makes lawyers better in private practice.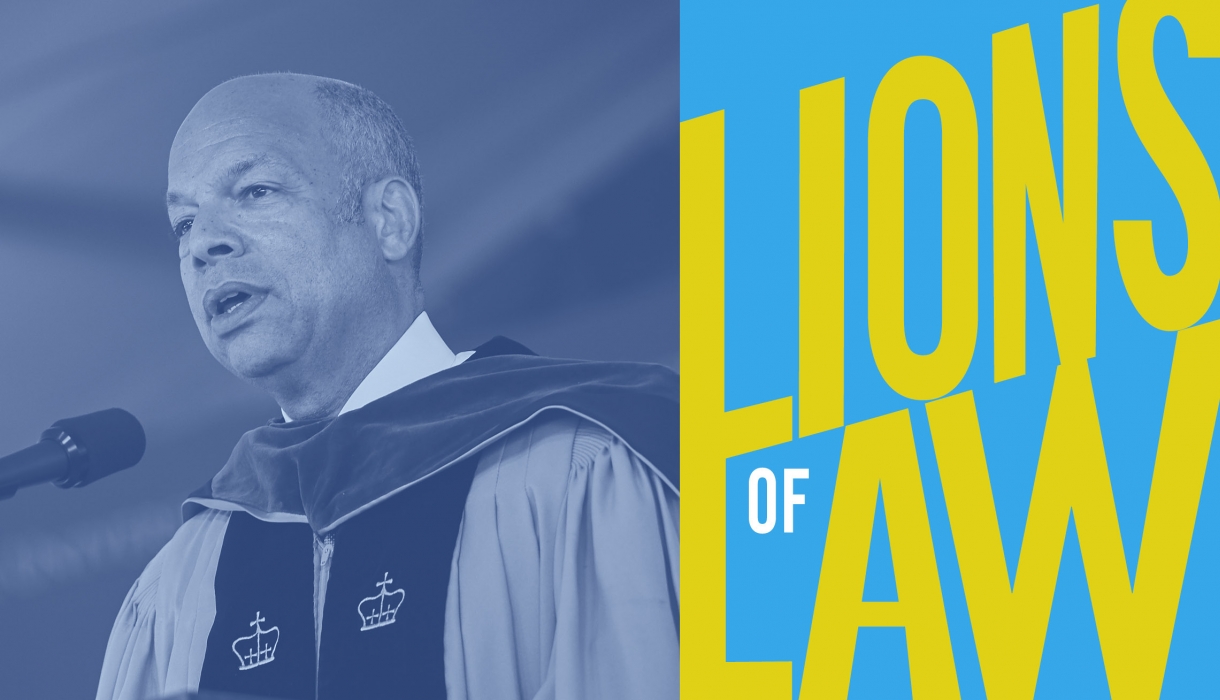 The elaborate model train setup in the basement of Jeh Johnson's New Jersey home includes replicas of Newark Broad Street Station, a Howard Johnson's, a White Castle, and the Queens apartment building where his parents lived when he was born. One of the trains running around the HO-gauge track is the Acela, which is only fitting: In his nearly 40-year career, Johnson has made multiple trips between private practice in New York and government service in Washington, D.C.
Johnson may be best known as secretary of homeland security under President Barack Obama, where he oversaw the administration's immigration policy, aviation and maritime security, cybersecurity, counterterrorism, federal disaster response, and the U.S. Secret Service. As general counsel for the Defense Department from 2009 to 2012, he was pivotal in ending the "don't ask, don't tell" policy on gay armed services members, and he authored the legal opinion that allowed American forces to enter Pakistan to kill Osama bin Laden. In the Clinton administration, Johnson served as Air Force general counsel, and before that he worked as a federal prosecutor in the Southern District of New York.
Between his stints in government, Johnson has practiced corporate law at Paul, Weiss, Rifkind, Wharton & Garrison, where he litigates cases and advises tech companies and government contractors on issues including cybersecurity, data privacy, crisis management, and regulation. He sits on corporate and nonprofit boards, including WBGO, the Newark, New Jersey, jazz station where he occasionally spins records. He received the Law School's Medal for Excellence in 2012, and in March, he was named a trustee of Columbia University.
Johnson is a third-generation Columbian, following his father, Jeh V. Johnson CC '53, GSAPP '58, and his grandfather, Charles S. Johnson, president of Fisk University, who was awarded an honorary degree by Columbia in 1947. His uncle Milton Edelin CC '54, GSAPP '57 was his father's roommate and introduced Johnson's parents to each other.
"I know I'm going to really enjoy being a trustee of Columbia," Johnson says. "There's a part of me that is a teacher. My grandfather was a teacher, my father taught at Vassar for 37 years. Part of me just feels very at home in a university environment. I love Morningside Heights. There's so much rich history at Columbia, including my own family's history."
Finding a Role Model
The Washington Post once called Johnson "one of those impressive people for whom government service is a form of thrill-seeking." Johnson himself describes it as "striving to do all you can in one lifetime to make a difference."
A dual career of private legal practice and government service became his ambition the day his uncle introduced Jeh, then 16, to William T. Coleman Jr., who practiced corporate law in Philadelphia, co-wrote a legal brief in Brown v. Board of Education, was the first Black Supreme Court clerk, and served as transportation secretary for President Gerald Ford.
"I said, 'You're kidding. A corporate lawyer who's Black? Really?'" he recalls. "I thought that was the biggest deal. And he was virtually the only role model that I could have had at that point. . . . It was such a brief encounter, but it made a huge impression on me. And my uncle said, 'He clerked on the Supreme Court for Justice Frankfurter,' and I said, 'My God, I didn't know such a Black person existed.'"
Government service has made him a better lawyer at Paul Weiss, Johnson says—and vice versa.
As head of homeland security, Johnson oversaw 22 agencies, including those responsible for immigration, border protection, customs, and natural disasters. His territory ranged from detention of undocumented immigrants to security arrangements for the Super Bowl. He also strove to raise morale at the agency, including by putting on a Transportation Security Administration uniform and spending a day working at an airport security checkpoint.
Being responsible for an enormous federal agency with a national security mission "adds perspective," he says. "When somebody in private practice says 'We have a crisis'—that's not a crisis. I know what a crisis is. Or somebody says, 'It's urgent that you call me,' and I say, 'Don't use that word with me too many times.'"
On the flip side, "constantly sharpening your legal skills helps in public life," he says.
Learning to Make Tough Decisions
In Washington, Johnson learned that lawyering and leading are two different things. Leadership requires "learning to delegate, learning to defer, learning to inspire other people, learning to be the best version of yourself and encouraging others to be the best version of themselves."
Perhaps most important, he says, is learning to be decisive.
"Lots of lawyers say, 'Geez, I need more facts. I need to know more.' No, you have to decide now, based on the facts that are given to you. You have to say red light, green light. Lawyers hate that, but when you have a big job, you have to make a decision. And you have to stand behind it—but without becoming too entrenched, so that when someone asks you to make a similar decision, you don't feel beholden to always make the same choice."
When decisions are controversial, public service can mean taking public heat. When Johnson spoke at Columbia Law's graduation in 2018, some students stood and turned their backs on him in protest of the Obama administration's policy of deporting undocumented immigrants. He addressed the protesters directly in his talk, and while praising them for their conviction noted that in their careers, whether as lawyers or public servants, "You will find that public policy and government decision-making is complex, and is rarely unidimensional. There is rarely an opportunity to act solely on your personal, moral convictions."
"No lawyer ever won a case by turning their back on the person with whom they disagree."
In 2019, he spoke at St. John's University School of Law, but protests led him to withdraw from speaking at University of Southern California. "Graduations are about the students and their families, not a tense event where people are pitted against each other," he says. Student outrage over campus speakers worries him. "I have concerns that young people, young lawyers, will believe that the way to disagree with someone is to turn your back on them. No lawyer ever won a case by turning their back on the person with whom they disagree. I have a concern that we're becoming so entrenched in our views that we find it too difficult to engage with those with whom we disagree."
A Second-Class System of Justice
Johnson, who was short-listed for a Cabinet position with President Joe Biden, continues to work on public policy issues. He sits on New Jersey's pandemic recovery commission; last year, at the request of New York State's chief judge, he led a five-month investigation into racial bias in the New York State court system. The results were grim: an overburdened, understaffed system marked by pervasive racism.
"We do, in fact, have a second-class system of justice for people of color in New York State because the interactions that people of color have with the New York State civil and criminal justice system are largely in overburdened, overwhelmed, under-resourced courts, family court, criminal courts, civil court, housing court."
Perhaps most discouraging, the report's conclusions were not very different than in a similar investigation that took place three decades ago. While diversity in New York's judiciary has improved in that time—judges of color make up 24% of the state's judiciary, up from 8% in 1991—the casual racism entrenched in the system has not, Johnson says.
"Lawyers of color still walk into a courtroom, and they're mistaken for the court officer, the clerk, the translator, the criminal defendant. To this day, that still happens. After we've had a Black president, after we have so many Black judges, Black district attorneys—that still occurs on a regular basis. Just about every attorney of color I spoke with told me that same story."
Recovering From Democracy's Near-Death Experience
When Johnson spoke at Columbia Law's graduation in the midst of the Trump presidency, he said he feared for democracy. Looking back now, he says "there has been significant damage done. I believe that the credibility of a number of our institutions of government has been degraded. Our democracy survived, but we put it under a significant stress test."
That near-death experience for democracy will, he believes, inspire more young people to seek a legal education and consider public service, despite the pay disparity with law firm work. His "most fun" job, he says, was his time as a federal prosecutor, when he was in his early 30s. "After being a big firm associate, getting to go to court every day, trying your own cases, [with] much less supervision, representing the nation, interacting with judges, interacting with juries, interacting with federal law enforcement officers," he recalls. "It was just a terrific time."
At Paul Weiss, Johnson makes a point of mentoring summer associates. "Very often these are people who want to be part of a firm like Paul Weiss, but they also want a career in public service, sooner or later. I encourage young lawyers to think about why you went to law school in the first place." Just as Johnson was motivated by the example of William Coleman, he tells young lawyers, "Remember what inspired you."