Inside the Columbia Archives: Writing by Ruth Bader Ginsburg '59
Inside the Columbia Archives: Writing by Ruth Bader Ginsburg '59
To honor Supreme Court Justice Ginsburg on the 25th anniversary of her investiture to the U.S. Supreme Court, Columbia Law School has published a portion of its previously private papers.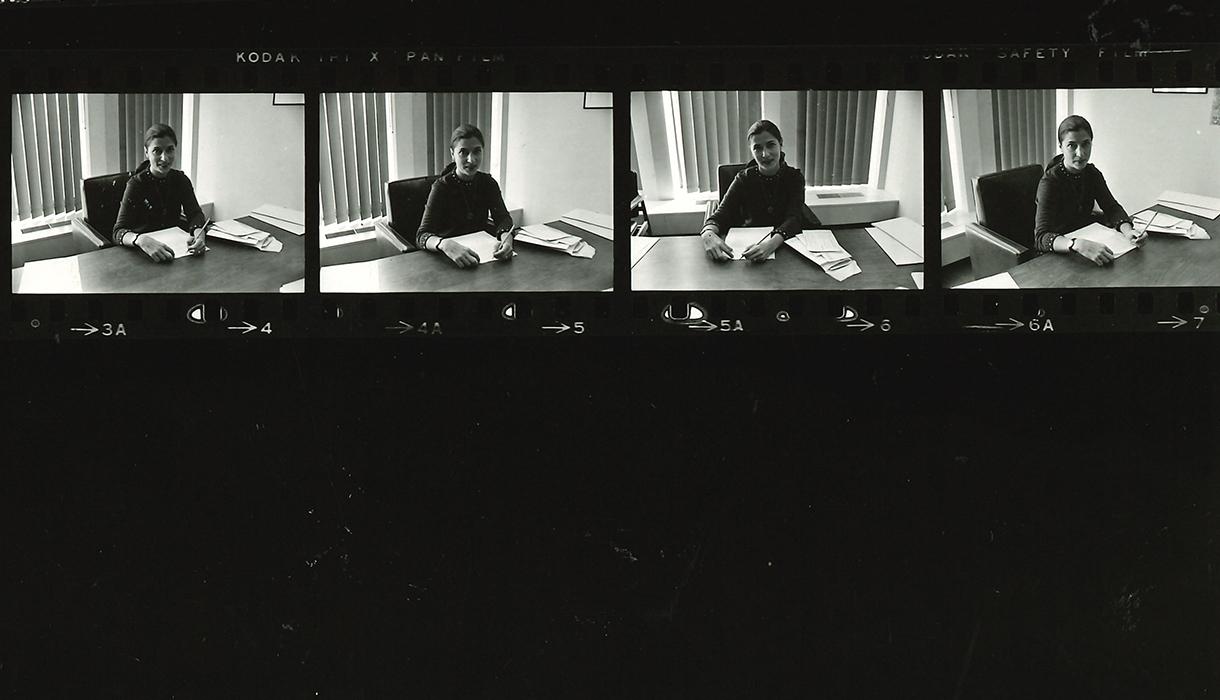 Supreme Court Justice Ruth Bader Ginsburg has made her mark over decades as a brilliant legal strategist, litigator, and judge. She also stands alone in the history of Columbia Law School: Justice Ginsburg graduated tied for first in the Class of 1959 and shattered a glass ceiling when, in 1972, she became the first woman to join the school as a tenured faculty member.
To celebrate Justice Ginsburg's 25 years on the Supreme Court, Columbia Law School produced a commemorative piece called Sincerely, Ruth Bader Ginsburg, drawing upon portions of our archives. Her letters and remarks illuminate her fierce intelligence, sharp legal mind, and lifetime commitment to gender equality, as well as her enduring relationship with Columbia. To read the entire documents referenced in Sincerely, Ruth Bader Ginsburg, see below. 
Alumna
After Ginsburg completed her first two years at Harvard Law School, she moved to New York, where her husband, Marty, had landed a job as a tax lawyer. Harvard informed Ginsburg that she wouldn't receive a Harvard degree if she took her final year at Columbia. Fortunately, Columbia accepted her without reservations. (Years later, in 2011, she accepted an honorary degree from Harvard.)
These five documents reveal Ginsburg's tenacity as an advocate for gender equality at Columbia and her ongoing involvement in the life of the Law School.
 
Professor (1972–1980)
Just weeks after accepting Columbia's offer to become a professor, Ginsburg wrote to the university's president for comments he made to The New York Times that she believed insinuated that she was an affirmative action hire. Read the four letters below for insight into how her advocacy transformed Columbia.
 
Legal Influences
As these materials show, Ginsburg often reflected on the inspiration she drew from Columbia colleagues, fellow alumni, and mentors, such as Hans Smit, a professor who hired her as a researcher and associate director at Columbia's Project on International Procedure.
 
As a justice on our nation's highest court for 25 years, Justice Ginsburg has epitomized the core values of Columbia Law School and embodies the ideals of American democracy. 
Columbia Law School wishes to thank the Supreme Court's Public Information Office for its assistance with this publication. We also extend a special thanks to the Columbia University archives.
© 2018, The Trustees of Columbia University in the City of New York. All rights reserved