How I Got Here: Jeff Greenberg '11
How I Got Here: Jeff Greenberg '11
Jeff Greenberg '11 is an assistant general manager of the Chicago Cubs.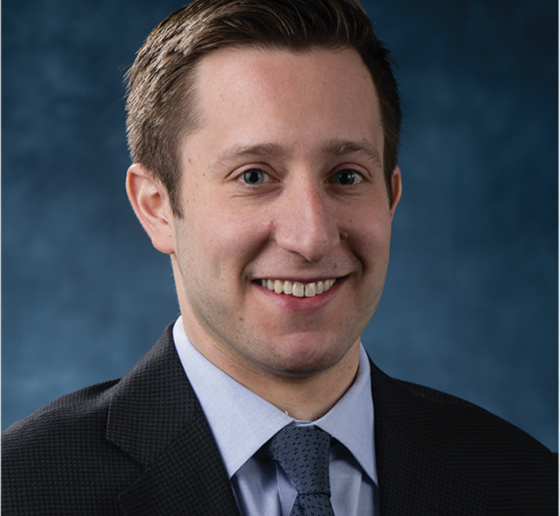 What exactly do you do? 
The short answer is I do a little bit of everything. Day to day, I oversee anything related to our major league roster: player transactions, player contracts, contract negotiations, conversations with other teams. Obviously, I'm not the only person doing those things—we have a president of baseball operations and the general manager who drive those discussions. Depending on where we are in the season, my exact responsibilities change. What I'm doing in spring training will look different than what I'm doing heading into the draft, which will look different than what I'm doing heading into the trade deadline. 
I do a lot from a systems and process-building standpoint. With the explosion of information in baseball over the last 10 years, it's become important to have really good [data] systems. So I'm overseeing a lot of those initiatives from a long-term planning and strategy perspective. 
What do you love about your job? 
Coming to work every day and trying to be better than 29 other teams. It's a very zero-sum space where we're measured by our wins and losses. For anybody with a competitive streak, there's something pretty exciting and compelling about that. You're doing something that's much bigger than yourself. The idea that we're trying to put a team together for a fan base in a city like Chicago—that never gets old. Seeing Wrigley Field packed with 40,000 people— especially late in the season, for a playoff game—that's something special you can't get everywhere.
I also love where baseball has gone with the innovation and the explosion of statistical information. It can be challenging trying to figure out how to use that information effectively to support our decision making. But when you can find effective ways to get that knowledge onto the field, it's a pretty exciting environment to get to work in every day.
What's the hardest part of the job? 
The inherent uncertainty in baseball. We have tons of information. We can build really good systems to drive really good process and decision making. There is still a ton of uncertainty because you're dealing with human beings playing an incredibly demanding sport. Whether it's trying to turn our players in the best version of themselves, or thinking through a roster decision big or small, you're never going to feel certain about decisions, and a lot of it comes back to, Are we thinking this through the right way? Have we asked the right questions? That is very much what keeps me up at three o'clock in the morning. 
How did your Columbia Law training help you get to where you are now? 
I went to law school knowing I wanted to try to work in baseball. I was lucky enough to get two summer internships for the Pittsburgh Pirates when I was an undergrad, and it took me like three days to realize, "This is what I want to do." This was in 2006, and Michael Lewis' Moneyball had been published a few years before. There were all these new ideas out there; Theo Epstein had won a World Series in Boston by incorporating a data analytics approach to managing the Red Sox. So it felt like there could be opportunities for individuals like me, who didn't necessarily play professional baseball, in a team's front office. But it also felt like having legal training and that analytical skill set could be really useful.
I really enjoyed law school, and I tried tailoring my courses in a way that I thought could be applicable. I took almost every labor and employment law course Columbia offered, and I took an antitrust course. I took a few transactional-based courses, and I took a negotiation course. 
I started working at Major League Baseball that first summer after 1L year. I was doing research and writing briefs on salary arbitration, grievance processes, collective bargaining agreement (CBA) issues, contracts. It was tangible, real-world experience, and I was able to take what I learned in the classroom and apply it to the baseball context. And it confirmed that working in baseball is what I want to do. More importantly, that summer job actually equipped me with skills and perspectives that I could apply later on with the Cubs. 
I graduated in 2011 and took the bar. Theo Epstein and Jed Hoyer had just come to Chicago. They really had a vision for where they wanted to take the organization and were just looking for young, eager individuals, and so I got hired. 
Are you the first lawyer in your family?
My dad [Chuck Greenberg] is a lawyer. He was a real estate attorney in Pittsburgh and then got to know a few people in sports. He worked with the Penguins hockey team in the '90s and then got involved in baseball. He owned a few minor league baseball teams and was involved in purchasing the Texas Rangers in 2010. He's no longer there, but more than anything, he loves baseball. I wouldn't say I went to law school or chose this path because of him, but he obviously has been a huge influence in my life.  
Who is someone you consider a mentor? 
Paul Mifsud, baseball operations counsel at Major League Baseball, was a huge resource because he had gone through law school, worked at Proskauer Rose. He had a perspective on different ways to use a law degree, and he was very supportive of the idea that you don't necessarily need to go to a law firm to use your law degree. Cubs President Jed Hoyer, and the Cubs' former senior vice president Jason McLeod, who is now a special assistant to the general manager of the Arizona Diamondbacks—I have tremendous respect and admiration for them both. They're really intelligent baseball minds. They're good human beings who understand the value of leadership and culture. They taught me that if you think you have all the answers, you're missing something. Understand there's always going to be more than one way to attack a problem. And there's probably somebody else in the room who's thinking through it differently and potentially better. So make sure not only to have those people in the room, but also to ask questions. 
What motivates you? 
Trying to win another World Series. I don't think that ever changes. But beyond just the wins and losses, there are so many opportunities to grow baseball, to make baseball more accessible, both in terms of the fan base but also diversity in the front office. We've made a lot of improvements over the last 10 years, but there's more work to be done.
Being in baseball management, you're often cast as the villain. Do you ever wish the fans would just shut up and cut you some slack?
No, that's what makes it fun! The fanbase, their passion is real. That passion is what makes losing difficult. But it's what makes winning so fun. 
Update: On April 28, Greenberg became associate general manager of the Chicago Blackhawks.